Renault Captur - Size Matters!
Modified On Dec 11, 2017 01:38 PM By CarDekho for Renault Captur
Update: Renault Captur Launched At Rs 9.99 Lakh
Renault Captur, the latest SUV from the French carmaker, is here. It is based on the Duster's platform, which is known to be a robust and capable SUV. The Captur not only acquires these traits from its brother but does one better - it is bigger and has a more imposing road presence.

The all-new Renault Captur is not only bigger than the Duster, but also the Hyundai Creta and Maruti Suzuki S-Cross. To put this into perspective, I volunteer to be the human size guide.

Going by dimensions, the Captur is 4329mm long, and this makes it 14mm longer than the Duster. The sloping roofline further accentuates the Captur's length while making it look from a segment above. The massive 210mm ground clearance and 17-inch alloy wheels add to the Captur's muscular stance. The large ground clearance and short overhangs allow the Captur to practically take on any bump or broken terrain the urban jungle can offer. Don't trust us? Have a look at the pictures below.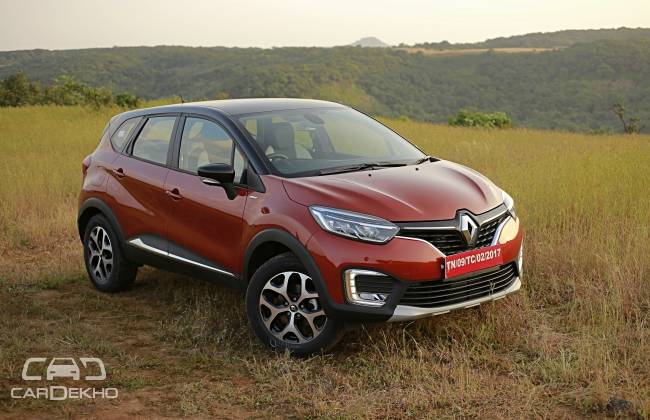 We know it's difficult to judge the sheer size of this SUV without any reference point. So, to give you a better perspective, I decided to pose with and inside the Captur. I measure 5 feet 6 inches from head to toe, which is 1676.4mm. Now that you have a reference, check out the Captur's size in the images below.




Now, let's compare the Renault Captur to its rivals. First up: the Hyundai Creta. The Captur is 59mm longer and 33mm wider but the sleek styling makes it 11mm shorter in terms of height. However, it is bigger than the Maruti S-Cross in all respect, measuring 29mm longer, 28mm wider and 24mm taller than the Maruti.




This size benefit not only gives the Captur a more prominent road presence; it makes it more spacious as well. The boot space with the rear bench up is 392 litres and seating three at the back seats is fairly comfortable. Tune in the subtle European design and the Captur commands attention wherever it goes. Check out the imposing stance of the Renault Captur in the pictures below.


Check out: Renault Captur – Expected Prices
*Sponsored Feature