Renault Captur
Change car
Rs.9.50 - 14.05 Lakh*
This car model has expired
Key Specs of Renault Captur
| | |
| --- | --- |
| Engine | 1461 cc - 1498 cc |
| BHP | 104.55 - 108.49 Bhp |
| Seating Capacity | 5 |
| Drive Type | FWD |
| Mileage | 13.87 - 20.37 kmpl |
| Fuel | Diesel/Petrol |
Explore Price of Captur Alternatives

Renault Captur price list (Variants)
Captur 1.5 Petrol RXE1498 cc, Manual, Petrol, 13.87 kmplEXPIRED1 Month waiting
Rs.9.50 Lakh*
 
Captur 1.5 Diesel RXE1461 cc, Manual, Diesel, 20.37 kmplEXPIRED
Rs.10.50 Lakh*
 
Captur 1.5 Petrol RXL1498 cc, Manual, Petrol, 13.87 kmplEXPIREDLess than 1 month waiting
Rs.11.08 Lakh*
 
Captur 1.5 Petrol RXT1498 cc, Manual, Petrol, 13.87 kmplEXPIREDLess than 1 month waiting
Rs.11.46 Lakh*
 
Captur 1.5 Petrol RXT Mono1498 cc, Manual, Petrol, 13.87 kmplEXPIRED
Rs.11.87 Lakh*
 
Captur Platine Dual Tone Petrol1498 cc, Manual, Petrol, 13.87 kmplEXPIRED1 Month waiting
Rs.12 Lakh*
 
Captur 1.5 Diesel RXL1461 cc, Manual, Diesel, 20.37 kmplEXPIREDLess than 1 month waiting
Rs.12.48 Lakh*
 
Captur 1.5 Diesel RXT1461 cc, Manual, Diesel, 20.37 kmplEXPIREDLess than 1 month waiting
Rs.12.67 Lakh*
 
Captur Platine Dual Tone Diesel1461 cc, Manual, Diesel, 20.37 kmplEXPIRED1 Month waiting
Rs.13 Lakh*
 
Captur 1.5 Diesel Platine1461 cc, Manual, Diesel, 20.37 kmplEXPIREDLess than 1 month waiting
Rs.13.25 Lakh*
 
Captur 1.5 Diesel RXT Mono1461 cc, Manual, Diesel, 20.37 kmplEXPIRED
Rs.13.27 Lakh*
 
Captur 1.5 Diesel Platine Mono1461 cc, Manual, Diesel, 20.37 kmplEXPIRED
Rs.14.05 Lakh*
 
View All Variants
Renault Captur Review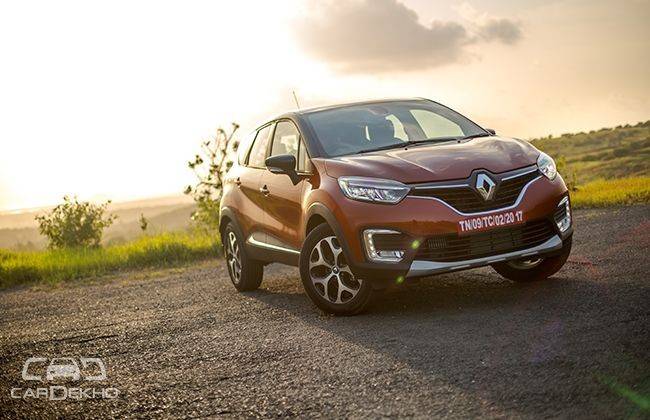 The Renault Captur is a car that invites very mixed responses on first impressions. It grabs attention for its genuine European crossover styling but doesn't have the old-school rugged SUV looks many Indian buyers prefer. And yet, it has the rugged capabilities we fell in love with in the Duster as both cars share their platform. Its tech package has modern bits like LED exterior and interior lighting but the infotainment screen is shared with a budget car, the Kwid. The Captur is powered by very capable petrol and diesel engines and yet, neither one gets the option of an automatic transmission. Something the Captur's cheaper sibling, the Duster does. So, as a package, the Renault Captur seems to be a rather confusing one. This review clears the confusion to help you reach a simple conclusion. Read on!
Exterior

The Captur's crossover design may not appeal to all at first glance. But, spend some time with it and the edgy design grows on you. We once parked it next to a Duster at a restaurant and were pleasantly surprised at how mature the Captur looked. Yes, it isn't as tall as a conventional boxy SUV, but there's no doubt that it looks like a premium offering.
Will you give it a second glance? Oh yes. It's got a bit of novelty on its side for now, and the bright orange colour our test car wore only aided the eye-ball grabbing. Lest, we forget, the Captur is also one of the longest and widest cars in the segment with the largest wheelbase too. While the curvy design does give you the illusion that the Captur is compact, it does have great road presence. It also sits quite high up, with a healthy 210mm of ground clearance.

The profile and the rear are a notch understated compared to the face. The design here has some understated French flair, which is going to be an acquired taste for most. That said, the 17-inch wheels look classy, and the 215/60R17 tyres look just right sitting under the flared wheel arches.
The two-tone is well-executed, and it's easy to see why Renault say the Captur was designed to sport a dual-tone paint scheme even since it was conceptualised. Keep in mind that the dual-tone combination will be an option. There's quite a lot of customisation options on offer as well, which should give you the liberty to deck the Captur up the way you want to.
From the rear, the Captur tries hard to shrug off the resemblance to the little Kwid. The tail lamps, the bumper and the windscreen all look like polished, grown-up version of the hatchback. That's not necessarily a bad thing in our books, though.

Exterior Comparison
Renault Captur
Length (mm)
4329mm
Width (mm)
1813mm
Height (mm)
1619mm
Ground Clearance (mm)
Wheel Base (mm)
2673mm
Kerb Weight (kg)
1250
Boot Space Comparison
Interior

Getting inside the Captur is a bit of occasion. There's no bulky key fob, but a sleek looking credit card-sized 'access card'. Sure, we've seen this with the Koleos and the Fluence years ago - but it still seems cool to have. The shape of the key makes it very pocketable, something we appreciate when out of the car. In the car, the card can be parked in a slot on the centre console. Pulling it out automatically kills off the electricals when the engine is switched off. Thoughtful!

Once you start getting comfortable in the front seats, you realise that the seating position is quite high. You tower over the dash and although you can't see the low-set nose, you do get a confidence-inspiring view of the road up ahead. The cushioning on the seat is a tad stiffer than what we've seen on the Duster. But, that's a good thing - it won't tire you out over longer journeys. The seats hold you well in place, and we've got no complains as far as support for the sides or the lower back is concerned.
The seat lets you manually adjust for height, angle and reach. But, the steering adjusts only for tilt. While reach adjust would've been good to have, we didn't have issues getting into a comfortable driving position. That said, the taller folks will find their knees brushing against the centre console and their hairdo rubbing against the roof lining.
| | |
| --- | --- |
| Interior Front | Measurements |
| Leg Room | 945mm-1085mm |
| Knee Room | 540mm-730mm |
| Seat Base Length | 490mm |
| Seat Base Width | 505mm |
| Seat Back Height | 660mm |
| Headroom | 940-990mm |
| Cabin Width | 1355mm |

That's down to the way the dashboard has been designed with a prominent, bulging centre console. There's a lot to like about the design though as it flows effortlessly from one door pad to the other. It looks a lot trendier than the Creta's or the S-Cross' dash that have a no-frills design. On a related note, it's a lot more upmarket than the Duster and the Terrano that have a utilitarian approach.
The colour palette mixes black, white and rose gold in good measure. The textured finish of the dash feels pleasant to touch, although a proper soft-touch dash (or even an insert like in the S-Cross) would've upped the premium quotient by a huge margin.

Getting into the rear is a bit of a task. A wider opening would've made ingress and egress a lot easier. Once in, there's little to complain about. You don't feel hemmed in inspite of the rising window line and the tallish seating makes you further feel at ease. Space on the inside is just about enough for two six-footers to sit behind each other.
| | |
| --- | --- |
| Interior - Rear | Measurements |
| Shoulder Room | 1280mm |
| Head Room | 945mm |
| Knee Room | 640mm-850mm |
| Seat Base Width | 1245mm |
| Seat Base Length | 460mm |
| Seat Back Height | 590mm |
The cabin is wide enough to accommodate three passengers, but the seat back isn't exactly flat for the middle occupant. Three healthy individuals will rub shoulders, but it should do just fine for a quick highway trip too.
At 4329mm, the Captur is the longest in its class. The wheelbase is the largest at 2673mm as well. But, sitting inside makes you wonder if all that length could've been used more effectively. Then there's the 390-litre boot that's far from being the biggest in volume. But, the opening is wide and there's not much of a loading lip - so you can easily brim it up.
Technology
The tech-kitty in the Renault Captur does add a great deal of novelty. Aside from push-button start, the smart-card, cruise control and auto AC, the Captur gets LED lighting inside the cabin. Even the headlights and fog lights employ LEDs, with the latter offering cornering function for enhanced safety. Like the Maruti Suzuki S-Cross, the Captur too features auto-headlamps and auto-wipers, as well as touchscreen infotainment.
However, we weren't too impressed by the Renault Captur's 7-inch touchscreen infotainment system. For starters, the display looks far too familiar to the unit found in the Renault Kwid. Even the graphics and colours look very similar, and while the touch-response is quicker than it is in the Kwid, the screen itself feels tacky to use. It also misses out on Apple CarPlay or Android Auto, which both the Captur's main rivals, the S-Cross and Creta, offer. The 6-speaker sound system, though, is punchy and gives you a good aural experience once you get the equalizer settings right.
Safety
The Renault Captur comes equipped with dual front airbags, ABS with EBD and brake assist, along with ISOFIX as standard across all variants. Move to the higher variants and you add features such as side airbags, hill start assist, electronic stability program (ESP), rear parking sensors and a rear parking camera with dynamic guidelines.
Performance

The Captur borrows the Duster's 1.5-litre diesel motor. And, unlike the Duster diesel that gets a choice of two engine tunes - the Captur gets the higher 110PS/245Nm spec only. Fire the engine up, and you're greeted by a typical diesel clatter that settles into a smooth idle. Get going, drive calmly and the insulation is enough to cut out most of the diesel engine's sound. But, when you push it hard, expect to hear quite a lot of it.
Driving the Captur calmly inside the city is something you learn to do. The heavy clutch bites in quite late, and when it does - there's not much progress from the engine. You will have to go heavy on the throttle, and get the engine ticking over 2000rpm if you want to get anywhere quickly. Below the 2k mark, the Captur feels a bit lacklustre. This means that a quick overtake inside the city, will most definitely require a downshift. When the turbo kicks in, it kicks in with all its might. So, it's easy to feel overwhelmed trying to 'control' the surge. But, drive it around for a while and you'd learn to work around it, and time your overtakes to make use of this wave of torque. Roll on times are quite strong - the Captur does 30-80kmph (in third) in 7.77 seconds, and 40-100kmph (in fourth) takes 11.56 seconds. For reference, an all-out 0-100kmph sprint is dealt with in 13.24 seconds. It could be a lot faster, if the ESP wasn't as obtrusive
Out on the highway, the Captur is at absolute ease. It'd make for a fantastic road-tripper. Getting to triple digit speeds is a fuss-free affair, and maintaining it easier still. Slot it into sixth, set the cruise control and let it take over. The open highways seem like the Captur's natural home. It sips consciously here too - the big Renault returned a respectable 21.09kmpl, whereas the figure was a healthy 15.50kmpl inside the city.
Petrol
The Captur petrol gets a 1.5-litre, four-cylinder engine that makes a healthy 106PS of power, and 142Nm of torque. First impressions of this motor are super positive. It's as refined as petrol motors get, making nothing more than a mellow purr at idle. Couple that with the well-insulated cabin, and you barely ever hear the engine. It's only when you really push it towards the redline do you hear the raspy exhaust (which we must admit sounds quite sweet). It reminds us of Honda petrol engines of yore. And that's a big compliment!

Start driving and it's immediately apparent that this is going to be a lot easier to drive compared to its diesel counterpart. There are two factors at play here. One, the clutch. It's noticeably lighter to use compared to the diesel's. And while the travel is still longish, the clutch bites in early, which ensures you don't fiddle with the pedal too often inside the city. Second, the petrol motor doesn't feel bogged down at any point in time. Sure, progress isn't snap-your-finger quick, but it definitely feels a lot more relaxing compared to the annoying turbo lag and the sudden surge of torque of the diesel engine. If you enjoy driving in a calm manner, and aren't really bothered with how quickly you can overtake the car in front of you, the Captur will suit your style.
That said, it does manage to take the edge off city driving very well. You can drop down to single-digit speeds in third gear (say when you're slowing down for a speedbreaker), and simply step on it to make progress. There's a hint of protest from the engine, sure, but it quickly gets past that. Inside the city, we managed 10.72kmpl. That is slightly better than what we expected it to do. If you're stuck in a jam often, expect the figures to drop down to single digits.
Even in fifth gear, you can drop down to as low as under 30kmph - really handy on our unpredictable highways. Speaking of which, we expected the Captur petrol to be in its element out on the highway. Sadly, it's not. Most of this is down to the 5-speed gearbox. At triple-digit speeds, you desperately feel the need for a sixth gear. The engine is ticking over at 3100rpm, which does take a toll on fuel efficiency. On test, we managed to eke out 15.79kmpl from the four-pot on the highway. Bear in mind, there's no Eco Mode here, so keeping a light right foot is the only way to keep your wallet fat.

Also, since we're on the subject. Where's the automatic transmission, Renault? The more affordable Duster sports a CVT even. For something that's billed as a premium product, the absolute lack of an automatic option doesn't seem right. We're sure the two-pedal setup would've made the Captur a better city-slicker, as well as a conscious sipper on the highway.
Variants
The Captur is available in a total of four variants called the RXE, RXL, RXT and Platine. While the diesel motor can be had in any variant, the petrol is offered with the first three variants only. Additionally, the top two variants can be specced with a dual-tone colour scheme as well. In line with new safety norms, dual airbags and ABS are standard across the range. Even the base-spec version of the Captur is pretty well kitted with features such as projector headlamps, automatic climate control, remote control card and a four-speaker audio system. The most value-for-money variant is the RXT as it offers a lot more compared to the RXL, for a marginal bump in price. Additional goodies include navigation, automatic headlamps, keyless entry, LED fog lamps and a reverse parking camera.

Verdict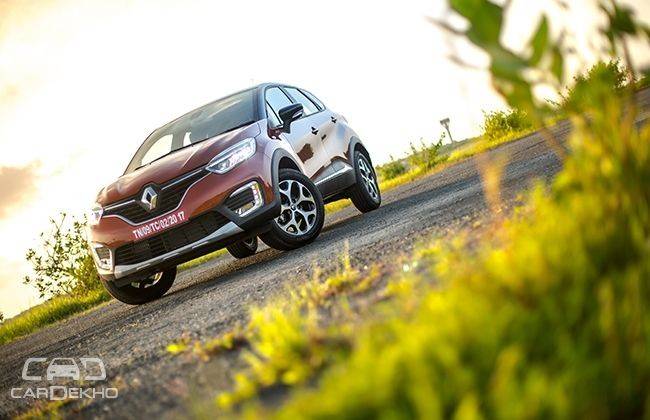 So, has Renault managed to walk the tightrope balancing usability and bling? Yes they have. It's comfortable, reasonably fun to drive and munches highway miles for breakfast. Of course, there are hiccups - it could've been tuned for better everyday drivability, and some more space at the back would've been good too. But, neither takes away from the fact that underneath the flash, it's a sensible crossover.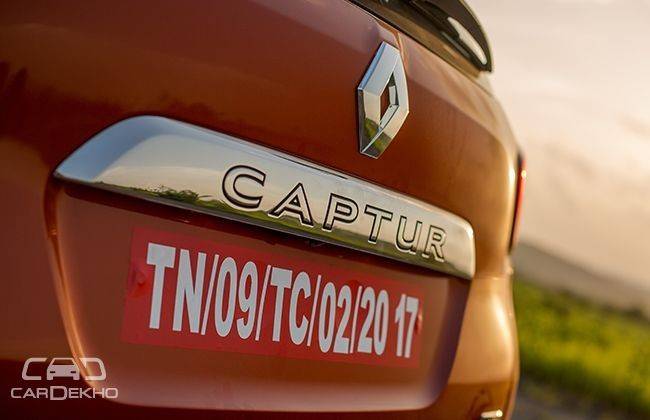 Pros & Cons of Renault Captur Car
CarDekho Experts:
If you've been eyeing a mid-size SUV, and feel like the Creta is a bit too vanilla - the Captur is worth looking at. 
Things We Like
Standard safety features include dual front airbags, ISOFIX, brake assist and ABS with EBD.
Feature loaded: full-LED headlamps, DRLs, 7-inch touchscreen, digital+analog instrument cluster among others.
Very flamboyant French crossover styling, will stand out from its competitors.
Ride quality is among the best in its class. Impressive bad road ability.
Things We Don't Like
No Apple CarPlay and Android Auto connectivity. Both the Creta and S-Cross offer the same.
Front seats are a bit too high-set. Will be uneasy for taller drivers.
No automatic transmission on offer. Creta gets an automatic with both engine options.
Stand Out Features
All-LED headlamps are a segment first. Look chic. 

210mm ground clearance is best in class. 

7.0-inch touchscreen features in-built navigation.
Specification of Renault Captur
| | |
| --- | --- |
| ARAI Mileage | 13.87 kmpl |
| Fuel Type | Petrol |
| Engine Displacement (cc) | 1498 |
| No. of cylinder | 4 |
| Max Power (bhp@rpm) | 104.55bhp@5600rpm |
| Max Torque (nm@rpm) | 142Nm@4000rpm |
| Seating Capacity | 5 |
| TransmissionType | Manual |
| Boot Space (Litres) | 392 |
| Fuel Tank Capacity | 50.0 |
| Body Type | SUV |
Renault Captur Car News & Updates
Latest News
Must Read Articles
Renault Captur User Reviews
All (144)
Looks (43)
Comfort (50)
Mileage (24)
Engine (20)
Interior (26)
Space (22)
Price (23)
More ...
LATEST
HELPFUL
VERIFIED
CRITICAL
I like it very much. It is very comfortable and stylish. Its mileage is so good. when we driving it feels like Range Rover.

I mate with an accident while driving my Renault Captur car. Truck dash me from the left side and drag up to a distance of 25 feet. My car was sandwiched between truck an...Read More

Renault Captur is a very nice car. It's back look is very beautiful. And it's logo also very nice. It's back LED light gives an amazing look to the body. As compared to l...Read More

Really good in the segment. Good price range and value for money. Petrol I am getting 8 L/KM in the Bangalore traffic.
Renault Captur Car Latest Update
Latest update: The 2019 Captur is now priced from Rs 9.5 lakh (ex-showroom, Delhi) and comes with rear parking sensors as standard. Also, the top-spec Platine variant is finally available with the 1.5-litre petrol engine. Read the details here.
Prices & Variants: The Renault Captur is available at a starting price of Rs 9.5 lakh, which goes all the way up to Rs 13 lakh (ex-showroom New Delhi). It is offered in a total of four variants: two each for petrol and diesel options.
Engines & Mileage: The Renault Captur shares the same platform engines and transmissions as the Duster. It is powered by 1.5-litre petrol and diesel engines paired to a manual transmission. The diesel and petrol variants of the Renault Captur delivers a claimed mileage of 20.37kmpl and 13.87kmpl, respectively.
Features: Standard features on the Captur include dual airbags, ABS, alloy wheels, rear parking sensors, speed alert and an entertainment system. Others include quilted leather upholstery, cruise control, hill start assist, full-LED headlamps, LED fog lamps with cornering function, 7-inch touchscreen system with navigation and rear camera support, push-button start and more. Renault offers two preset customisation options for the Captur aside from various accessories. Know more about it here.
Boot space & Ground Clearance: Being an SUV, the Renault Captur features a class-leading ground clearance of 210mm. It has a boot space of 392 litres.
Rivals: The Renault Captur competes with the likes of the Hyundai Creta, Nissan Kicks, Mahindra Scorpio BS6, Kia Seltos, and the Maruti S-Cross.
Read More
Renault Captur Videos
Renault Captur 2023 has 4 video of its detailed review, pros & cons, comparison & variant explained,test drive experience, features, specs, interior & exterior details and more. Watch our Latest Hindi video of Renault Captur to know price, safety features & more.
3:32

Maruti S Cross vsRenault Captur vs Hyundai Creta : Quick Comparo : PowerDrift

Sep 29, 2017 | 216014 Views

5:59

Renault Captur Hits & Misses

Nov 13, 2017 | 10769 Views

11:39

Hyundai Creta vs Maruti S-Cross vs Renault Captur: Comparison Review in Hindi

Jun 19, 2018 | 153 Views

5:44

Renault Captur Petrol Review in Hindi | Hit Ya Flop? | CarDekho.com

Dec 18, 2018 | 14912 Views
Renault Captur Mileage
The claimed ARAI mileage: Renault Captur Diesel is 20.37 kmpl | Renault Captur Petrol is 13.87 kmpl.
| Fuel Type | Transmission | ARAI Mileage |
| --- | --- | --- |
| Diesel | Manual | 20.37 kmpl |
| Petrol | Manual | 13.87 kmpl |
Found what you were looking for?

Are you Confused?
Ask anything & get answer in 48 hours
Write your Comment on Renault Captur
1 comment
1
R
ravi kumar
Dec 15, 2019 12:12:00 PM
Petrol AutogeerPrise
Read More...
Reply
Write a Reply
*Ex-showroom price in New Delhi
×
We need your city to customize your experience