Paris Motor Show: Renault Trezor Concept Unveiled; Showcases Future Design Cues
Modified On Mar 22, 2017 04:48 PM By Raunak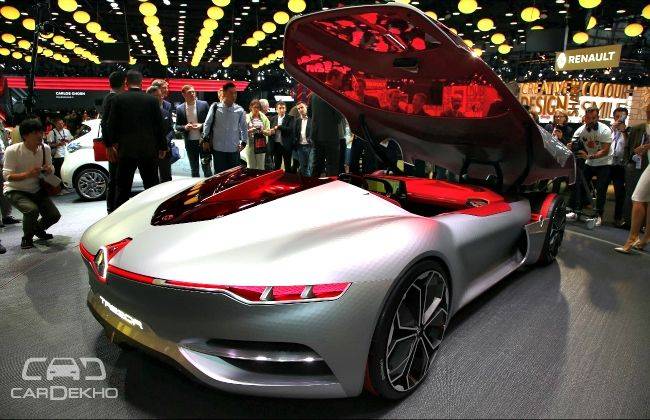 The French auto-giant, Renault, has revealed an all-electric grand tourer concept at the ongoing 2016 Mondial De L'Automobile aka the Paris Motor Show. The zero-emission GT concept flaunts design cues which could be seen in future models from Renault. According to Renault, the Trezor is a worthy successor of the 2010 DeZir concept.

The Trezor is the brainchild of Renault's design boss Laurens van den Acker. According to him, the Trezor's styling has been inspired by the latest models from Renault – the new Mégane hatch and the Fluence sedan (now known as Mégane Grand Coupé), 2017 Koleos and others – with elements such as 'warm, simple, sensual lines; a clearly defined family face and C-shaped lighting signature'.

Adding more on the design aspect, the concept features typical grand tourer silhouettes – long bonnet and a two-seater cabin with coupé like roofline – and large footprints – length: 4,700mm / width: 2,180mm/ height: 1,080mm. However, there are few unique elements in the Trezor's styling such as the huge one-piece, clamshell roof (which is your only way to the cabin) and the central carbon cell mated to front and rear tubular steel frames (just like supercars). Courtesy of the usage of carbon, the Trezor concept tips the scales at 1,600kg. It rides on tailor-developed Continental tyre and is fitted with 21- and 22-inch wheels at the front and rear, respectively.


On the inside, the two-seater concept comes with 'deep-red' leather interiors and the dashboard has been co-developed with the French firm KEIM-cycles, which is renowned for its custom, wooden, high-performance cycle frames. The dashboard comprises of superimposed thin strips of ash. According to the automaker, the finished product provides a level of strength, comparable to that of modern composite materials. The dashboard features a single, larger, all-in-one, curved 'L' shades screen, featuring OLED tech and Corning Gorilla Glass display.

The powertrain of this all-electric GT concept has been derived from the Renault e.dams, which has won the Formula E Teams' world title twice. It puts out a maximum power of 350PS and a peak torque of 380Nm, propelling it from a standstill to 100kmph in less than four seconds. The Trezor features two battery packs located separately, one at the front and the other at the rear, each of which has its own cooling system optimised by the variable-geometry air intake incorporated in the bonnet. This setup has also helped in an optimal weight distribution of the vehicle. The Trezor also incorporates a brake-operated energy recovery system.

Recommended Read: Paris Motor Show: Meet the Volkswagen I.D Concept!