Honda Drive To Discover 11: Bengaluru To Kochi
Modified On Sep 26, 2022 09:24 AM By Rohit for Honda City
The 11th edition of the carmaker's annual programme had all of us traverse from the Silicon Valley of India to the Queen of the Arabian Sea, worth 700km of cruising on the roads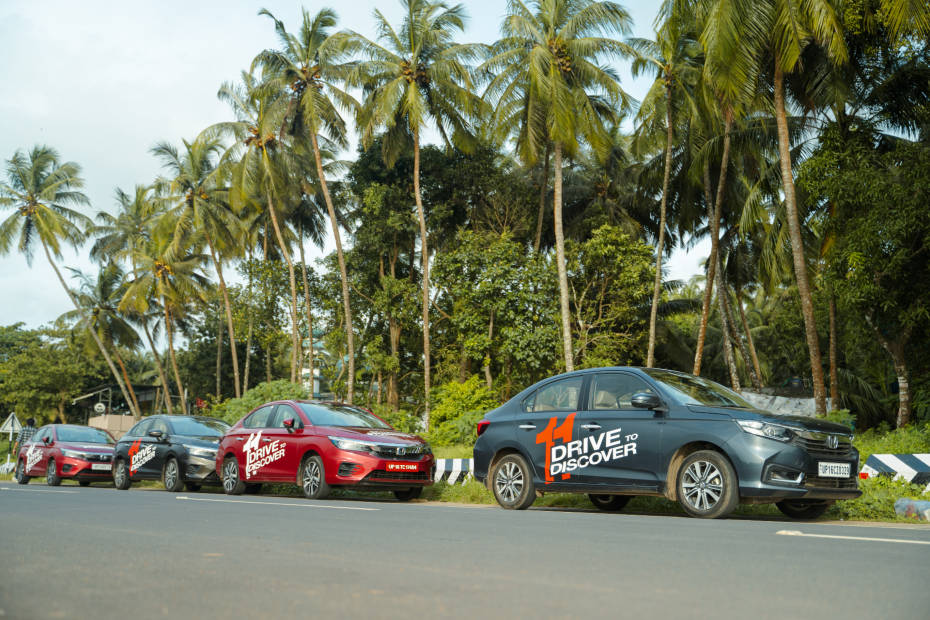 It had been more than a year since I'd been to an event, and my eagerness to go to one was almost breaching the roof. That's when the invite for Honda's Drive to Discover 11 came through, and I was excited to go for it again, having had the first-hand experience of the event in 2021.

This year, though, Honda had kept the theme as "Sedan and Stunning" which meant that only its sedans, namely the Amaze, City, and City Hybrid, were part of the programme. Now, that's no bad thing given how potent (read exciting to drive and comfortable) sedans are and Honda might have thought that it's time to prove their mettle in the growing SUV times, and it's not always the burly models you need. And why shouldn't Honda do as it has always done and be a carmaker that's majorly excelled in delivering quality products in the three-box-design body segment?
So, without further ado, this was how my drive went over the three-day event:
Day 1: Arrival In Bengaluru And Drive To Madikeri/Coorg

The first day was kind of 'déjà vu' for me, thanks to the early morning flight, arrival at Bengaluru's airport, having breakfast and a media briefing at Taj Hotel opposite the arrival site, and of course, the straight and twisty patches of tarmac. However, unlike last year, this time I couldn't join the convoy and had to take up the last place to leave the hotel.

Like the previous year, the 11th edition too saw us being paired up with another automobile journalist in a car and it was my fellow teammate, Sukrit Kumar from ZigWheels, with me this time around. With the drive being flagged off, we had to cover a distance of around 300km with only a dedicated lunch break in between.

For all three days, we got the City itself, although we were lucky enough to sample different configurations of Honda's compact sedan. For day one, we had the City petrol-manual with us and we weren't going to complain.

Almost throughout the day, we were treated to well-paved highway roads, which allowed us to easily drive at tri-digit speeds. That's when you can notice the importance of the sixth gear, which keeps the engine from working too hard and provides the fillip to the sedan's smoothly operational petrol engine. En route to the hotel for the night, our path did throw a few hairpins at us but the sedan's poised ride quality and suspension didn't make us break a sweat. We then called it a day after having dinner and beverages and spending time chit-chatting with fellow journalists.
Day 2: Madikeri/Coorg To Wayanad


The subsequent day, we had to cover about 170km to reach the Saptha Resort located in Wayanad, and we were in our cars after having a sumptuous meal for breakfast. It was on this day that we crossed state borders and went from the Silicon Valley of India to God's own country. Although the day was packed with sharp hairpins and curves, we were thankful to have been placed snugly in the City Hybrid.


The strong-hybrid powertrain of the sedan works wonderfully well at low speeds, operating in pure EV mode. Upon further throttle prodding, it initiates engine power and works in a hybrid mode before completely settling in only engine mode. Its 'B' or 'battery regen' mode does the job pretty well and helps bump up lost range during low speeds and while braking. For reference, at one point during our drive, we had an estimated range of around 570km, which had come down to 530km after rigorous driving, but the regen mode came into effect during downhill rides and it pumped up the range to approximately 550km.
We both also got to experience the Advanced Driver Assistance Systems (ADAS) feature of the sedan first hand which, although wasn't intrusive, did work well at alerting the person behind the wheel. While I only got the notification of forward collision warning when a two-wheeler rider tried crossing the road in front of me, Sukrit got to inspect the lane keep assist and it performed the task as advertised.

Then, the afternoon saw us visit Wayanad wildlife sanctuary, which is home to a variety of wild animals including tigers, panthers, sloth bears, and elephants. However, we were only greeted by a few peacocks, a giant spider, and a big elephant. The internal wildlife drive was approximately 10km.
We then took the way home (for the night), which didn't require a lot of time thankfully. The late evening was, once again, spent having beverages and catching up with the rest of the group.
Day 3: Wayanad To Kochi

It was now time for the final day of our driving journey. Day three made us get cracking early to reach Kochi, our final destination on the list with over 250km to peregrinate.

For the last leg of the trip we were allotted the City with the petrol-auto combo and that seemed like a blessing in disguise given that there was a mixture of state and national highways and decent quality of roads. The journey to the last hotel was a lengthy one; and on top of that, there was some glitch in the directions, which made us reach at around 10pm.

It was at this time that I had to be grateful to the City's nine-piece LED headlight setup that came to the rescue, especially on low-lit streets. Also, based on our usage of the City over the three days, I had to give a special mention to the LaneWatch camera mounted on the left ORVM (outside rearview mirror) of the sedan as it's a boon in city traffic.

Having reached quite late and needed to board an early morning flight meant it was time for me to hit the hay after a quick dinner. That's when it struck me how much I appreciate such calming drives and they are worth being undertaken more often.
Read More on : Honda City on road price
Was this article helpful ?
7 out of 7 found this helpful