Fiat Abarth Punto EVO vs Competition-Hot Hatches Compared
Published On Oct 19, 2015 08:24 PM By Abhijeet for Fiat Punto Abarth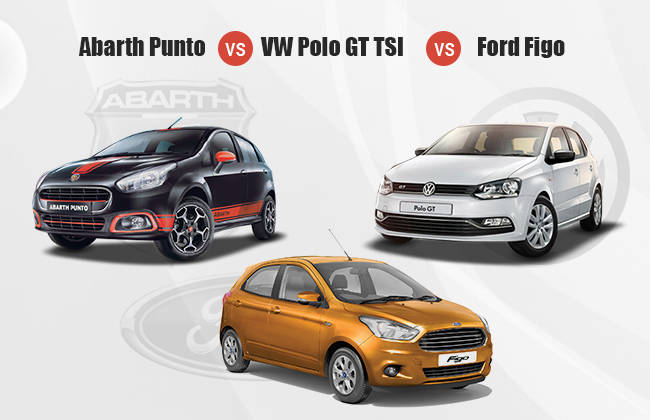 Hot hatches or low budget performance cars (at least for India) have been offered a couple of times before, but at that time there was a very small group of people that dared to own them. Certainly, because of the high initial cost and then the low fuel economy. Also, due to their rarity, they were very understated and only enthusiasts cared to know about them. A few to name are the Fiat Palio 1.6 and Ford Fiesta 1.6 S, both of these produced neat bhp outputs contradictory to what the competition offered at that time.
Also See: Fiat Abarth Punto: Features and Picture Gallery
But today is a different scene, in the world of internet, everybody is aware of what is going on in the Indian automotive space, right from the word go. And following the launch of Abarth Punto at a breakthrough price tag of INR 9.95 lacs (not bad for 145 bhps) there are massive talks on online forums. Not only this, it's loud exterior setup gives it every right to displace the current hot hatch, Polo GT TSI that looks quite shy in its elegant attire. Let's see how the Italian chick takes its crown in this specification comparison.
Launch Story: Fiat Abarth Punto EVO and Avventura both Launched at Rs. 9.95 Lacs
Underpinning
Powered by a 1.4-litre T-Jet motor that has been tuned to produce 145 bhp of power and 210 Nm of torque, the car dwarfs every other mass-market hatchback. Moreover, the suspensions are being stiffened to tackle high acceleration and speeds. To keep things in control, all the wheels are fixed with disc brakes as standard.

Figures
Speaking of the performance figures, 0-100 kmph comes as early as 8.8 seconds and the top speed could be expected at over 190 kmph (no official word has been made). While the competition hovers somewhere around and over 10 seconds.

Exteriors
Abarth Punto's exteriors are marked by sporty red decals, 16 inch diamond cut scorpion's pincer alloy wheels, race strip running from the bonnet all the way to the boot lid and the Scorpion insignia deliberately used at places like the roof. Speaking of the Polo GT and Ford Figo none of them have any special discretion from their less powerful versions.

Interiors
Insides are largely similar to the standard Punto EVO, except the contrast stitching, an all black color scheme and the insignia on the steering wheel.

Stay Tuned for our detailed road test when we take it for a spin and bring out all the little details.
See Competition: VW Polo GT TSI | Ford Figo 1.5 TiVCT
Read More on : Fiat Punto Abarth review
Was this article helpful ?
0 out of 0 found this helpful