2018 Ford Mustang Goes Topless!
Modified On Feb 24, 2017 04:02 PM By Arun for Ford Mustang
The convertible Mustang has been revealed just three days after the new coupe debuted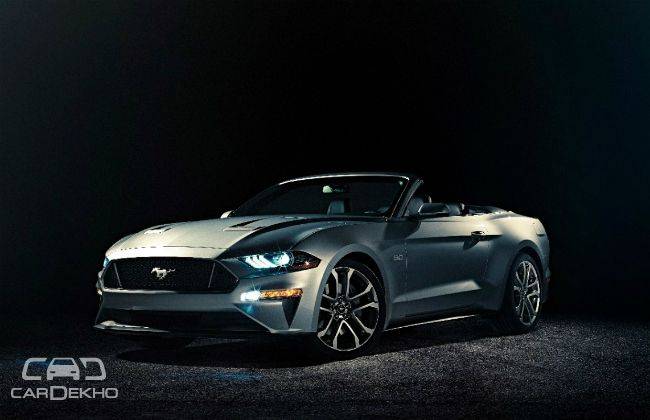 Ford sprang a surprise last week by debuting the facelift version of the Mustang. The 2018 version gave rise to mixed opinions, drawing a tad more brickbats than bouquets. But here's something we think everyone can amicably agree looks pretty – the Mustang convertible. For over five decades the topless pony car has been an embodiment of the free American spirit. Does the new one retain that sense of good ol' 'merica?
To put it simply – yes it does! I personally admire how Ford manages to keep the retro essence of the Mustang alive through every passing generation. In this case, it isn't about adding a bunch of flippy switches or taking away modern creature comforts for the sake of being old-school. Nope. The blend of retro elements and new-age tech is seamless and, more importantly, likeable.

Of course, the only major difference between the coupe and the convertible is the roof. Updates made to the coupe have been carried over, which means there's a new face with the updated headlamps, an edgier front apron and a new bonnet. Ford hasn't released pictures of the rear, but you can safely assume it to feature the same posterior as its coupe cousin.
And yes, the V6 engine is dead for good. After being struck off the options list from the coupe, it has been ousted from the convertible's menu as well. Engine options for the US market include the 2.3-litre EcoBoost and the ever-so-lovable 5.0-litre V8. Updated tech, including the 10-speed automatic transmission and the magnetic dampers, will be made available on the convertible as well.
We're hoping Ford lets the topless pony loose in India. Even if priced at a premium compared to the coupe (which currently retails for Rs 65 lakh, ex-showroom), it does have what it takes to make buyers take the plunge. Are you listening, Ford India?
Recommended Read:
Ford Mustang Launched! Priced At Rs 65 Lakh
Ford Mustang Evolution - Making People Grin Since 1964
5 Droolworthy Modified Mustangs
Ford Mustang: New Vs Old – What's Changed?
Read More on : Ford Mustang
Was this article helpful ?
0 out of 0 found this helpful