Ford Mustang Evolution - Making People Grin Since 1964
Modified On Feb 24, 2017 03:56 PM By Nabeel for Ford Mustang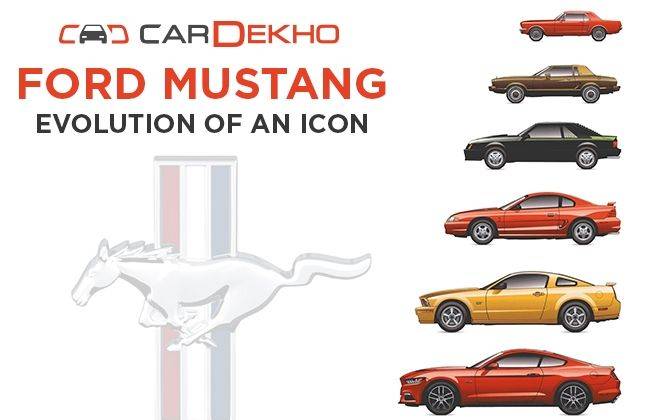 Ford Mustang is one of the most iconic cars in the history of modern automobiles. It's big, loud, powerful, and shouts 'American!' the moment you set your eyes on it. After years of anticipation, the Mustang was finally launched in the country today. But, behind this sixth-generation muscle car is over 50 years of experience and glory. In this article, we'll take you through the various generations of this iconic muscle car and follow the roadmap to where the Ford Mustang is today. But first, time for a history lesson.

The creation of the first Mustang is reported to have been back in 1962, when a mid-engined four-cylinder concept – named Ford Mustang I – was built by Ford. This car was a two-seater open top, built with aluminium. In 1963 saw the showcasing of the Mustang II four-seater concept car, which was a lot closer to the final production car. Finally on April 17, 1964, Ford launched the first-generation Mustang. It turned out to be the company's biggest hit with 1,21,538 units being sold in 1964 in the US alone. In 1965, this car went through several updates and hence, the first models are called 1964½ originals. The original car in 1964 had three engine options, with the most powerful one being a 5.0-litre V8 producing 212PS. Since then, there have been more than 50 different Mustangs in six generations.
Let's have a closer look at the evolution of the Ford Mustang over the past 52 years.

Out of the models listed above, the 1964½ original, the 1965 GT350, the 1968 Fastback Bullitt, 1969 Mach 1 and Boss302 are some of the most iconic models thanks to their roles in movies and their popularity all over the world.

The old Mustangs were famous for being dangerous. They were powerful and not easy to drive, and that is what made them desirable. It was like sitting on a bench and directing more than 200PS on the tarmac, with no electronics feathering with the feel. Driving a Mustang was no less than taming a wild stallion.

However, over the generations, Mustangs have become a lot safer and come with loads of creature comforts. The sixth-generation model comes with features like electronic line-lock, electronic stability control (ESC) and traction control. The latest model also gets a touchscreen infotainment system, Ford MyKey, keyless entry and four selectable drive modes – normal, sport, sport+ and snow/wet. No matter how safe the Mustang gets, it will never stop being exciting, and just the roar of the thunderous exhaust is enough to give you goosebumps. We hope the Mustang keeps growing and giving us something to grin about.
Recommended Read:
How Can You Look So Beautiful at 51, Ford Mustang?
5 Droolworthy Modified Mustangs
Ford Mustang: New Vs Old – What's Changed?
Read More on : Mustang
Was this article helpful ?
0 out of 0 found this helpful