5 Droolworthy Modified Mustangs
Modified On Feb 24, 2017 03:57 PM By Tushar
Ford has launched the Mustang in India a good 52 years after the car was born. Through all the years of its existence, the iconic car has evolved into more than just a burly block of metal with a big engine. The addition of the 2.3-litre EcoBoost engine, for example, is a testament to the fact that the Mustang has moved with the times.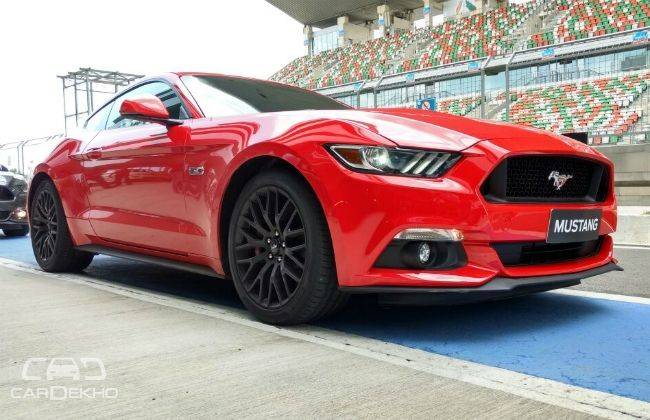 However, what you may not know is that the Mustang gained its popularity for bringing performance to the people. In the USA, the Mustang V6 starts at a price of $24,645 i.e. around Rs 16.5 lakh. That's a 300 horsepower car for the same amount we pay to buy a 1.8-litre Skoda Octavia that makes 160PS of power! This, of course, has made the pony car the muse for many a modification. We take a look at 5 jaw-dropping performance-spec Mustangs that make this muscle car enter supercar territory.
Ultimate Bad Boy
Ultimate Bad Boy (UBB) proudly proclaims itself as the maker of 1000+ horsepower Mustangs. One of the best versions they made was a 2008 model that was powered by a 5.4-litre, 32-valve, quad-cam V8 which had its performance aided by a supercharger. This demon produces over 1000PS of power and nearly 1200Nm of torque that take it to a top speed of 365kmph!


UBB managed to pull this car from 0-100kmph in 3.4 seconds. The custom car features Brembo brakes, a limited slip differential, a full carbon body kit, Recaro seats and 19-inch alloy wheels. While the performance stats are hefty, this no-longer-on-sale car would also leave your pocket empty with its price of $110,000 (around Rs 73.80 lakh).

Saleen S302 Black Label
Saleen has been producing some of the world's most desirable performance cars, including many tricked out versions of the Mustang. Their current range includes an uprated version of the sixth generation Mustang named the S302 Black Label. Available as a fastback and a convertible, the car is propelled by a 5.0-litre V8 that gets a supercharger and has been reworked to produce 730PS of power. It also features handling upgrades to complete the trifecta of "speed, science and style".

The S302 Black Label comes equipped with S4 specific rate springs, S4 shocks and struts, anti-roll bars and custom 20-inch wheels. Also seen on this car is a high-downforce rear spoiler, along with a front and rear splitter/ diffuser package. As Saleen puts it, it's the most advanced version of the Mustang they've ever made. The asking price? $75,689 (around Rs 50.78 lakh).

Shelby GT350R
The Shelby GT350R is the performance-spec Mustang developed in-house by Ford itself. It sits atop the Mustang's variant range and is powered by a 5.2-litre DOHC engine and is the first-ever production V8 from Ford with a flat-plane crankshaft. Incidentally, it's also among the most powerful naturally-aspirated engines Ford has ever made, with a power output of over 500PS and peak torque of 542Nm, all of which is channeled to the rear-wheels through a 6-speed manual gearbox.

The Shelby GT350R also prioritizes weight savings by losing comforts like air conditioning, the infotainment system, rear seats and even the reversing camera! The GT350R also gets carbon fibre wheels as standard, wrapped around by Michelin Pilot Sport Cup 2 tyres. Its aerodynamics are improved with a revised hood vent, a carbon fibre rear spoiler, vented wheel wells, turbulence-reducing fender vents, wheel air curtains and side skirts. All this is yours for $63,095 (Rs 42.33 lakh).

Hennessey Mustang GT HPE750
Hennessey, makers of the Lotus Exige-based 'Venom' hypercar, also built the Mustang HPE750. The limited edition car employs a supercharger with the Mustang GT's 5.0-litre V8, along with modifications like a carbon fibre high flow air induction system, upgraded fuel injectors, an upgraded fuel pump system, and can even be equipped with stainless steel exhausts. The end result is 785PS of power at 7,000rpm and 878Nm of torque at 4,400rpm, with a claimed 0-100kmph time of 3.4 seconds.


The 'quarter-mile' drag race is where the Mustang is entirely at home and the HPE750 does it in 10.9 seconds, hitting a speed of 214kmph at the end of the run. What's more is that you get it with a 3-year warranty!
Ken Block's Gymkhana-Spec Mustang
Ken Block, a professional rally driver with the Hoonigan racing division, is the man who surged to new levels of fame with his Gymkhana videos. In the 7th edition, he smoked the streets of Los Angeles in a 1965 Mustang that features all-wheel drive.

Built at ASD Motorsports in North Carolina, the notchback is powered by a 6.7-litre Roush Yates V8 that produces over 845PS of power and 976Nm of torque. ASD Motorsports even built a tubular chassis for the car with body panels made of carbon fibre to save weight. This car is a one-off and while you can't buy it, you can hope to see it in future editions of the ever entertaining Gymkhana series.


Have any performance-spec Mustangs that made it to your favourites list? Share them with us!
Recommended Read:
Ford Mustang Launched! Priced At Rs 65 Lakh
Ford Mustang Evolution - Making People Grin Since 1964
Was this article helpful ?
0 out of 0 found this helpful