Sponsored
Why Renault Kwid Is Your Best Bet In The Small Car Segment
Modified On Jun 08, 2018 07:27 PM By Sponsored for Renault KWID
The SUV-inspired Renault Kwid offers class-leading boot space, ground clearance and features. Unparalleled warranty, maintenance cost and high resale value enhance it further!
Renault has undoubtedly raised people's expectations from a small car with its game-changing product, the Kwid. We list out reasons that make the Renault Kwid the best pick in the small car segment.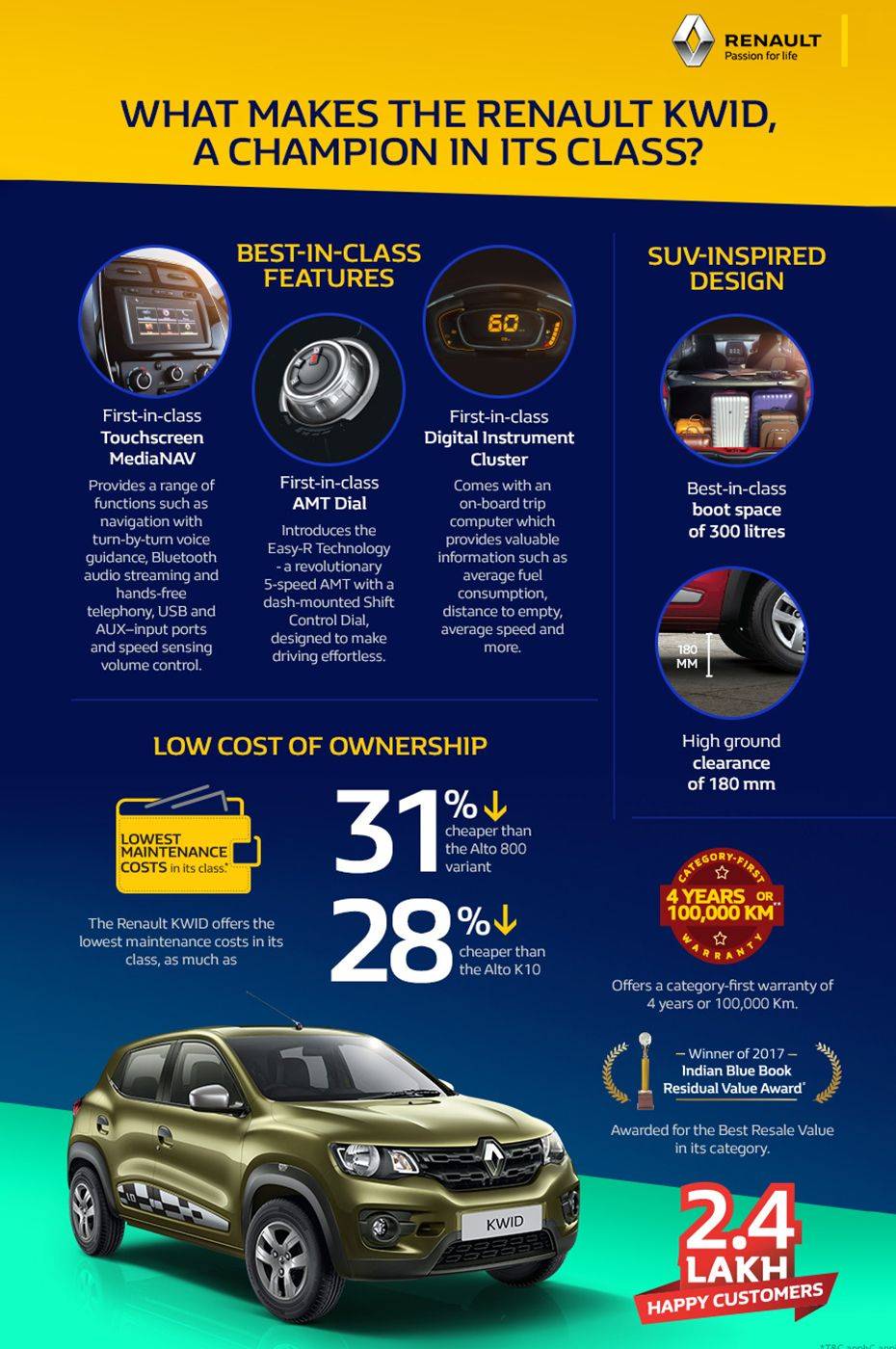 For latest offers on the Renault Kwid, click here.
7 reasons why the Renault Kwid is a groundbreaking product:
1. SUV-Inspired Styling: With an upright stance and body cladding, the Renault Kwid oozes SUV-like traits from every angle. The Kwid easily makes its peers look vanilla in front of it. Want to know more about the Kwid's styling? Click here.

2. The Big Small Car: The Renault Kwid literally towers over other offerings in the segment such as the Maruti Suzuki Alto K10 and Alto 800 as it is the longest, widest and the tallest offering in its segment.
3. Ground Clearance: With an SUV-like 180mm ground clearance, the Renault Kwid rides as much as 20mm higher than its rivals.
4. Class-leading Boot Space: At 300 litres, the Renault Kwid can easily give hatchbacks even a couple of segments above a run for their money.

5. Large Touchscreen Infotainment System: It comes with a large 7-inch touchscreen infotainment system with built-in navigation, whereas its rivals don't even offer Bluetooth phone connectivity as an option. Check out more about the technology the Kwid packs here.

6. AMT Dial: The convenience that Renault's AMT dial offers is unparalleled in the segment; just nudge it between D 'Drive', R 'Reverse' and N 'Neutral' and you're good to go. Placed just below the air conditioning controls, the dial is conveniently placed and doesn't require the driver to take his eyes off the road. Read more about it here.

7. Personalisation Options: As if it wasn't a head-turner already, Renault also offers personalisation options to make your Kwid one of a kind. Check Personalisation Options:

Unmatched 4 years/1 lakh Km Standard Warranty
The Renault Kwid comes with a four-year or 1 lakh km (whichever is earlier) class-leading standard warranty. This includes the regular 2 years/50,000km comprehensive warranty along with an additional 2 years/50,000km extended warranty at no extra cost. None of its rivals offer such an extensive standard warranty program.
Pocket-Friendly Ownership
We found the Renault Kwid 0.8-litre to be around 35 per cent cheaper to maintain than other 800cc offerings in its segment over a five-year period. The Kwid 1.0-litre, on the other hand, is about 40 per cent cheaper to maintain over a similar time frame when compared to other 1.0-litre offerings in the segment. Read more about our comparative analysis here. The Kwid's low maintenance cost coupled with its impressive fuel efficiency – 25.17kmpl and 23.01kmpl for its 0.8-litre and 1.0-litre engines, respectively – and high resale value amplifies its value for money quotient.
Pan India Service Network
To keep its service centres within reach, Renault came up with a one of a kind initiative - Workshop on Wheels mobile service stations. Besides its regular service network of 270 outlets, there are over 50 Workshop on Wheels (WoW) covering remote areas. This enables Renault to offer comprehensive after-sales services in more than 350 cities!

Also Read: Renault's Extensive After-Sales Support Accelerates Its Success
Takeaway

The Renault Kwid is offered with a choice of two petrol engines and two transmissions. It is priced in the range of Rs 2.66 lakh to Rs 4.59 lakh (ex-showroom Delhi). The Renault Kwid is stylish, spacious, has a big boot, is feature-rich, and comes in three powertrain options depending on your requirement. What's more? Maintaining it won't cost a bomb, while its class-leading four-year warranty will definitely seal the deal!
Interesting Reads :