Sponsored
Volvo XC90- It's not just a car, it's an EXPERIENCE
Modified On Feb 13, 2018 01:31 PM By Sponsored for Volvo XC 90
"This is a car which is setting the bar high. Extraordinary design, uber premium interiors and superior driving dynamics place Volvo XC90 on a different pedestal than its counterparts."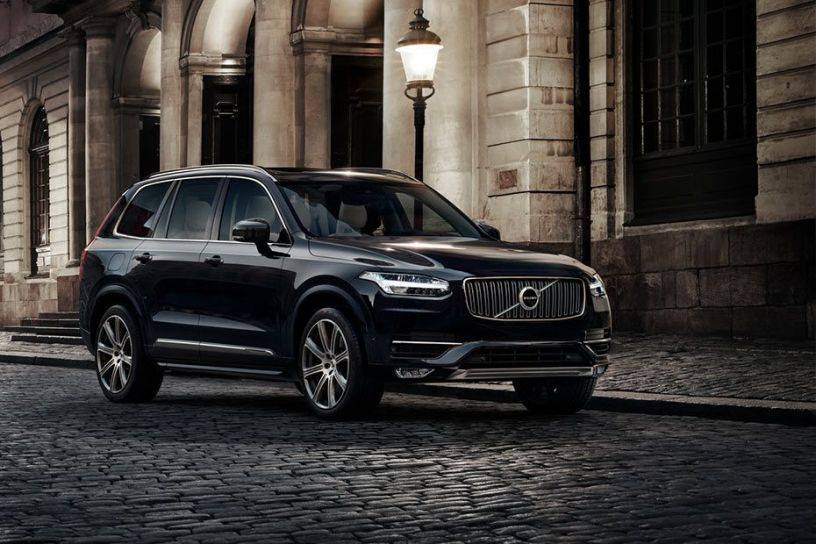 When you buy a luxury SUV, you don't just buy a car, you buy something that resonates with your personality. This SUV becomes an embodiment of who you are and speaks loads about your preferences in life, even as you rest inside its cabin or cruise effortlessly.
So, if you are a no-nonsense person, command respect, prefer standing apart from the crowd and believe in quality-wrapped-under-subtlety, then Volvo XC90 is just the perfect vehicle for you.
Volvo has designed XC90 keeping the passengers and drivers as the focal point. The technologies and design used in the car aim at making the drives comfortable, plush and safer. It looks more premium than ever and has its own unique presence. There is no way you won't make a deep impact when you pull up in this mammoth of an SUV.

Design Language
There are cars that make you speak elaborately on their designs. And then there are cars that render you speechless. Instead of critiquing them, you choose to admire, bask in their beauty and find it hard to flaw them. That is exactly what Volvo XC90 does.
If we were to define Volvo XC90 in one word, it would be- Beautiful - a word so simple yet powerful.
Unmistakably Swedish in its approach, Volvo XC90 is not a car, but, an experience- An experience which starts the moment you fix your eyes on it even from miles off.
A design language so unique that it leaves you spell-bound. A glance is all that it takes to tell you that this is nothing you have ever seen before. It is not just a car, but an extension of your personality. The looks of XC90 may seem understated at first, but the more you'd observe it, the likelier you are to understand the stimulating design language employed.

Exteriors- Swedish design at its best
Unlike any other car, the design of XC90 is crisp, unpretentious and pristine. The wide front grille with vertical slats and characteristic diagonal Volvo logo tells you of the Swedish origins. But what set it apart from any other design are the T-shaped LED DRLs, monikered "Hammers of Thor". These make the car look breathtakingly beautiful and add a unique presence.

Built on an entirely new platform, XC90 sits high up the ground with a fantastic ground clearance of 218mm. 20" alloy wheels with squared-off wheel arches off-set the butch look of this luxury SUV. The side profile is clean and high shoulder lines extend all the way to the rear. This is what conveys how long and spacious this SUV is.

Volvo's characteristic "Inverted Question mark" tail lamps blend with the rather minimalist looking boot to lend to XC90 an exquisite rear. All these design cues work tremendously to make XC90 look stunning.

Interiors- Sometimes, less is more!
The stupendous design language gets an even better shape on the inside. Step into the cabin and you would feel it is a superlative expression of luxury. The interior design cascades so effortlessly that you experience opulence at every nook and cranny. The craftsmanship is extraordinary and the interiors feel uncluttered and elegant.

The dash comes with a minimalist design, but is exquisite. Un-veneered wood trimmings that flow across the dash and ample use of leather and metal trims make interiors feel truly plush.
The 9" portrait mode Sensus touch screen system becomes your holistic hub for every adjustment in the car. The portrait orientation makes for better visibility and the slick touch makes it all the easier to operate. You get swipe and pinch functions, just like on your smartphone.

Built on a new, longer platform, XC90 offers oodles of space, even for the passengers at the third row. And the boot space of 400 litres is enough to make XC90 your ideal means of travelling.
Volvo's attention to details is absolutely praiseworthy. The panoramic sunroof and wide viewing angles make for a roomy and spacious cabin.So, the next time you are out for a long journey, the nature wouldn't seem so obscure.

The cabin is so well insulated that all the city chaos and noise fades into the background as you shut the doors. What you feel is surreal bliss in the lap of luxury.
Comfort at its best
Volvo has seemed to lay emphasis on very minute detail. Wrapped up in Napa leather, the seats of the XC90 feel premium and uber comfortable. The Swedish giant actively collaborated with orthopaedic surgeons for ergonomic research.
As a result, the seats in XC90 offer the perfect amount of lumbar support and seat squabs are wide enough to keep fatigue at a bay, even after a day long journey. XC90 allows you to adjust the seats in more than one ways. You get features like heating and ventilation, power-operated lumbar support, extendable seat cushions and side bolsters. This is truly a first-class place to be in.

The airmatic suspension works towards ensuring a soft and supple ride quality. This, in tandem with the high ground clearance, easily gobbles up potholes and bumps. So, whether your XC90 is cruising over highways or manoeuvring city roads, the comfort in the car would always be top notch.
Music, exclusively for you!
A key highlight of Volvo XC90 is the fantastic 19 speaker Bowers and Wilkins music system that offers an extraordinary experience. Equipped with a segment first Air-Ventilated sub-woofer, it produces crystal clear sound and is a treat for audiophiles. Different music settings, like Studio or Concert mode, help you relax and enjoy the music of your choice.

The highlight here would be the concert setting. The surround sound works extremely well and transcends you to the middle of a concert in Vienna. What better way to end your day than a relaxing piece of music soothing your nerves!

If success to you means sophistication sans pomp and show and you are looking to buy a luxury SUV which is an extension of your personality, then Volvo XC90 should be on top of your list. This is a car which is class apart, has a very strong road presence and is nothing less than an indulgence, albeit a good one. It reflects finesse of extraordinary level and is a sure head-turner. Test drive one to feel the difference.
Was this article helpful ?
1 out of 1 found this helpful