One and only Volvo XC 60 drive
Published On Jun 24, 2013 07:10 PM By Prithvi for Volvo XC60
Volvo is one of the most understated brands in a country like ours, despite having superior credentials when it comes to safety. Therefore we at Cardekho, take Volvo's mid-sized SUV XC60 out for excursion to city of Jaipur to experience its potential.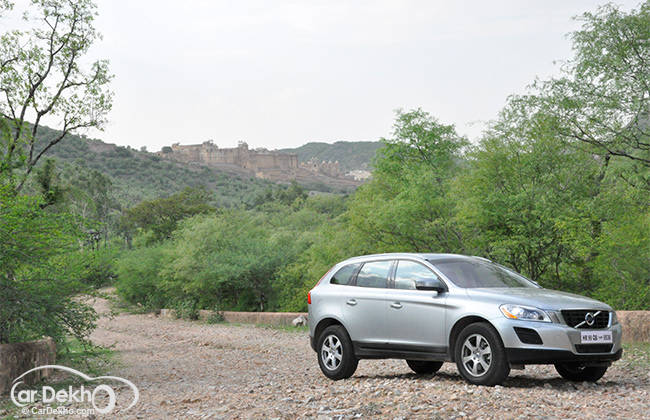 Be it big, mid-sized or small, SUVs are increasingly becoming objects of obsession for people in small towns as well as in metropolitan cities. Therefore the XC 60 is our pick for this week not because it is a new entrant in the market but simply due to its aggressive looks and understated image.

We could have perhaps driven the Mercedes ML, Audi Q5 or for that matter even the BMW X3, but its cheaper price point and uncanny looks made us wanting more of this SUV. In perspective, XC 60 features a considerably large bonnet, traditionally seen Volvo grille having a substantial amount of chrome in it.

Its headlamp cluster featuring xenon's are imposing enough to take notice and at night come in handy especially on those twisty roads or turns where visibility is of at most concern due to its directional moving beams.

Body coloured side view mirrors with turn indicator inserts, flared wheel arches and 17 inch 6 spoke alloy wheels make for sporty side view. While the rear provides vertical LED tail lamps with oval ends which give the XC60 a curvaceous and a radical look.

Having turned many head on the highway as well as in city (Jaipur) with its looks, the interiors are worth mentioning. To begin, this particular Volvo XC 60 D5 variant, which we had with us featured an all black interior.

I must say that the fit and finish is top notch, while the wooden plastic panel on the centre console with silver surrounds and silver finished door handles, knobs do help in bringing out the premium qualities from within.

The 7 inch monitor provided on the front dash does well to provide essential information pertaining to the infotainment system on board that features a CD player, USB port, auxiliary input and Bluetooth connectivity for its occupants.

Since this is a long distance report, the level of comfort in regards to seating both in the front as well as the rear is superior due to ample of head, shoulder and leg room. Thy support especially in the front is superb and therefore rest assured fatigue is something that does not cross the mind and body even once.

Features such as climate control, adaptive cruise control and panoramic sunroof further enhance in cabin experience. Safety being an essential part of Volvo experience, the XC60 caters to front & side airbags, Collision Warning with Full Auto Brake & Pedestrian Detection, Driver Alert Control, Lane Departure Warning, Dynamic Stability & Traction Control, Roll Stability Control, Anti-locking brakes with Hydraulic Brake Assist & Ready Alert Brakes to just name a few.

For a long trip like this one, XC offers 495 litres of cargo space at the rear which is sufficient to accommodate decent amount of luggage.

Now to the most interesting part of the vehicle, which you all and one would be interested in – the engine. Volvo XC 60 D5 features a 2.4 litre, 5 cylinder turbo charged diesel engine, which produces a maximum power output of 215bhp with 440Nm of torque. Being an all wheel drive, the power delivery is seamless without any lag.

The six-speed automatic transmission on board caters to smooth gear shifts both within the city as well as the highway. However, the manual mode is more enjoyable as the engine feels really responsive for those crucial overtaking manoeuvres especially on the highway.

Another aspect that impressed used the most was the ride quality of this SUV, which is brilliant considering that the National Highway No.8 is under considerable amount of repair; the journey was pretty enjoyable without many jolts off course.

In handling, it is pretty decent with little bit of body roll which comes in at high speeds. The benefit of having Hill Assist did come in handy, when we drove around the Aravalli Hills on our way to Nahargarh Fort.

On the whole having driven it two and from Delhi, the Volvo XC60 is a brilliant SUV. It is cost effective and at the same time provides excellent comfort and features, which make one spell bound for words. In my view, if I had that kind of money there would no second thoughts about this one.
Was this article helpful ?
0 out of 0 found this helpful