New Volvo XC90 - All you want to know
Published On Nov 06, 2014 12:29 PM By CarDekho for Volvo XC 90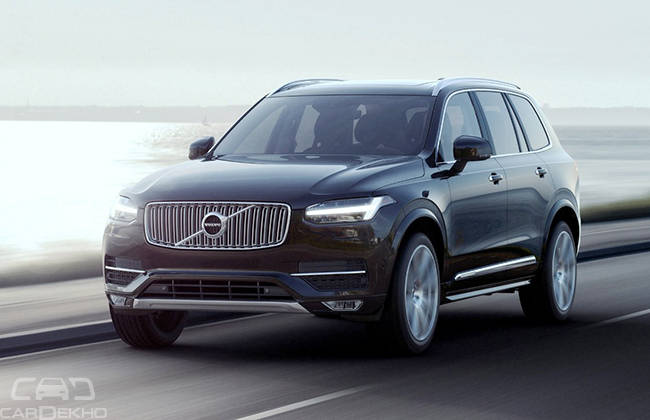 Volvo XC90, the company's first SUV, made its debut way back in 2002. Though a capable SUV with advanced safety features like any other Volvo, the XC90 started to show its age, while its competition moved ahead. Now, Volvo has unveiled the second generation all new XC90 is built on the company's new Scalable Product Architecture (SPA) technology with a completely new design, new interior and of course, new safety features. The new Volvo XC90 has become popular already with 1,927 of the First Edition individually numbered cars have been sold out in just 47 hours of their release in September 2014. As the production is all set to start in late 2014, we see what's new about the next-gen XC90.
New Design - Outside and in

The new Volvo XC90 gets an completely new exterior design yet retaining typical Volvo design traits. The XC90's new exterior is led by a new face with unique T-shaped Thor's Hammer daytime running lights and headlamps neatly sitting between a grille with vertical slats and the Volvo arrow in the middle. To the rear again, the design cannot be mistaken for any other car than a Volvo. Large bonnet, neat waistline and muscular wheel arches housing a range of wheel sizes up to 22-inches make for a strong profile.

The XC90 interior is also completely new and as soon as you enter, the tablet-like touch screen control console is the first thing that commands your attention. Featuring an all-new in-car control system, the system offers simple button free operation and helps for a clean and open dashboard design. The interior includes materials like Nappa leather and wood with handcrafted details, gear lever made of crystal glass from Orrefors, the famous Swedish glassmaker and diamond-cut controls for the start/stop button and volume control.

The instrument cluster is completely digital and comes with a head-up display. There is a new Sensus user interface that gives access to a wide selection of cloud-based applications and in-car possibilities like internet radio, connected navigation, finding and paying for parking, seamless music streaming, the ability to mirror and use Apple and Android devices in the touch screen display, a hot spot for using a tablet in the car and much more.
The new Volvo XC90 gets a four-zone climate system with individual settings for the occupants in the front seats and in the second row, with a separate air-conditioning unit for the third row. The XC90 also features a top-of-the-line system with a 1,400 W Class D amplifier and 19 Bowers & Wilkins speakers, along with one of the first air-ventilated subwoofers in a car.

The new XC90 promises space and comfort for all the occupants in the car. The seats get a new design resembling human spine and are available with adjustable side bolsters, seat cushion extension and massage. The second row features three individual seats with recline adjustment and come with sliding function to create more legroom in the third row. The seats in the third row offer class-leading comfort for passengers with a height up to 170 cm.
New chassis and power trains - best of both power and fuel efficiency
Built on a completely new chassis, the Volvo XC90 comes with a double wishbone front suspension and a new integral link rear axle that also features a new lightweight transverse leaf spring. The XC90 can also be equipped with electronically controlled air suspension with a choice of five modes.
The new engine lineup of the XC90 is topped by a hybrid XC90 Twin Engine, combines a supercharged and turbocharged petrol engine with an electric motor. While the power output is 400 horsepower, the carbon dioxide (CO2) emissions are just 64 g/km, thus offering a great combination of power and clean operation. The car can run around 40 kms on electric power alone and with a combine torque of over 600 Nm, the XC90 can sprint from 0 to 100 km/h in 6.4 seconds.
The engine range also includes D5 twin turbo diesel engine and D4 turbo diesel engine. The D5 twin turbo diesel engine puts out 225 hp and 470 Nm, offering best in class fuel consumption of around 6l/100 km. The D4 turbo diesel engine comes with 190 hp and 400 Nm and a fuel consumption of around 5l/100 km. Petrol engine options include two choices - a T6 engine with supercharger and turbo with 320 hp and a maximum torque of 400 Nm and the second is a T5 with 254 hp and 350 Nm. All engine versions come with our 8-speed automatic gearbox as standard.
New Safety features - new standards

The new Volvo XC90 gets a comprehensive list of safety features and that goes without saying. There are two world first safety technologies in the XC90 - a run-off road protection package and auto brake at intersection capability.
With the run-off road protection package, the all-new Volvo XC90 detects what is happening in a run-off road scenario and tightens the front safety belts while energy-absorbing functionality between the seat and seat frame cushions helps prevent spine injuries. The XC90 also becomes the first car in the world with technology that features automatic braking if the driver turns in front of an oncoming car.

City Safety, Volvo Cars' auto brake functions package, is standard equipment in the new XC90 and now covers vehicles, cyclists and pedestrians in front of the car, day and night.
The driver support features come in the form of new Adaptive Cruise Control with Pilot Assist with semi-autonomous driving by automatically following the vehicle ahead in stop-and-go traffic. Acceleration, braking and now also steering are controlled automatically. The new XC90 features a 360° Surround view, offering the driver a birds-eye view of information from all cameras added up digitally to a one 360° image. The Park Assist Pilot now also offers automatic reversing into a parking bay.
Was this article helpful ?
0 out of 0 found this helpful