Volvo defines what lounge seating is all about
Published On Apr 24, 2015 11:32 AM By Abhijeet
The concept of lounge seating is not a new one for cars. Be it the huge Maybach 62 or the compact SmartForFour, manufacturers have tried to pack the most comfortable seating arrangement in the most fitting dimensions of their products. But no concept has quiet yet captured the true sense of lounge seating, has it? Volvo has just blown all previous attempts out the window with their new Lounge Console concept. This new setup was released for the first time to the Chinese market, as it is booming almost on a daily basis now.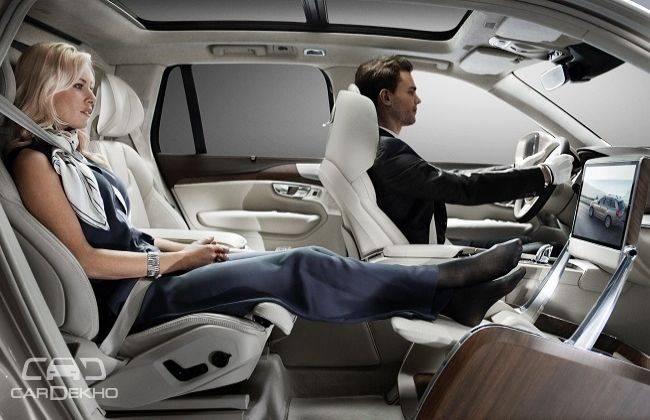 The Lounge Console concept will completely change your perception for comfortable seating in a car. The concept will allow chauffeur driven business people an exclusive flavour of the ultimate in executive luxury in a compact and versatile solution, thus expanding storage and comfort. The front passenger seat gets replaced which in turn provides all the necessary possibilities for equipping functions and amenities.

The idea popped up by focussing on executive lifestyle and its iterations for the world of automobile. Volvo wanted to make the available interior space work for all the passengers in an efficient but luxurious format. The removal of the passenger seat enabled to create an open space that dramatically changes the dynamics of the interior and led to more possibilities. This extensive research in creating something so special that it will redefine car interior allows Volvo to meet the expectations of customers of high profile lifestyle, and perhaps even surpass their expectations.

The rotating table spins 90 degrees and also powers forward to display a large 17 inch media screen. The big screen helps provide a full in-car theatre experience. Passengers have a low positioned cushioned leg rest is an additional area for shoes maximising their comfort. Business people feeling the need for added security may utilise the lockable storage box provided. The absence of a dedicated front passenger seat allows for full forward vision creating a uniquely spacious environment.

"People who are on the move and have a hectic lifestyle going from event to event or meeting to meeting need some space, some luxury time, and the opportunity to relax and refresh themselves for the next engagement. This is ultimately what the Lounge Console is designed to facilitate," states Thomas Ingenlath, Senior Vice President Design, Volvo Car Group.

The idea behind the concept is dual in its state, first to show that Volvo knows the needs of its customers, and second is that the design and materials innovation allows the brand to provide an experience that is premium and defines a Volvo. The Lounge Console incorporates features designed to enhance the in-car experience. And ladies, the designers have added a work table that opens up to reveal an illuminated vanity mirror. It also includes a storage tray for jewellery and personal accessories or makeup.

Was this article helpful ?
0 out of 0 found this helpful