A Nano-licious Time
Published On Dec 04, 2014 06:40 PM By Firdaus for Tata Nano
2188 Views

Write a comment
We drive the Tata Nano Twist for week and find out just how much fun it is in our busting daily commute!
The Tata Nano is one of the smallest and cutest cars available in the Indian market. When launched, it created quite a stir across the globe not just for its pricing, but also because for the first time a manufacturer achieved the implausible by manufacturing a car under Rs 1 lac. Since its launch in 2008 the Nano has received a mix response - some like it, some don't and; even though some really don't favour the car, they love it for its practicality in the city. But how well does the Nano really perform in everyday city life? How stable is it on the highways? Does it have basic creature comforts that one can enjoy? We had similar doubts about this teeny bopper and decided to test its capabilities. How did it fare? Let's find out.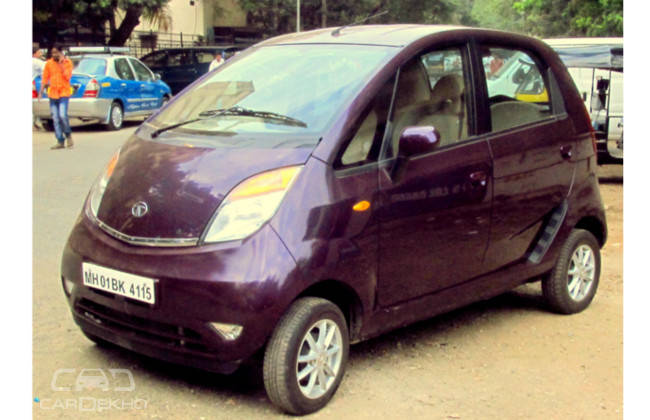 Our test vehicle was a brilliant purple coloured Nano Twist. The fact that this car would stand apart from the rest of the herd, already had me excited like a four year old. Being handed over the keys, I entered the cabin of the Nano and couldn't help but giggle like a teenager. The dimensions were small and it felt like a toy car. Don't get me wrong, there is nothing wrong with toy cars - they look good, are easy to drive and of course are the easiest to park! To put it simply – they're fun.

After calming my giggle fit, and getting my observatory senses on track, I noticed the Nano Twist's interiors were certainly a notch up than its archetype. The beige-black interiors with a dash of the car's exterior colour on the inner door panels impart a fun look along with making the car appear more spacious. The rear seat offers plenty of space for two well-built individuals or three average built people and the legroom can certainly be termed comfortable, if not spacious.

For a car with such miniscule dimensions the front row offers sufficient space between the driver and co-passenger seats ensuring no elbow fights during gear changing or otherwise; there is plenty of legroom for the co-passenger as well. Take note, if you're a driver with thunder thighs, then the Nano is certainly not a car for you as the steering wheel is placed pretty close to the thighs. This doesn't really affect the steering ability of the driver nor is it a hindrance, but you may struggle a little while exiting the car.

For a car of this size, one would expect its engine to purr, but surprisingly it growls. Once you start the ignition you'll hear a quiet hum from the engine; engage in first gear, get your foot off the clutch, press in the throttle and the Twist transforms into a galloping machine with go-kartish handling abilities - precise and quick to respond. The exhaust note is sweet, that on higher revs it gives an impression that the Nano houses a supercar engine. This miniature automobile doesn't fail to impress.

After getting a taste of its handling and performing characteristics, I decided the take the Nano Twist in some of the most crowded bylanes of Mumbai, the names of which seemed like residences of some cartoon or fictional characters. These bylanes are a horror even when you walk there, let alone drive a car, but since I really wanted to figure how well the Nano would tackle such traffic, I decided to give it a go anyway.


Have you ever tried a contrast of bright purple with black? It's quite a striking contrast isn't it? That's how the Nano felt in one of the bylanes I entered – a purple Nano Twist cruising slowly amongst a sea of people, men and women all dressed in black. It made a striking picture, just that I wasn't allowed to click any for religious reasons as the people were observing Moharrum.

The other thing about these bylanes was that there were roughly five feet wide. Any other car would have been stuck there, but the Nano remained unfazed; turning the car around was cake walk too.

As I exited the lanes and this particular locality, I breathed a sigh of relief and was proud of my maneuvering skills, and even more by that of the Nano's power steering which made tackling this chaotic sea of humans, dogs, two wheelers and handcart- walas way easier than I thought.

Post this experience I decided to stick around with city cruising along with the random tight spot parking; the Nano Twist was a delight here as well. It packs in just the right amount of power to make your way through tiny openings in the traffic helping you stay at the helm. To you this may sound as if I were racing, but trust me I was not. Bombay traffic is so chaotic that all that's there on a driver's mind is to stay ahead of all, so as to evade any possibility of getting stuck in a traffic jam. And if ever one were to get stuck in one, staying ahead would certainly ensure getting out of the chaos early! The Nano Twist serves this purpose just right - with its tiny size it's easier than anticipated to squeeze in a gap and make your way ahead.

The Nano Twist runs with all this peppiness not just with one person on board, but with full occupancy as well. With a combined weight of 321 kgs between four people, there was no hint in power drop or performance of the Nano Twist. Even my heavy weight co-passengers were in awe of its energetic performance. Impressive, isn't it?

So I've demystified some myths and made it clear that the Tata Nano Twist is a practical, comfortable car for city commuting and everything urban, but what about the highways? How does it perform there? Many people believe that the Nano is just a city car and cannot handle highway speeds with grace. Well, you've got that all wrong! The Nano handles itself (and the passengers) with elan and good composure even on the highways. I took the Tata Nano to Pune via the expressway and believe me when I say that this tiny tot can easily touch a 100 and cruise steadily at 80kmph – 90 kmph without you even realizing it. The only downside to this is that you have to keep an eye on the speedometer to make sure you don't redline the car. Yes, it's that easy. Even on the ghats and around bends the Nano Twist is composed with equanimity and doesn't give you a scary moment.



Now just because it's a small car doesn't mean the Nano Twist is devoid of any creature comforts. It comes with a single DIN music system that allows users to plug in a CD, or play their choice of music via an AUX cable or a USB port. It also comes with 4 speakers, though the quality of these is best when you listen to the beats at slightly lower volumes. The dashboard houses a central console which displays the speed and the fuel level. As mentioned earlier the interiors are comfortably spacious and the rear seats offer a sort of coffee table comfiness. The storage space isn't all that great but good enough for daily commute. It comes with tow glove boxes integrated in the dashboard and a singly bottle holder in front of the gear. The door panels also offer some storage space but only documents, change or the tiny bit one stores in the car.

Here are a few things that you may like about the Nano Twist
Cute looks and the range of pop colours
Ability to cut through tight traffic
Fuel economy
Easiest car to park in the tiniest possible space
Things that you may not really fancy
Driver seat can be a little cramped for heavily built and tall people
Horn could be a little louder to let people know the Nano is arriving
The windscreen wiper could do sans the in-built water spraying unit. It's really not that effective
Overall the Nano Twist is a comfortable car which will certainly make your daily commute easier. Am I up for another go in it? Most certainly.
Was this article helpful ?
0 out of 0 found this helpful