Porsche Launches Most Powerful 911 In India
Modified On Jul 10, 2018 07:22 PM By Jagdev for Porsche 911 2016-2019
At Rs 3.88 crore, the Porsche 911 GT2 RS is the most expensive 911 in India and is the fastest 911 ever around the Nürburgring Nordschleife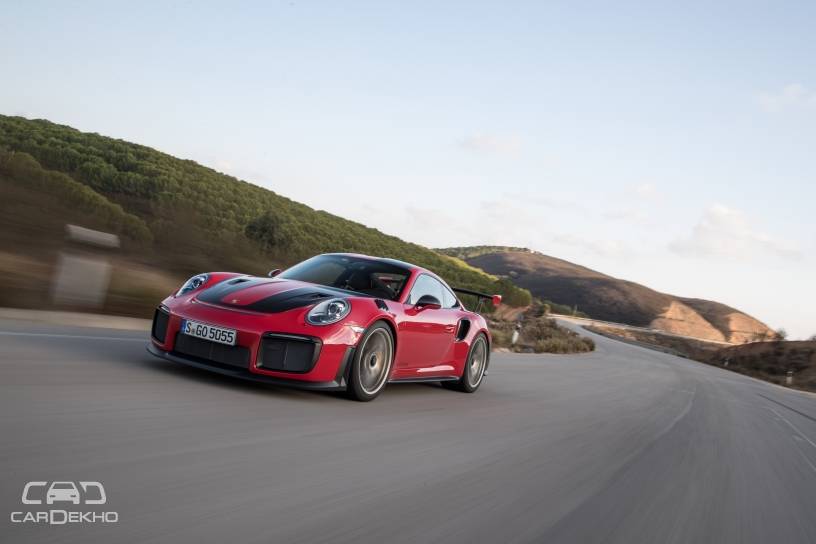 Porsche has launched the 911 GT2 RS in India at Rs 3.88 crore (ex-showroom). It's the most expensive and the most powerful 911 model in the country followed by the 911 Turbo S Exclusive Series which costs Rs 3.56 crore (ex-showroom). The most affordable 911 (relatively, of course) available for sale in India currently is the 911 Carrera, which is priced at Rs 1.53 crore (ex-showroom).

The 911 GT2 RS is powered by a 3.8-litre, 700PS engine that can take it to a 100kmph from standstill in 2.8 seconds. So, the extra Rs 32 lakh that you pay (the difference will be higher in the on-road cost) for the GT2 RS over the 911 Turbo S Exclusive Series will get you to 100kmph faster by about a tenth of a second. The 911 Turbo S Exclusive Series is also powered by the 3.8-litre engine, but has a lower power output of 607PS. While the 911 GT2 RS is a RWD machine, the Turbo S Exclusive features an AWD setup.

If you're someone who times his laps at the circuit and are going for the 911 GT2 RS, note that Porsche offers an optional Weissach package that would save 30kg of weight, thereby improving the performance. Here's Porsche's official press release for more details of the 911 GT2 RS.
Press Release
Fastest and most powerful 911 showcased at launch event
Porsche 911 GT2 RS arrives in India
Mumbai. Porsche's ultimate driving machine, the 911 GT2 RS, is now available in India. As the road-approved sports car record holder on the famous Nürburgring Nordschleife with a lap time of 6 minutes and 47.3 seconds, the arrival of the special model was celebrated at an exclusive event in the Porsche Centre Mumbai showroom.
Pavan Shetty, Director of Porsche India, said: "This is a great day for sports car fans in India. The 911 GT2 RS is the concentration of Porsche's motorsport expertise into one high-performance model that also masters everyday driving. Despite its superior racing dynamics, this top 911 model is as predictable and reliable to handle as any other Porsche. We are seeing an increasing demand for true sports cars in India, and with vehicles like the 911 GT2 RS, we are confident Porsche is well placed to meet that demand and offer a truly unique driving experience on the road and the racetrack."
At the heart of Porsche's fastest 911 of all time is a 3.8 litre, 700 hp biturbo flat engine, which delivers a power increase of 80 hp over its 3.6-litre predecessor. Weighing in at 1,470 kg with a full fuel tank, the lightweight two-seater accelerates from zero to 100 km/h in 2.8 seconds. The rear-wheel drive Coupé has a top speed of 340 km/h, and with its near-motorsport drive technology, achieves a torque output of 750 Nm (an increase of 50 Nm).
The new model is the first 911 GT2 RS to be equipped with a double-clutch transmission. The Porsche Doppelkupplung (PDK) has been customised for the GT2 RS and offers special features designed specifically for the track. The Intelligent Shift Program enhances gear shifting, whilst the "Paddle Neutral" function gives greater driver control and is reserved solely for Porsche GT sports cars.
A motorsport chassis with active performance systems is central to the outstanding driving performance of the 911 GT2 RS. Ultra High Performance mixed tyres, the Porsche Ceramic Composite Brake (PCCB) system as standard, rear-axle steering and active driving systems including the PSM Sport function for faster lap times, combine for optimal driving dynamics.
Visually, the design of the 911 GT2 RS is centred around the vehicle's racing properties from every angle. A wide, low front spoiler lip, striking air intakes on the aerodynamic front end and behind the doors, and the air vent in front of the front lid, typical for 911s in the GT class, reflect the vehicle's powerful performance credentials. The interior is dominated by red Alcantara, black leather and a carbon-weave finish as standard. A sports steering wheel with gearshift paddles, full bucket seats, and the Clubsport package which includes roll cage and six-point driver seat belt as standard, enhance the ride experience for drivers and passengers further.
Already featuring a lightweight, aluminium-steel composite construction, the Weissach package is available as an option, offering up to 30 kg weight saving for an even greater performance.
The first 911 GT2 was developed in 1995 and was based on the 911 Turbo of the time. Subsequent generations followed in 2000 and 2007. In 2010, Porsche designed the first 911 GT2 RS to be an even more powerful and near-motorsport variant. All 911 GT2 vehicles have several things in common: turbo engines with significantly increased power, motorsport chassis, high-performance brakes, and rear-wheel drive as opposed to all-wheel drive.
The new Porsche 911 GT2 RS is now available at Porsche Centres across India with a basic retail price of INR 38,831,000.
Read More on : Porsche 911 on road price
Was this article helpful ?
0 out of 0 found this helpful