Mercedes-Benz Introduces AdBlue For BSVI Diesel Cars, Waterless Washing And More Products On World Water Day
Modified On Mar 23, 2018 07:18 PM By Dhruv
The German carmaker plans to switch its entire portfolio to BSVI engine technology by the end of 2019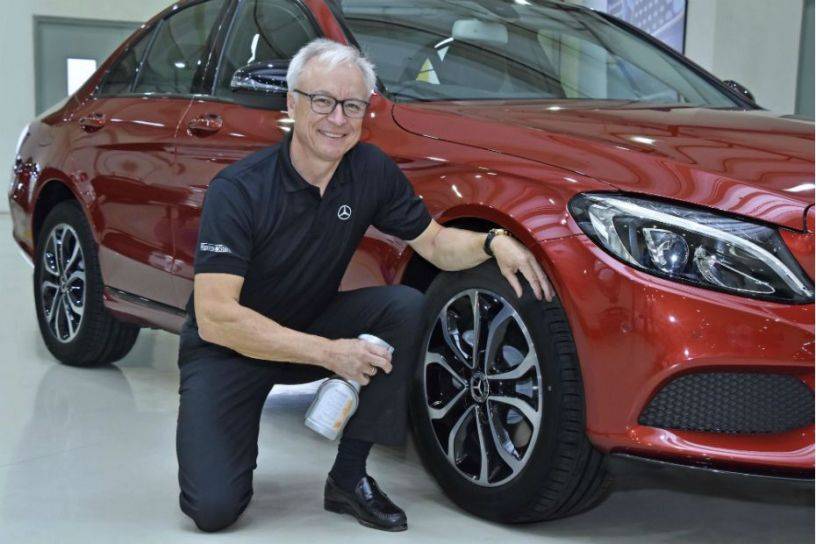 Mercedes-Benz has taken another first and mandatory step towards BSVI compliance. The carmaker has now introduced AdBlue in its official range of after-sales service products. Diesel engines that comply with BSVI emission norms are equipped with a selective catalytic converter (SCR) which is filled with AdBlue, a liquid solution that converts harmful NOx (nitrogen oxide), which is a major source of atmospheric pollution, from the exhaust into nitrogen and water. If the car runs out of the liquid, it will fail to fire up when you turn the ignition. Mercedes-Benz says that all its cars equipped with SCR will raise a warning, similar to the low fuel warning, when it runs out of AdBlue. However, topping AdBlue is simple and doesn't require professional help.
Mercedes-Benz launched the S-Class facelift in India with a BSVI diesel engine on February 26, 2018. The S 350 d diesel variant has a SCR (selective catalytic converter) that requires AdBlue fluid. The carmaker plans to launch more cars with BSVI diesel engines soon. It claims that by the end of 2019, cars across its portfolio will feature BSVI engines. Also Read: All Mercedes-Benz India Cars To Be BSVI-Compliant By End of 2019

Apart from AdBlue, the German luxury carmaker has also introduced a waterless cleaning solution for domestic use. Known as 'Quick & Clean', Mercedes-Benz claims that using this dry cleaning method for cars can save up to 100 litres of water per wash. It also prevents the groundwater from being contaminated with harmful chemicals. The carmaker has introduced this dry wash facility at all its service outlets across the country as well. Related: BS-VI Volvos Not Coming Until BS-VI Fuel Is Available Throughout India
Mercedes has also introduced new body repair products, fluids, grease and lubricants. The waterless washing concept was earlier introduced by Maruti Suzuki and Nissan as well so it's nothing that we haven't heard of before. However, the combined effort on Mercedes-Benz's part makes it an exercise that promotes conservation of the environment.