Mercedes-Benz GLC-Class: Pros, Cons And Should You Buy One?
Modified On Jul 24, 2020 06:12 PM By Arun for Mercedes-Benz GLC
Should you consider buying a luxury SUV instead of that sedan? The GLC makes a strong case!

Buying luxury SUVs in India is like having your cake and eating it too. When road conditions are unpredictable and scraping the underbelly is an ever-present possibility, Mercedes' GLC seemingly offers a handy solution. The second child in the German manufacturer's range of SUVs, the GLC class is available with both petrol and diesel engines, priced between Rs 52.75 lakh and Rs 57.75 lakh (ex-showroom).
Should you cut a cheque for this luxo-SUV? Let's take a quick look at the pros and cons:
Pros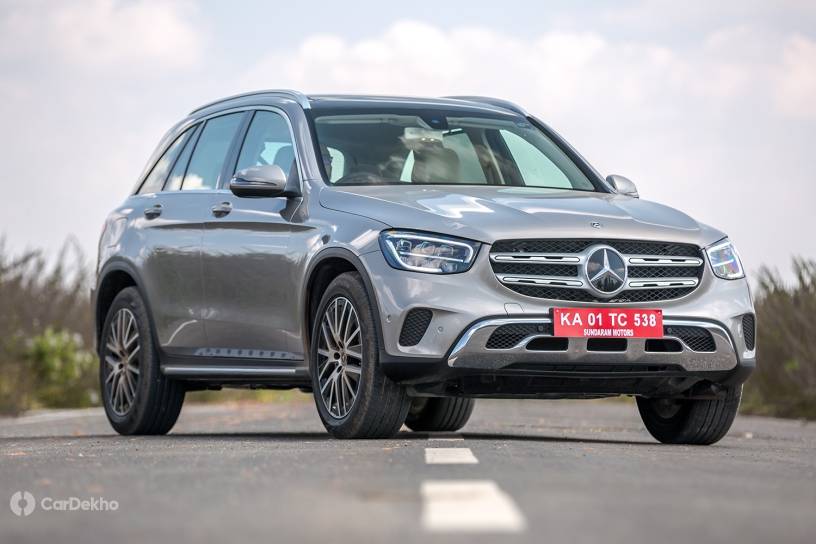 We wouldn't blame you for expecting a few glares and stares on the road after you've spent over half a crore for an SUV. And the GLC does deliver on that front. With the facelift, you get an updated design that includes new full-LED headlights with a daytime running light signature. Also new are the 19-inch alloy wheels (a size up from before) which suit the GLC's macho appeal amply. Bits like the twin-slat grille, faux skid plates, rugged cladding and an aluminium step board reminds you that this SUV will get down and dirty should you want it too.


Say what you will, Mercedes-Benz knows a thing or two about making one feel special inside the cabin. The layout is similar to the C-Class, with a waterfall effect for the centre console, and three central air-conditioning vents. Mercedes has chosen a classy-looking open pore wood finish for the accent trims on the dashboard and door pads. The aluminium finish for the steering-mounted controls, climate control and power windows add that special touch. Features such as ambient lighting, a massive panoramic sunroof and dual-zone climate control make the cabin experience rich.

It's not short on space either. There's enough room for a small family, and the cavernous 550-litre boot ensures you're not short on space for your road trip luggage.
If you're torn between the C-Class and the GLC, this might swing your decision a fair bit. The ride quality on the GLC is better suited for our road conditions. Even with massive 19-inch wheels, the baby SUV shrugs off bad patches of road and bumps without flinching one bit. To top it off, it does all of this quietly. So, whether you're driving or being driven, you'd be plenty comfortable.

Getting used to the GLC's dimensions barely takes any time, and piloting the SUV is a fuss-free affair thanks to the versatile engines. Mercedes-Benz is offering the GLC with a choice of two motors: a 2.0-litre petrol (197PS/320Nm), and a 2.0-litre diesel (194PS/400Nm). While both come paired with a 9-speed automatic, it's only the diesel that's offered with Mercedes' 4Matic all-wheel-drive technology. Both engines feel at absolute ease tackling city traffic and munching down highway miles. But we have a soft spot for the diesel — the extra torque really makes the GLC shine.

With the positives out of the way, let's take a look at what might be a turn off for you.
Cons
All that you'd want from a luxury car, is very well taken care of. However, given the asking price, you could wish for more. Memory seats for the driver and co-driver, a heads-up display, 360° camera and ventilated seats should've been bundled in. Mercedes' latest MBUX lets you talk to it using "Hey Mercedes." However, we'd have loved to see the GLC get the full MBUX experience with a fully-digital driver's display. Radar-based safety tech would've been a great-to-have too.

Both engines on the GLC feel like they're set up for ease of driving more than outright fun. The friendly nature of the motors means you're never taken by surprise behind the wheel. And while some might appreciate it, those wanting a kick-in-the-pants feel every time they drive might feel a bit underwhelmed. The steering too feels a bit disconnected once you start driving the GLC hard around corners.

Should You Buy One?
We only wish Mercedes-Benz hadn't skimped out on a few features, which would have helped the GLC justify their asking price convincingly. That apart, the GLC-Class is likely to appeal to a vast majority of luxury SUV buyers. And that's because it's ticking the basics of a luxurious yet practical cabin, a comfortable ride and a badge that has immense snob value. With its ground clearance and all-wheel drive tech, it's also building a strong case for those who want one car that does it all.

Read More on : GLC Automatic
Was this article helpful ?
2 out of 2 found this helpful