Maruti Suzuki Introduces Ecstar Range Of Car Care Products For Swift, Vitara Brezza & Other Arena Cars
Published On Jul 20, 2018 10:00 AM By Jagdev for Maruti Vitara Brezza
Maruti Suzuki claims that the Ecstar-branded engine oil can help increase fuel efficiency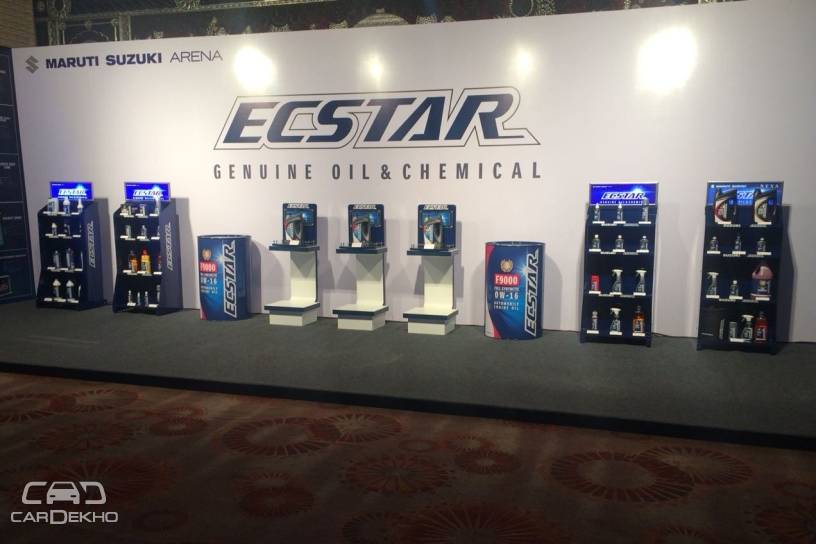 Maruti Suzuki has announced that its Ecstar range of car care products, which were first introduced at Nexa service centres in September 2017, will now be available across its entire service network in the country. The carmaker has over 3,400 service outlets spread across the country and another 600-odd MGA outlets, which will also retail Ecstar products.
Ecstar-branded lubricants and chemicals are premium products developed specifically for Maruti Suzuki cars. However, the carmaker says these would be priced at par with other third-party products that it used to recommend before, so the maintenance cost of the vehicles is not going to go up. The carmaker had earlier claimed that using Ecstar products can improve the car's fuel efficiency by 3 per cent.
Maruti also announced that it has added a new 0W16 grade engine oil to the Ecstar lineup. This product is said to offer improved fuel efficiency, thereby reducing CO2 emissions. All Maruti Suzuki cars will now be topped up with this oil straight from the factory. For more details, check out the press release below.
Press Release
Global oil brand ECSTAR now at Maruti Suzuki ARENA network
Launching new engine oil 0W16, which will reduce friction, emissions and improve FE
New Delhi, July 19th, 2018: In its endeavor to offer the best driving experience to its customers, Maruti Suzuki India today introduced ECSTAR, the global brand of lubricants, coolant and car care products. Previously available at NEXA service workshops only, ECSTAR will be now offered across all Maruti Suzuki ARENA workshops in India.
Maruti Suzuki is also introducing a new range of engine oil 0W16. This advanced oil will help reduce friction leading to improved fuel efficiency and cut down on CO2 emissions. It will also ensure engine durability being low viscosity oil.
Introducing ECSTAR range of products to ARENA customers, Managing Director and CEO of Maruti Suzuki, Mr. Kenichi Ayukawa said, "At Maruti Suzuki, we believe in providing our customers with the best of technology and convenience. And to ensure optimum performance of Maruti Suzuki cars, we are now extending ECSTAR portfolio to ARENA. ECSTAR oil is a powerful lubricant that not only enhances the performance of vehicles, but its optimal lubricant formulation, also offers outstanding engine protection, which results into long life of the engine and improved fuel efficiency."
ECSTAR, the brand of high-performance engine oil and coolant and chemical products, was launched by Maruti Suzuki's parent Suzuki Motor Corporation, Japan in 1984. In 2015, SMC promoted ECSTAR as a global brand of high quality products. At present, the ECSTAR brand is widely marketed across Europe, USA, Mexico, Australia and South East Asia.
ECSTAR engine oil has the optimal formulation for lubrication and a cooling effect, to ensure the cars deliver the highest level of performance. Initiatives like ECSTAR will help the Company keep pace with the evolving engine technology as well as environment care.
The blend of high performance synthetic base oil additives contributes to ESCTAR's superiority over ordinary engine oils, and ensures a remarkable engine performance.
The range of ECSTAR products will be procured from select local suppliers here. These suppliers will undergo stringent tests to qualify their products to be included under ECSTAR umbrella.
The range of ECSTAR products includes engine oils, coolants, injector cleaner, automatic transmission oil, car care products, and screen wash for the cars. More products will be added to the ECSTAR range in India progressively.
Read More on : Vitara Brezza AMT
Diesel24.3 kmpl
TransmissionManual/Automatic
*Ex-showroom Price in New Delhi