India Bound Volvo XC40 And S40 Concepts Revealed
Modified On Apr 25, 2017 04:48 PM By Cyrus for Volvo XC40 2018-2022
Volvo has been on a rediscovery of sorts in recent years. It started with the XC90 SUV and the S90 sedan, and was carried forward to the two new concepts. The new concept cars, dubbed the 40.1 (SUV) and the 40.2 (sedan) follow Volvo's design elements, but are still unique in their own way.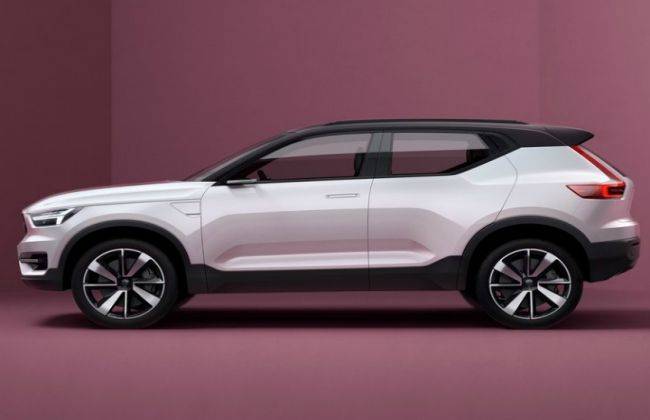 Both cars pick up design cues such as the 'Thor's Hammer' daytime running lights and the wide-mouth grille that proudly displays the Volvo 'Iron Mark' logo prominently from the XC90 and the S90. The 40.1 concept car is a crossover or a compact SUV design that has high ground clearance, a black roof, fender cladding and pillars. The L-shaped tail lamps and the sloped rear window are the highlights of the 40.1 concept though.
The 40.2 sedan concept, on the other hand, is a lot lower and substantially sleeker. The S90 influenced C-shaped tail lamps are present on the sedan concept too and just like the S60 cross-country, the concept also adopts a high-riding stance. It also has a set of large alloy wheels and black cladding around the fenders similarly as the SUV concept. The sedan concept will translate to the S40 sedan when it makes it to the production stage a few months from now.

The Volvo 40 cars will be the first to ride on the company's new CMA modular platform. Smaller than the SPA platform used for the XC90/S90, the CMA platform will also accommodate a plug-in hybrid drivetrain. In the case of the 40 series cars, it will be called the 'T5 Twin Engine' which will incorporate a seven-speed dual-clutch transmission and a three-cylinder gasoline engine. The engine will also be paired to a set of electric motors for the plug-in hybrid setup. This platform will also incorporate a full electric setup, but that is scheduled to debut only post 2019.

Both the production-spec XC40 and the S40 will make it to India in the second half of 2017 or early 2018. The cars are due for an official international unveil early next year. The S40 sedan will go up against the likes of the Audi A3 and the Mercedes-Benz CLA along with the upcoming 'BMW compact sedan'. The XC4, on the other hand, will offer customers looking to buy the Audi Q3, the BMW X1 and the Mercedes-Benz GLA something unique to consider. Expect both to be priced between the Rs 30-40 lakh range.
Was this article helpful ?
0 out of 0 found this helpful