First-Ever Tesla Arrives In India
Modified On Mar 01, 2018 05:02 PM By CarDekho for Tesla Model X
61339 Views

Write a comment
It's possibly a personal vehicle and not a sign of Tesla's official entry into the Indian market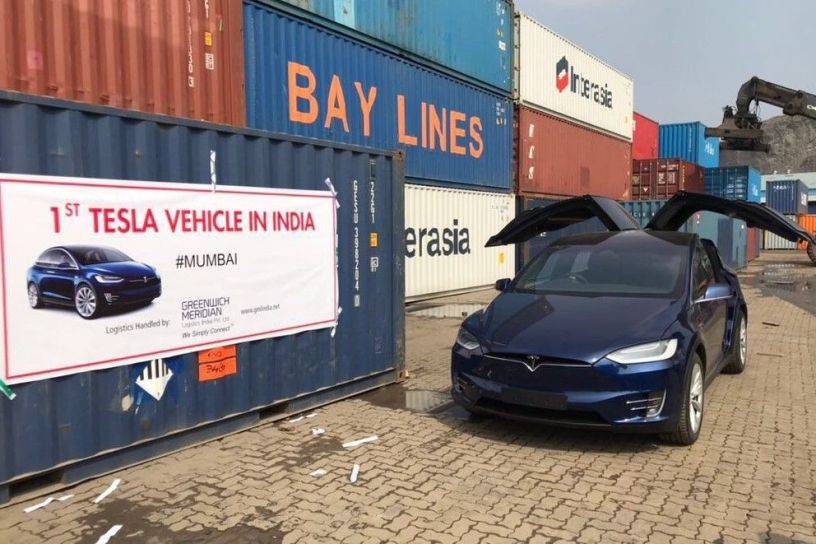 The first-ever Tesla has landed in India, and it's a blue Model X with its steering on the right side. It could be a personal vehicle and not meant for official testing. Tesla allowed Indians to book the Model 3 but hasn't since signalled if or when it'll arrive. The vehicle, imported by Greenwich Meridian Logistics in Mumbai, looks like the 75D variant which comes with a 75kWh battery pack. This is the base variant of the luxury electric SUV and packs two motors, one for each axle.

Although Tesla doesn't disclose 75D's power and torque figures, sources online suggest that it has 333PS of power and 525Nm of torque. As per America's Environment Protection Agency, this variant of the SUV can cover 381km on a single charge in real-world conditions. According to the optimistic New European Driving Cycle, this model can cruise for 417km between charges. It also accelerates to 97kmph from a standstill in just 4.9 seconds. All Tesla cars pack their batteries low in the frame to help improve handling and minimise body roll.

However, it's not just the range or the power that draws buyers in its direction; the Model X also has a stunning design. The motorised 'Falcon' wing doors help it stand out quite effortlessly, and the minimalist interior design theme looks sophisticated with a massive touchscreen taking centre stage. It can be ordered in five, six or seven-seat configurations.
Govt Promises Higher Incentives To Make EVs Popular
Toyota To Bring Prius Prime And Small Electric Car To India
Other capabilities of the Model X include the ability to drive and steer itself on sparsely dense roads. It comes with the necessary hardware to enable full self-driving, which can be unlocked later for a fee.
In the UK, the Model X 75D costs about Rs 61 lakh. The added taxes for importing a luxury vehicle in India would push the price to about Rs 1.2 crore. The Tesla Model X competes against full-size luxury SUVs such as Mercedes-Benz GLS, BMW X5, Audi Q7 and the likes.
10 Automotive Terms That'll Go Obsolete Once We Switch To EVs
Upcoming Electric Cars In India
Was this article helpful ?
0 out of 0 found this helpful