All-New 2018 Honda Accord To Debut On July 14
Modified On Jun 23, 2017 02:55 PM By Raunak for Honda New Accord
The tenth-gen Honda Accord is getting a major overhaul in terms of styling and engine options after a long time!
Honda has announced that it will make the world debut of the all-new tenth-generation Accord on July 14, 2017. The 2018 Honda Accord will be revealed in Detroit and is expected to go on sale in the USA in coming months. Its sales in other markets, including Japan, are likely to begin from later this year or early 2018, while the Indian market debut is believed to happen in 2019.
The Japanese automaker has also released an official sketch of the upcoming Accord. The 2018 model is expected to debut Honda's new design direction for future models. Looking at the murky sketch, one thing is definite and it is that the Accord will have a pressed down face. Elements at the front, headlights and grille, are placed quite low to impart a meaner stance.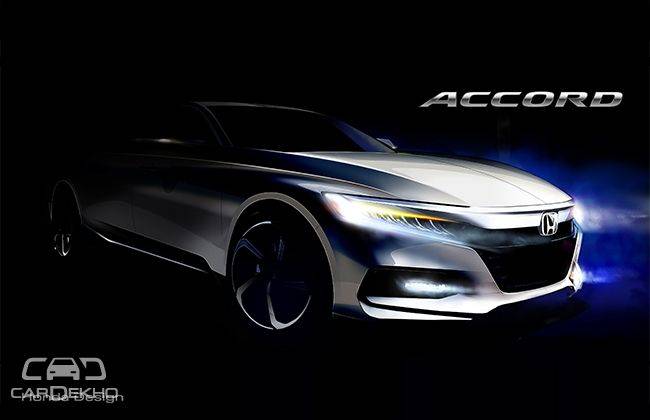 The bonnet narrows as it meets the grille, which, in turn, imparts substantial width to the front fenders. The headlights are full-LED just like the outgoing model and the grille now spans almost the entire width of the vehicle.
It seems like the 2018 Accord's grille is now a single unit and there's no two-part grille like the current ninth-gen facelift version (which is also retailed in India). Also, notice its new turbine-like alloy wheels, which were also visible in the camouflaged picture revealed last week.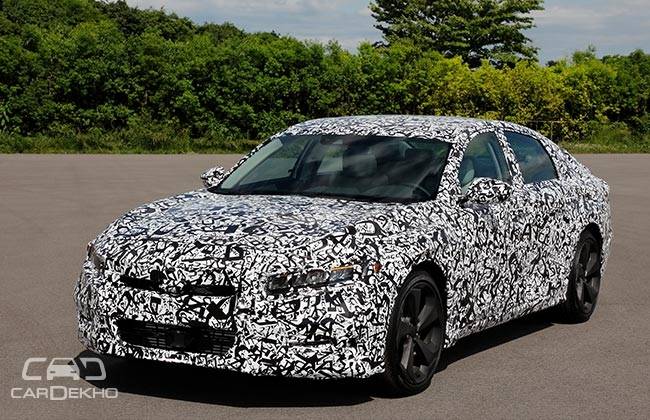 The tenth-generation Accord will see dramatic alterations to its powertrain line-up, which were announced last week. The 2018 model will feature Honda's latest direct-injected, forced induction engines for the petrol-powered models and its current two-motor hybrid powertrain for the hybrid model. The naturally aspirated engines of the ninth-gen Accord will be discontinued.
Though the specs of its new motors will be revealed on July 14, read what all new engines and transmissions it will get here: Honda Reveals 2018 Accord's Powertrain Options
Read More on : Honda New Accord AMT