2020 Hyundai Tucson vs Rivals: What Do The Prices Say?
Published On Jul 15, 2020 07:59 AM By Dhruv Attri for Hyundai Tucson
How does the Hyundai Tucson stack up against its rivals in a price-based comparison?
Hyundai has launched the facelifted Tucson with prices ranging between Rs 22.30 lakh and Rs 27.03 lakh (ex-showroom India). It takes on the likes of the Honda CR-V, Skoda Karoq and Jeep Compass. But does the Hyundai justify its price tag against the similarly-priced competition, especially when its entry-level pricing has seen a hike of Rs 3.54 lakh over its predecessor? Let's find out.

Petrol
| | | | |
| --- | --- | --- | --- |
| Hyundai Tucson | Jeep Compass | Skoda Karoq | Honda CR-V |
| | Longitude Plus DCT: Rs 19.69 lakh | | |
| GL (O): Rs 22.30 lakh | Limited Plus DCT: Rs 21.96 lakh | | |
| GLS: Rs 23.52 lakh | | | |
| | | Karoq: Rs 24.99 lakh | |
| | | | CR-V: Rs 28.27 lakh |
Takeaways
The most affordable entry point here is provided by the Jeep Compass which starts at Rs 16.49 lakh.

All the SUVs here are available with an automatic transmission as standard, except the Jeep Compass, which can be had with a 6-speed manual as well.

The automatic transmission options here include a torque converter unit on the Tucson, DCT on the Compass and Karoq, along with a CVT on the CR-V.

The starting price for an automatic petrol SUV here is the lowest for the Jeep Compass followed by the Tucson. The Karoq and CR-V are priced quite high and only offered in a single feature-loaded variant.
Diesel
| | |
| --- | --- |
| Hyundai Tucson | Jeep Compass |
| | Longitude Plus 4X4 AT: Rs 22.86 lakh |
| GL (O): Rs 24.35 lakh | Limited Plus 4X4: Rs 24.21 lakh |
| GLS: Rs 25.56 lakh | Limited Plus 4X4 AT: Rs 24.99 lakh |
| GLS 4WD: Rs 27.03 lakh | Trailhawk 4X4: Rs 26.80 lakh |
| | Trailhawk 4X4 (O): Rs 27.60 lakh |
Takeaways
A petrol-only SUV is quite an antithesis to the whole high rider concept. However, that's exactly what has happened in this class of SUVs where only the Tucson and Compass are equipped with a diesel engine.

The Compass undercuts a similarly equipped Tucson by a healthy margin of more than Rs 1.50 lakh. In fact, those looking for a Compass diesel have to pay an entry-level price of Rs 17.99 lakh, which is way lower than the segment's starting price.

Living true to its badge, the Compass has a more accessible 4X4 system. The Tucson's 4WD unit is limited to the top-spec GLS model.

Also interesting to note here is that the Compass automatic gets a 4X4 system as a standard among all the comparative variants.

The Compass Limited Plus 4X4 AT is quite similar to the Tucson GLS 4WD in terms of features but the latter is more than Rs 2 lakh pricier than the former.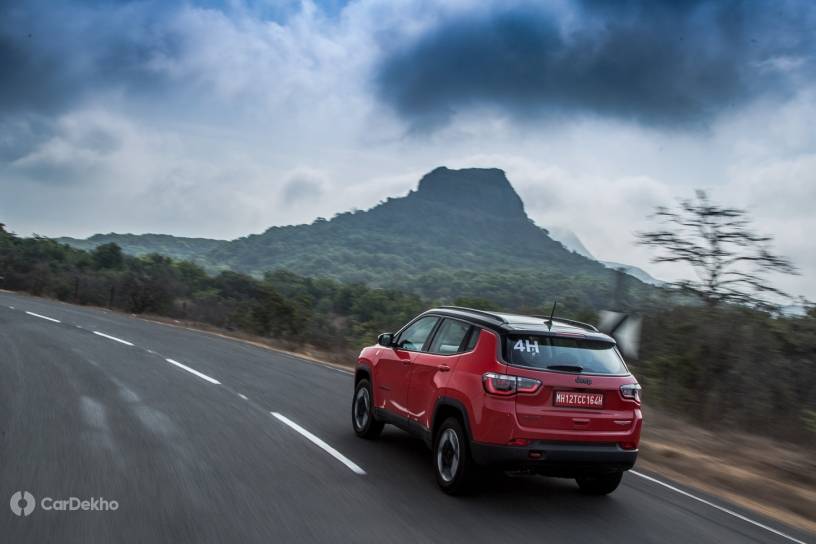 The top-spec Tucson seems pricey when compared to the Compass Trailhawk purely in terms of off-road prowess. That should be no surprise as the Compass Trailhawk gets clever off-road-oriented features that cater to the needs of an enthusiast. These include multiple off-road modes, redesigned bumpers for improved approach and departure angles along with better ground clearance than the vanilla Compass.
Read More on : Tucson Automatic
Was this article helpful ?
2 out of 2 found this helpful