Nissan is a very prominent and eminent car manufacturer globally. Recently, Nissan unveiled its new 2012 Nissan Altima in the United States of America. And speculations suggest that 2012 Nissan Altima might come to India as the new Teana makeover, which was being delayed from a long time. Ever since, Nissan Teana was launched in India by Nissan India, it didn't do quite well.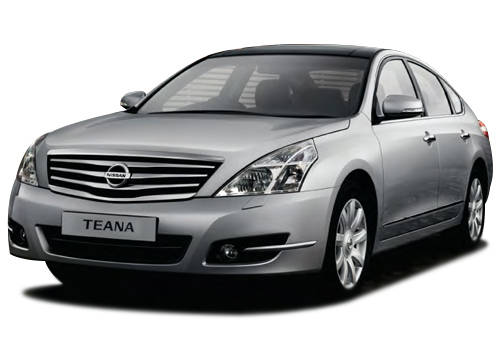 See More Nissan Teana Pictures Read More on Nissan Teana
This sedan is imported to the country as a CBU, which in turn makes it very expensive in the sedan segment. The Nissan Teana presently comprises 2.5 litre V6, which no doubt is the best parcel currently available in India, but as far as performance and comfort is concerned, not that electrifying. So it is expected that Nissan Altima could come to India as new and improved Nissan Teana.
See More Nissan Teana Pictures Read More on Nissan Teana
The main reason why Nissan Teana didn't do that well in Indian Auto Market was its price. One has to invest more than Rs. 32 Lakh for Nissan Teana, which is surely a lot more as compared to other sedans cars in India. Another drawback with Nissan Teana was that it was not offered in diesel engine variant. Nissan Teana is just offered in a not so economical 2.5 Litre V6 gasoline engine. Plus the mileage is also not impressive at all. It provides a mileage of 7.2 km per litre. Even Nissan India doesn't have a very strong dealership network for Nissan cars in India when Nissan Teana was launched in India. But now slowly and gradually Nissan India has built a decent dealership network soon after the launch of Nissan's small car, known as Nissan Micra.
See More Nissan Teana Pictures Read More on Nissan Teana
It would be surely beneficial for Nissan India, if it doesn't import Nissan Teana and manufacturer it here itself. By this, the costs of the car will surely drop down to a great extend. Therefore, by opting for CKD option for Nissan Teana, Nissan India will certainly add more charm to their firm reputation. Another thing that could be taken into account is opting for a smaller petrol engine instead of V6. Following this, Nissan India could also give a thought of launching a diesel variant too of Nissan Teana. And finally, a smart marketing strategy will without a doubt place Nissan India in the top car manufacturers' list.
Read More on : Nissan Sunny