Sponsored
Datsun redi-GO: Safety A Top Priority
Modified On Jul 16, 2018 02:10 PM By Sponsored for Datsun redi-GO 2016-2020
Airbag, responsive braking, sturdy body shell and better high speed stability- Despite redi-GO being an entry level hatchback, Datsun has kept safety as its top priority. This clearly gives redi-GO an edge over its rivals.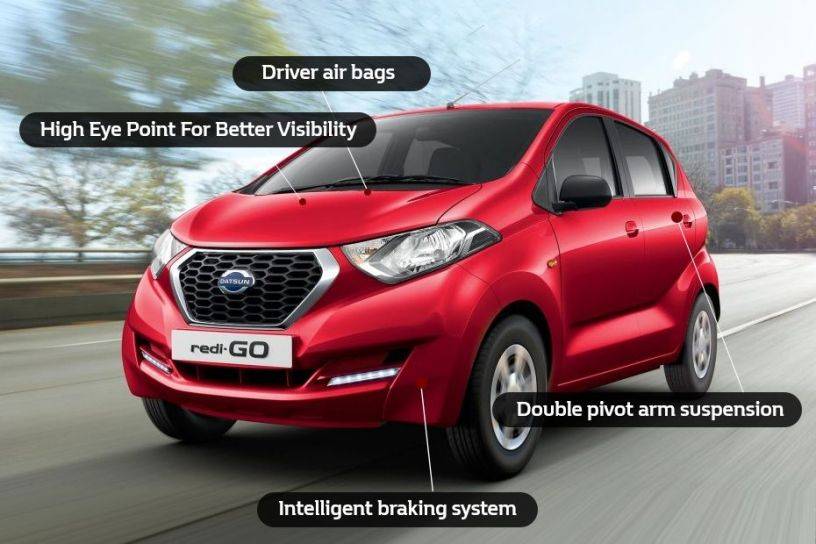 Buying a new car for the first time is an exciting experience. Car buyers usually check all the basic facts like design, features, mileage and price before buying a car. Most often than not, however, safety always takes a backseat. No matter how limited your budget, safety is not a consolation. Datsun, the 100-year-old Japanese carmaker, understands this more than anyone else as safety is one of its core priorities. To that accord, the Datsun redi-GO starts at Rs 2.50 lakh (ex-showroom, Delhi) and comes with a host of safety features which make it the best car for an entry-level car buyer.
Here are the top four reasons why the Datsun redi-GO is the safest car in its segment:

1) Intelligent braking system: Driving safe on the road is determined by how quickly the vehicle can be brought to a complete halt. Avoiding a collision is key, and it's the vehicle's braking that matters the most here. Thankfully, the Datsun redi-GO has the shortest braking distance of all entry-level hatchbacks in India. The car comes with 267mm disc brakes at the front and 317.9mm drum brakes at the rear that help bring the car down from 100kmph to a standstill in just 32.3 metres.

2) Driver Airbag: Once again, being the most affordable car in its segment does not mean that the redi-GO skimps on one of the most important safety features in a car – an airbag. It comes as standard on the S variant that retails at Rs 3.61 lakh (ex-showroom, Delhi). Along with it, you also get a special "energy absorbing steering wheel" that makes the Datsun redi-GO the safest among entry-level hatchbacks sold in the country.

3) Suspension: The double pivot arm suspension is something unique to the redi-GO. Unlike most cars in this segment that come with a single pivot arm, the redi-GO's double pivotal arm holds the chassis at an extra point. This translates to a smoother ride in the city and better high speed cornering stability on the highway.

4) High Eye Point For Better Visibility: The fantastic ergonomic seating position, coupled with the large greenhouse area, makes for the best-in-class outside viewing angle of 36 degrees. To put it into perspective, the redi-GO's primary rivals offer a frontal viewing angle of 32 and 33 degrees, respectively. The commanding seating position and higher ground clearance of the redi-GO facilitate better all-round visibility, which is helpful while moving through city traffic.

A notable mention is the UN 94-certified body shell that helps keep the occupants safe in a frontal impact. So yes, buying a budget hatchback does not mean one has to compromise on safety. With the Datsun redi-GO, which has a starting price of Rs 2.50 lakh*, you can rest assured that your safety is given top priority.
Takeaway:
Datsun redi-GO clearly triumphs over its rivals and with claimed fuel efficiency figures of 22.7kmpl and 22.5kmpl for 0.8L and 1.0L variants, respectively and offers high value for your money. Despite redi-GO being an entry level hatchback, Datsun has not pushed safety at the back burner.
Airbag, sturdy body shell, responsive braking and higher ground clearance, all work together to keep the occupants safe. So, the next time you are travelling in redi-GO with your family, you have one less thing to worry about. Not to miss, with its tallboy design, redi-GO offers better road visibility.
Love the Datsun redi-GO but confused about the variant which would suit your requirements the most? Here's what we would recommend. Datsun redi-GO: Variants Explained!
Interesting read:
Was this article helpful ?
0 out of 0 found this helpful