Automatic Nirvaan - BRIOing in a metro
Published On Jun 12, 2013 11:35 AM By Sundeep for Honda Brio
3200 Views

Write a comment
March of technology has been relentless since time immemorial. Modern era has seen it attaining awesome velocity, especially in the field of electronics and communication. But the defining reason behind technology upgradation or innovation has always been the underlying need to make human life easy, efficient and comfortable.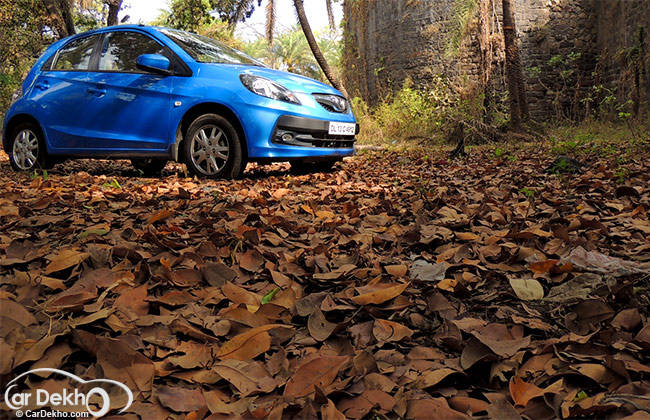 Although, arguably eclipsed by the technological revolution brought forth through computers, internet and wireless communication, evolution of automobile technology alongwith mass distribution of electricity has been the defining factor in emergence of several infrastructural and social trends impacting human life. An apt example is the outward geographical / physical spread of human settlement from city / industrial centers resulting in development of sprawling suburbs due to the success of Ford Model T as a cheap and dependable car for the masses. Modern cars have evolved so much from the days of Model T that it would be difficult to even think of Model T as an epitome of success that it was, but the fact remains that on core technological issues not much has changed. The internal combustion engine has remained the vital cog that runs the automobile, though the said internal combustion engine has now become much more powerful and efficient and has not remained untouched by the technological revolution brought forth by the era of computers. In fact, a modern automobile in general and its power train in particular is nowadays almost exclusively controlled and run by onboard computers in form of specialized integrated systems comprising of actuators, sensors, microprocessors and softwares.

Transmission of power and torque from engine flywheel to driven wheels has been a major issue ever since the internal combustion engine was employed for automotive use. The reason is simple, big difference in rate of rotation of engine flywheel and driven wheels and the fact that internal combustion engines produce relatively very little torque at idle or off idle engine speed whereas the driven wheels demand high torque for initiating the automotive progress. While the early transmission systems were quite cumbersome for the driver due to lack of synchronizing rings in the constant-mesh gear box which necessitated double de-clutching to match the flywheel rpm with gear-shaft rpm, modern synchromesh manual gearboxes are incredibly smooth and allow gear changes with considerable finesse. All said and done, nothing beats the luxury of having nothing to do with left foot and no need to take one hand off the steering wheel to change the gears; and that is where the automatic transmission steps in. Well jokes apart, in any Indian city, especially in metros where long commutes through perennially congested roads is the norm, automatic transmission is a boon. Driver's left foot is relieved of its misery and for that it is always grateful to the inventor of automatic transmission.

Historically automatic transmission has been quite popular in USA, mainly due to relatively lower price of fuel and relatively more powerful cars; both the factors easily discounting the major shortfalls of early generation automatic transmission - higher fuel consumption and power loss. Off-late automatic transmission has been steadily gaining traction in Europe but that is mainly due to increasing efficiency of such transmission systems which have now made it possible to rival normal manual transmission in both fuel efficiency as well as acceleration figures along-with superlative refinement. Unfortunately this has not been the case in India; primary reason being greater sensitivity towards increase in fuel consumption and additional capital cost imposed by automatic transmission over normal manual transmission. This additional capital cost is further accentuated by the fact that compact cars still rule the roost in India, and as a percentage of the cost of car, increased capital cost imposes a proportionately much higher penalty on small cars as the basic cost of the car is much less than a luxury car or a big SUV.
Now, with certain of amount of maturity becoming evident in the Indian car buyers psyche, some manufacturers have introduced automatic transmission in small cars targeted at mass market.

After testing the water in the Indian car market for more than a decade and after tasting considerable success with its "Honda City" brand, Honda had introduced "Honda Brio" as its first compact offering in the mass market compact car segment. In early 2013, Honda took the next logical step and offered an automatic transmission variant of Brio. Kerb weight of 980kg (penalty of 50kg over the manual version), 1198cc 4 cylinder gasoline engine developing 65KW (87.17bhp) @ 6000rpm and 109kgm torque 4500rpm (as per hondacarindia.com) mated to a proper five speed smooth shifting automatic transmission meant that it had the potential to woo discerning drivers. Especially when seen through the prism of what else was available in that segment in India as neither the biggest nor the second biggest manufacturer (by numbers of cars sold in India) had anything up their sleeves which could rival the Brio as both had saddled their cars "A Star" and "I 10" respectively with four speed transmission.
Living with Honda Brio for a week has been a revelation of sorts. It began with an element of surprise at the smooth shifting transmission which has the amiable personality of Dr. Jekyll when the right foot is used with moderation and sensitivity but soon turns into a mile wide smile mixed with certain amount of awe when it switched into the Mr. Hyde mode as the right foot displayed persistence. Turning into the fuel station revealed that despite being an automatic it does not exactly gulp fuel but does sip a bit more enthusiastically than its less endowed manual transmission brethren. But the most important factor was the convenience factor of the automatic and the incredible smoothness that pervades this little delightful car when it is driven unhurriedly with a light right foot. Silken smooth, barely perceptible upshifts and downshifts and the refined manner in which the power-plant goes about its job in true Honda gasoline engine tradition. A firm right foot means that the car immediately senses the urgency and the transmission briskly shifts down one or two notches and allows the fabulously smooth Honda engine to rev lustily right up-to the redline before the inevitable upshift takes place. No doubt driving in this manner does impose a severe penalty on fuel efficiency but the manner in which this switch takes place ensures that the absence of a separate driver selected economy / sports mode is barely missed. By way of proper modulation of the throttle, the right foot is in itself sufficient to take care of such mundane tasks.
Honda Brio being a compact hatchback is fundamentally biased by design towards typical intra-city usage and the automatic version is more so due the added convenience factor. While driving the car within the city environs on daily commute from Kharghar in Navi-Mumbai to Bhandup (Mumbai), a distance of over sixty kilometers (round trip), the key word that emerged was "effortless". The big question was how would the automatic Brio fare once taken outside the city on highways and also while being driven off the beaten tracks.

A drive to Vasai to visit the once omnipotent citadel of the mighty Portuguese known as Bassein Fort provided the answer to the first question. Drive from Kharghar (Navi-Mumbai) via Shil Phata, Thane, Ghodbunder and finally NH 8 was despatched with admirable disdain by "Honda Brio Automatic". In true Honda tradition there was absolutely no difficulty in playing "catch me if you can" with other cars. The delightful little Brio, when it displayed the turn of speed and alacrity during quick lane changes and overtaking maneuvers which are its natural traits would have injured the pride of drivers of a couple of new generation indigenous SUVs which were being piloted enthusiastically. And despite the flogging, Honda Brio Automatic returned fuel efficiency figure of over of 14 kmpl (indicated) as can be seen in the accompanying photograph.

Bassein Fort was taken over by the Portuguese from Sultan Bahadur of Gujarat in circa 1534. It emerged as a major power centre of the Portuguese - exercising control over various Portuguese enclaves and dominions lying north of Goa. Being situated along the sea, it afforded its masters full control of the sea trade happening in the area. After the wedding of Catherine of Braganza with King Charles II of England (circa 1662), there was considerable reduction in significance of Bassein Fort as Bombay (then comprising of seven islands) was ceded to England as dowry.

In the year 1739, after having captured most of the Portuguese controlled forts in and around Bombay, Maratha warrior Chimnaji Appa finally managed to wrest Bassein Fort from Portuguese control but there was great loss of lives on the Maratha side.

Later, after the infamous treaty of Bassein (circa 1802) which is considered as the final precipitating factor in the dissolution of Maratha power, Bassein fort passed into British hands and ultimately lost its importance.

Although the ramparts of the fort are more or less intact, very little of any significance, apart from the outer shells of the great buildings has survived, but the sheer scale of ruins very eloquently manages to convey the magnificence of bygone era when it would have been the power center of Portuguese. Even till this time, the distinctly Portuguese features can be easily discerned in local fisherfolks inhabiting the territory falling within the great walls of the bygone fort.

Presently some conservation and rebuilding work could be seen taking place under the auspices of Archeological Survey of India (ASI) but how it ultimately unfolds is difficult to predict at this preliminary stage. There is a temple inside the fort area (Shiva and Durga) and it seems the local populace frequents it.

There are several fresh water wells inside the precincts and local people informed that these are perennial in nature. Local woman, some with distinctly Portuguese features were seen washing clothes at one such well in a sort of community exercise.

Honda Brio Automatic acquitted itself with honour during the drive from Navi-Mumbai to Bassein fort (Vasai) and back. A nifty performer, despite being biased towards city use, it revels on the highway while changing lanes and negotiating curves like an agile gymnast.
Honda`s small automatic acquitted itself so well on the highway during the drive to Bassein fort that we decided check out its performance in rural areas off the beaten track.

Driving to an obscure but well preserved ancient cave (Pandav Leni) situated at a remote location in Karjat presented a good opportunity to Honda Brio to display its prowess in an environment which may not have been factored in its fundamental design mandate. An impromptu off-road detour to explore a river bank was accomplished without any drama.

While reaching the destination in a remote village, Brio, which was carrying a full complement of four, tackled the narrow rural roads with aplomb without allowing the poorly surfaced pothole infested roads to affect its remarkable composure.

The cave is locally known as "Pandav Leni" - a small sign board put up inside a forest resthouse also attests to the name. As usual, this cave is craved out of a rockfaced side of a small hillock which lies beside a river. Probably, proximity to river ensured water supply to the occupants.

The cave comprises of a pillared verandah which leads to a large squarish hall surrounded by small enclosures on remaining three sides.

While some enclosures lie vacant but for considerable bat infestation, remaining ones have various deities installed on small platforms. This cave may have been utilized by Buddhist bhikshus for meditation purposes and apparently at some later stage, after decline of Buddhism, some local potentate may have facilitated installation of deities. It is sad to see that essential facts are not mentioned anywhere near the cave by Archaeological Survey of India which happens to be the apex body having custody of all such ancient structures of archaeological significance. Perhaps, the presence of various deities is an important factor ensuring vandalism free survival of this ancient cave. As the easiest access is through the precinct of an evidently functional forest resthouse, this may have afforded an extra layer of protection from vandals.

Time spent with Honda Brio Automatic was a refreshing experience. This delightful car is blessed with sufficient chutzpah to bring a broad smile on the dourest visage. Automatic transmission does increase the fuel consumption but the convenience factor and the sheer driving pleasure of the package easily compensates the additional expenditure.
Was this article helpful ?
0 out of 0 found this helpful