Weekly Wrap-up: Skoda Launches the Yeti, We Get our Hands on it
Modified On Sep 13, 2014 11:21 AM By Rahul for Skoda Yeti
Skoda has launched the Yeti facelift for Rs 18.63 lakhs. This new facelift version is available only in two variants, one is the 4x2 and the other 4x4. The Skoda Yeti is available only with an Elegance trim and there is no other option available at the moment. We share our review of this SUV, as we got the opportunity to drive it.
This has been an interesting week overall. The Jagaur XE and the Mercedes-AMG GT were unveiled too. As for the Indian market we had our share too, with the Mercedes-Benz E350 CDI and Audi Q3 dynamic being launched. The Indian market is busy preparing for the upcoming festive season with more launches and even increasing their production capacity. The coming weeks will be equally interesting. If you have mised out on this week's action, read our weekly wrap-up.

New Skoda Yeti: Expert Review



The SUV segment has bailed out many a manufacturer out of the doldrums thanks to the Indian consumers affinity towards these large hunks of metal. However while most of them have tasted success, there have been a few who despite being capable and better than the competition in most aspects haven't really managed to get the numbers going. The Skoda Yeti belongs to that 'elite' group as well. While internationally the Yeti has garnered rave reviews, in India its just not been 'Fortuner', I mean fortunate enough to catch the buyers fancy for a few reasons which may read lame, but are extremely important ones as far as the Indian market is concerned. For starters, it does not have the girth or the presence of a full sized SUV and looks more like a crossover and in India, the bigger the better. That it seats only 5 passengers is another thing that works against it. Read more

2014 Skoda Yeti Facelift Launched at Rs 18.63 Lakh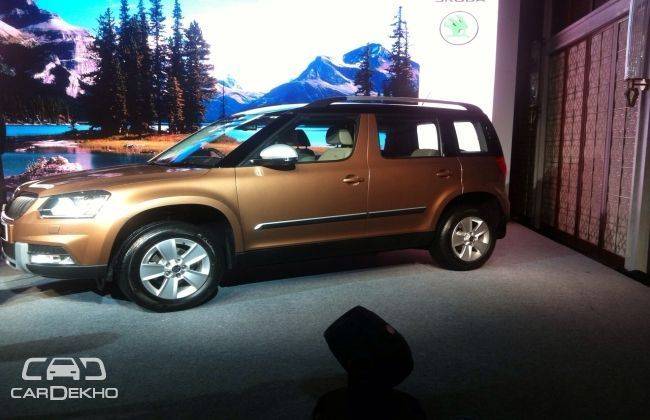 Skoda finally launched the facelift version of Yeti at Rs 18.63 lakh (Ex-showroom, Maharashtra). The facelift version was first showcased at the 2014 Delhi Auto Expo and with the updated model on the showrooms, the automaker looks to revive the SUV that first came four year earlier in 2010. Skoda is also offering the all wheel drive model Yeti Elegance 4x4 at Rs 20.14 lakh (Ex-showroom, Maharashtra). Read more

Mercedes AMG GT has been revealed


The first Mercedes was a racing car, its most recent successor carries this heritage forward: with the new Mercedes-AMG GT. The GT is the second sports car developed entirely in-house by Mercedes-AMG after the SLS AMG. It's a front mid-engine concept with transaxle and the aluminium lightweight construction form the basis for a highly dynamic driving experience. Read more
Mercedes Benz E350 CDI: Features and Highlights



Mercedes has rolled out a powerful diesel version in the 'E' Class lineup - it's best selling nameplate in India. MB India has launched E350 CDI at a price of Rs 57.42 lakh (Ex-Showroom, Pune) and will be locally manufactured at Mercedes Benz's manufacturing facility in Chakan, Pune. This new variant of the diesel E gets a powerful 3.0 liter V6 twin-turbo motor mated to 7-speed auto box. Apart from the V6 oil burner, the new E350 CDI gets new addition to the feature list, let's give you glimpse of the E350 CDI's features and highlights. Red more

Audi Q3 top-end 'Dynamic' variant launched at INR 38.40 Lakh





German car maker Audi has introduced a new top-of-the-line variant of its Q3 SUV in the Indian market. Launched at INR 38.40 Lakh (ex-showroom Mumbai), the Q3 Dynamic gets some cosmetic enhancements including new 17' inch 5 spoke 'Trias' design alloy wheels, panoramic sunroof, a full chrome front grille and clear lens LED tail lights. Offered in three new body color options - Florett Silver, Mythos Black and Monsoon Grey, the top-end Q3 also comes equipped with the Audi Drive Select system, that allows the driver to adjust the suspension in three different setups, namely; Comfort, Dynamic and Auto. Read more

Jaguar finally reveals the XE





The curtains are taken off and the new Jaguar XE has been revealed to the world during a star-studded event held at Earls Court, London. This is the global debut of the new entry-level sedan from the British marquee and what a stunning job has been done by Ian Callum and his team. Read more

Datsun offering up to INR 38,000 benefits on Go





In a bid to garner some good numbers during the festive season, Datsun India has announced several benefits on its only offering in the country- Go hatchback. Totaling up to INR 38,000, the company is offering an exchange benefit of up to INR 20,000, insurance support of INR 4,000, free extended warranty worth INR 4,000 and an additional discount of INR 10,000 on the D, D1 and A variants. The offer can be availed till October 31st, 2014. Read more

JLR invests in engine research at Oxford university


Jaguar Land Rover has announced the creation of two new 'Centres of Excellence for Engine Combustion Research' at two leading UK universities. The £1m investment will be shared equally between University College London (UCL) and the University of Oxford to support the development of new research facilities and fund two 5-year study programmes. Read more

General Motors develops a 2.0-litre engine, will showcase in Paris





Vauxhall's all-new 2.0-litre CDTi diesel engine will debut at next month's 2014 Paris Motor Show (4th – 19th October), this engine produces 168bhp of power and 400Nm of torque and this replaces the current GM engine of 161bhp, which also powers the Chevrolet Cruze in India. This isn't just a bump up of power, but an upgrade of engine and it's a completely new engine that has been developed. Read more

Mercedes Benz introduces E350 CDI at Rs. 57.42 lakh





Mercedes-Benz launched the E-Class, E 350 CDI with a V6 heart at Rs 57.42 lakh (Ex-Showroom, Pune). The E350 CDI will join the existing model line up of E200 (2.0L petrol trim) and E250 CDI (2.1L diesel) along with an AMG variant - E63 AMG carrying a V8, 5.5-litre petrol engine. The German manufacturer introduced the E 350 CDI from its manufacturing facility- Centre of Excellence, in Chakan, Pune. The E-Class is not just the highest selling Mercedes in India but is the highest selling luxury saloon in the country. The automaker in order to further expand its model lineup will launch the GLA Class on 30th September, 2014. Read more

Ssangyong to unveil more variants of XIV at the Paris Motor Show





Ssangyong Motor Company will unveil two development concepts, XIV-Air and XIV-Adventure at the 2014 Paris Motor Show, Paris Expo, Porte de Versailles, 2nd (press day) to 19thOctober. Read more

Is this the next-gen Toyota Fortuner?





Toyota has started testing the next generation of its highly successful Hilux pick-up based products that includes – Innova, Fortuner. The current Innova and Fortuner are based on the Hilux pick-up while Fortuner and Hilux pick-up share faces with subtle changes but they look quite alike. Now, the next-gen Innova has been spotted testing recently in India and Fortuner in Thailand whereas the new Hilux was been spotted in Europe. As Hilux and Fortuner share faces, the Hilux test mule reveals few details of the upcoming Fortuner which is expected to be launched later next year. Read more

2014 Swift is Getting a New 1.2L Dualjet Petrol Engine





Suzuki will launch Swift with an all-new 1.2 liter Dualjet petrol engine with Suzuki's latest Dualjet technology. This technology will first debut with the Swift in UK; it'll go on sale by early next year. We can expect this engine to drive in India as our Swift uses similar displacement of 1.2 liter K12 petrol unit that powers European Swift at present. Read more
Read More on : Skoda Yeti review
Was this article helpful ?
0 out of 0 found this helpful