Weekly Wrap-up: Datsun to Make India Its Stronghold, Toyota Officially Teases 2016 Innova and driving Ford Figo Aspire for an Economy Run from Bangalore to Mumbai
Modified On Mar 16, 2018 12:51 PM By Manish

The week brought in updates from automaker all over the world. The CEO of Datsun hinted that the company intends on making its stronghold in India and reports cemented the possibility of Volkswagen Beetle making its way to India soon. Datsun's Redi-Go was also spied making its rounds on the streets of Chennai and couple of days later, Mahindra S101 was snapped doing the same. Hyundai Creta helped Country's second largest automaker boost its sales, which resulted in company registering highest ever sales in the month of October.
Toyota revealed the rear end of the upcoming Innova, following which the company officially teased the car. Tata motors signed international football star, Lionel Messi as its global brand ambassador while teasing its upcoming Kite hatchback in the TVC. On the other hand, Maruti revealed accessories for its recently launched premium hatchback, Baleno while CarDekho signed an MoU with Federation of Automobile Dealers Associations (FADA). We also compile a list of upcoming cars from Toyota. So let's find out what all has been going on this week.
News:
Datsun to Make India Its Stronghold, Hints CEO

Jaipur: Datsun's head, Vincent Cobee, has said that India will play huge role in increasing the company's footprint on the world map. Nissan re-launched the brand worldwide a few years ago, starting from India. And though, the company hasn't achieved much in the start, it still seems India as its future stronghold for exports. Read More
Volkswagen Beetle to be Launched in India Soon

Jaipur: The original people's car and no we're not talking about the Tata Nano but the Volkswagen Beetle, might be nearing its launch in India. Earlier, Volkswagen had shipped in a unit of the all new Beetle for the purpose of homologation in the country. Now, as it turns out, several units of the car have been brought to India and this might be an indication of Beetle's fast approaching launch in the country. The car will be brought to India via CBU route. Read More
Hyundai India Registers The Highest Ever Sales for Oct; Creta Keeping Up the Momentum

Jaipur: Hyundai Motor India Ltd recorded highest domestic sales last month ever since their inception in the country. The Korean automaker retails 47,015 units last month in the domestic market and exported 14,777 units, that equates to a cumulative sales of 61,792 units. Read More
Rear End of 2016 Toyota Innova Revealed in Brochure!

Jaipur: A few days earlier the brochure of 2016 Toyota Innova surfaced the internet and now more shots of the same have emerged revealing the rear of the popular MPV. The upcoming car have drastically changed over the current one. As what used to be a sober product has now transformed into more aggressive offering, a good thing though. Also, it is more aligned with Toyota's latest design philosophy. Read More
Toyota Officially Teases 2016 Innova!

Jaipur: Toyota has released the first official teaser of its upcoming second generation Innova with the 'coming soon' tag. Recently, the 2016 Innova got a couple of leaks including the Indonesian brochure which was entirely seeped out. Speaking of the official reveal, Toyota is reportedly debuting the second-gen Innova later this month on 23rd. As per the Indian launch, Innova is already over a decade old in our country, the second gen is mostly likely to be launched somewhere next year while an official public unveiling expected at the 2016 Indian Auto Expo in Feb. Read More
Tata Motors Signs Lionel Messi as Global Brand Ambassador

Jaipur: Tata Motors, owners of Jaguar and Land Rover, announced that they have signed four times FIFA World Player Of The Year, Lionel Messi as their global brand ambassador. According to the homegrown automaker, its passenger vehicle division will undertake an overall brand association campaign with the brand ambassador for the first time and Lionel Messi's endorsement will be a long-term partnership. Read More
Tata Kite Teased for the First time; TVC Features Lionel Messi

Jaipur: Tata's upcoming hatchback, the Kite, has been teased for the first time in a commercial featuring the manufacturer's global ambassador Lionel Messi. The advert will be the part of Tata's #madeofgreat campaign that will be aired throughout the world and boost companies global stature. Read More
Maruti Baleno Accessories Revealed

jaipur: Maruti Baleno, the premium hatchback was launched a few days back at a price tag of INR 4.99 lacs to 8.11 lacs (Ex-showroom, New Delhi). With the competitive price tag, the car is now available with a host of new accessories to choose from. The accessories can be configured on Nexa website and one can experience how the new car will look like. Read More
Automobile Dealers Get a Boost as CarDekho.com Ties Up with FADA

New Delhi: CarDekho.com, India's leading online automobile marketplace signed an MoU with Federation of Automobile Dealers Associations (FADA), the apex national body of automobile dealers. The move will see FADA and CarDekho.com working together to bring the benefits of the digital platform to the Indian automobile dealers. Under the arrangement, CarDekho.com will partner with FADA to organise the Auto Summit 2016 – FADA's 9th biennial convention of automobile dealers - on the theme: 'Digital Dealer.' The event, which is scheduled to take place in New Delhi on February 7 2016, is expected to be attended by nearly 800-1,000 dealers from across the country. Read More
Upcoming Cars Of Toyota - Have A Look!

jaipur: Toyota, world's largest automobile manufacturer has lined-up its latest and greatest offerings that are set to make their entrance into the Indian automotive scene. The automaker has experienced immense success in the market with offerings such as Corolla, Innova and its luxury sedan Camry and its impending launches has got all the automotive enthusiast as excited as they possibly can be. So, we have compiled a list of Toyota's upcoming cars, check them out! Read More
Honda BR-V showcased in Misty Green Pearl Colour Scheme

Jaipur: Ever since its first unveil at the Indonesia Motor Show, Honda BR-V has been on a roadshow showcasing all it's got to offer. This was Honda's approach of giving the consumer a hands-on experience and feel of what the car is all about. Keeping in-line with the same approach Honda has showcased the BR-V Prototype in a new Misty Green Pearl colour scheme. The car was showcased at the Surabaya Automotive Exhibition 2015 and will probably make its debut in India at the 2016 Delhi Auto Expo in February. Read More
Mahindra S101 Spied with New Alloy Wheels

Jaipur: A prototype of the Mahindra S101 has been snapped making rounds in Chennai. This is the first time that the car has been snapped so clearly, while flaunting its distinct shape and revealed components. The car is wrapped in a different camouflage and features a new set of alloy wheels. These particular alloys are different in comparison to those seen on test mules earlier. Read More
features:
Cars Making Their Way to 2016 Indian Auto Expo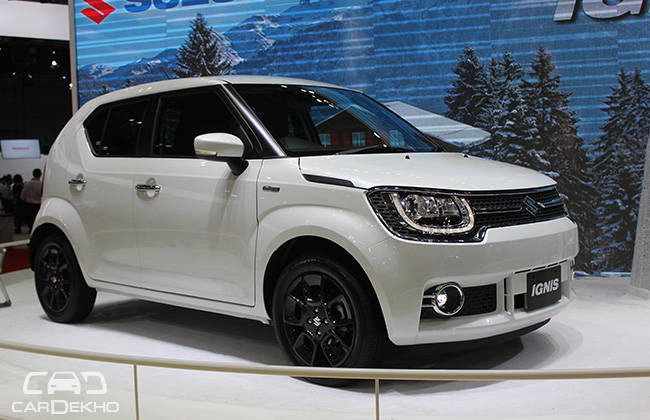 Jaipur: Yes, we have been made quite familiar to the hoard of concepts and upcoming cars that were showcased in the recent Auto Expos. But it's one thing to check out these cars on their respective live streams or via data available online and another thing entirely, to get your hands on these drool-worthy pieces of art. This is being facilitated by authorities governing the 2016 Indian Auto Expo, which will be held in Delhi during February. So, we have compiled a list of upcoming cars and concepts that are making there way to India. Read More
Pune to Bangalore non-stop with Ford Figo Aspire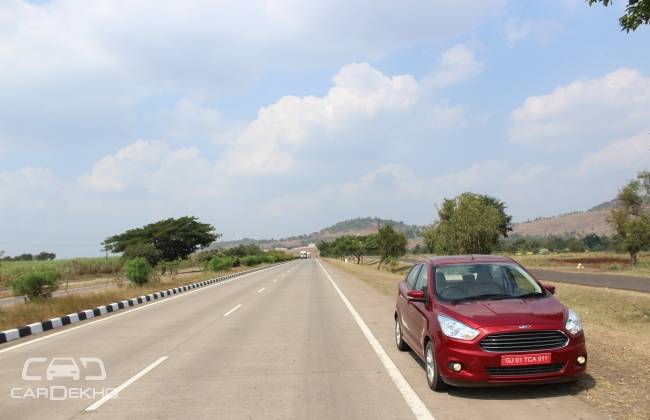 New Delhi: With improving road infrastructure, travel time between cities is reducing considerably. Take for example the Golden Quadrilateral or GQ as it is famously known for. It connects Delhi, Mumbai, Bangalore, Chennai and Kolkata and highways like these not only reduce travel time, but also make our journeys safer while at the same time, reduce fuel consumption and wear and tear of various car components. The Pune-Bangalore stretch of the Golden Quadrilateral has always been known for its scenic views, well laid out tarmac and cement roads and high speed runs. Infact, the highway is so nice, it's easy to beat the fastest train between these two cities by a comfortable margin of 6-7 hours. Read More
Read More on : Figo Aspire 2015
Was this article helpful ?
0 out of 0 found this helpful