Pune to Bangalore non-stop with Ford Figo Aspire
Modified On Nov 04, 2015 07:53 PM By CarDekho
1746 Views

Write a comment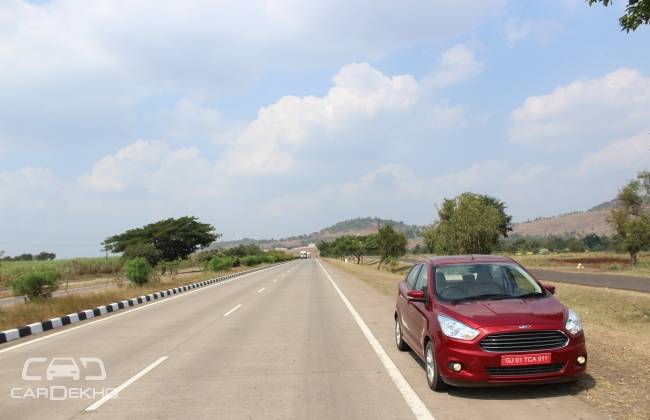 With improving road infrastructure, travel time between cities is reducing considerably. Take for example the Golden Quadrilateral or GQ as it is famously known for. It connects Delhi, Mumbai, Bangalore, Chennai and Kolkata and highways like these not only reduce travel time, but also make our journeys safer while at the same time, reduce fuel consumption and wear and tear of various car components. The Pune-Bangalore stretch of the Golden Quadrilateral has always been known for its scenic views, well laid out tarmac and cement roads and high speed runs. Infact, the highway is so nice, it's easy to beat the fastest train between these two cities by a comfortable margin of 6-7 hours.

A good highway is nothing without the company of an equally capable car and hence we decided to drive down to Bangalore, from Pune in the new Ford Figo Aspire diesel. Would this be the perfect 850km recipe for driving pleasure? Read on…

Launched earlier this year, the Figo Aspire has been winning customer hearts every month. It ticks all the right boxes for a typical customer and provides impressive space, a powerful diesel motor, class leading safety features and exceptional fuel economy. We had picked up the car from Mumbai a day earlier and the drive to Pune showcased the real strengths of the Aspire and we were to stretch her legs on the way to Bangalore. After a light breakfast, we hit the road at fifteen minutes past 8am. NH4 would be our companion till late evening.

As soon as you exit Pune, the journey starts with the brilliant Katraj bypass. This new bypass was opened a decade back and is a much faster option as compared to the old Katraj bypass that is slow due to tight and uphill turns. Past this bypass, you soon encounter the first of a dozen odd toll booth all the way till Bangalore. Roads become brilliant will proper signs and lane markings though traffic remains high, keeping you on your toes. That said, it's easy to maintain an indicated 95-100km/h on the speedometer and at these speeds, the Aspire feels at home, eating up miles with an instantaneous economy display of just under 30kmpl.

We were noting down our progress every hour – we managed to cover 65km in the first hour but the steep and slow Kambhatki ghat section took a toll on our speeds. 2nd hour saw us cover only 59km. The Aspire's display in the meantime showed an economy of over 23kmpl, keeping us happy as we made our way towards Bangalore.

Road work was again in full swing around Satara and heavy local traffic slowed us down again. The Aspire's powerful diesel engine came in handy and we managed to dismiss another 76km in the third hour. Kolhapur was what we were aiming as traffic eases up a lot post this town and the views around the highways can be stunning. This part of India is really beautiful and the highway is a treat to drive on thanks to elevation changes and long flowing curves. The fourth hour saw us cover 71km but from here on, our speeds increased drastically.

Soon we were on the uphill drive to Nipani ghats and once on lower elevation, we allowed the Aspire to stretch its legs. Traffic was thin and commercial vehicles maintained discipline by sticking to the middle or left lanes. The Kolhapur-Bangalore stretch is a high speed one and as a driver, one doesn't need to do very high speeds to maintain an overall high average speed. All you need to do is keep the speedometer needle around the 100-110km/h mark and the result will be amazing. Distance flies by fast and the vistas keep your eyes busy – the fifth hour saw us chewing up 80 kilometers. Post Kolhapur, the next big town is Belgaum followed by the twin cities of Dharwad and Hubli. This is where we also encountered the only single-lane section between Pune and Bangalore but still managed to complete 83km in the 6th hour.

Post Hubli, the roads keep getting better and there's hardly any traffic to slow you down. Fuel bunks and restaurants appear every few minutes and this is where we decided to take a quick (late) lunch break but not before dismissing off 93km in the 7th hour. A fuel stop came next after half an hour and this meant only 66 and 75km were completed in the 8th and 9th hour respectively. It was getting dark by now but the brilliant headlights of the Aspire kept our pace and spirits high. The 10th of the drive saw the Aspire eat up 93km, bringing the total distance tally to 762km in 10 hours.

Getting into Bangalore has become better in the last few years. The Nelamangala elevated road for example has helped negotiate various junctions that took a good 30-45min to negotiate in peak rush hour. As our hotel was on the other side of Bangalore (Hosur Road), we took the NICE Road (Nandi Infrastructure Corridor Enterprises Road) to the other side of town. This is the most expensive toll road in India and costs Rs 155 for a stretch of about 45-50km – but completely worth it. By the end of the day's drive, the Figo Aspire had covered over 850km in just over 11 hours and this was without pushing ourselves or the machine. As we said earlier, the fastest train between these cities takes about 19 hours while the high-end multi-axle luxury buses with two drivers on board take about 14-15 hours. A right combination of a capable machine and great infrastructure means long distance drives between major cities are now a reality and easily doable!
Key Facts:
Distance between cities: 840-860km (depending on exact location)
Elevation: 1850 feet (Pune) / 3000 feet (Bangalore)
Route conditions: Average traffic till Kolhapur, sparse after that
Fuel pumps: Every 20-30km
Food joints: Every 40-50km (lot of Kamats on the way)
Average Time taken: An easy 12-13 hours including breaks
Want more? Here's our review of the Aspire.
Was this article helpful ?
0 out of 0 found this helpful