Volkswagen Vento to get costlier by 2.9 per cent from Jan 1, 2011
Published On Dec 24, 2010 11:54 AM By Meenal for Volkswagen Vento 2015-2019
Volkswagen Vento will be 2.9 per cent costlier from 1st January, 2011. This price hike has been recently announced by the German auto manufacturer Volkswagen. The luxury car maker has blamed the constant rise in the prices of its raw materials as well as manufacturing cost for the price hike. As the profit margins are minimizing, Volkswagen is forced to share the burden of price hike with its customers.

Mr Neeraj Garg, the Member of Board of Director for Passenger Car Section for Volkswagen said that, the company is continuously facing the issue of rise in input prices from sometime now. The auto giants tried its level best to absorb the price hike, but now it is hard for the Volkswagen to maintain its quality which it is known for in its car. It is a big reason for increasing the price of its popular sedan Volkswagen Vento by 2.9 per cent.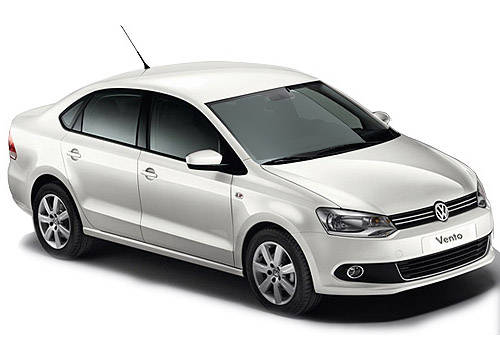 See More Volkswagen Vento Pictures Read More on Volkswagen Vento
As per the company sources, the German auto manufacturer has exempted those customers who have already booked its car or are planning to by 31st December, 2010.

Apart from strategical increase in the price hike of its cars, the company successfully launched an event organized with Nat Geo. The campaign was known as "Innovations for Everyone" began in September, 2010, as per the event, it invited applications on innovated ideas and thoughts on engineering and technology aspects. The Volkswagen was astonished to receive more than 5,000 entries from technology enthusiast across India. The German automobile maker gave a special grand prize of Volkswagen Vento in the Grand Finale of the event. With such a motivating response the auto giants wish to carry on with the campaign in the coming times.

See More Volkswagen Vento Pictures Read More on Volkswagen Vento
Volkswagen has another reason to celebrate the Christmas time as, the company has been graced with an award for being one of the safest cars given by the Insurance company. The Insurance Institute for Highway Safety considered 66 cars to announce the winner for "top safety pick award" 2011. Volkswagen with Audi and others received 9 awards. The German car manufacturer received the award for its winning products Volkswagen Jetta, Volkswagen Jetta SportsWagon, Volkswagen Golf, Volkswagen GTI, Volkswagen Touareg and Volkswagen Tiguan. Audi was awarded for Audi A3 and Audi A4, the luxury sedans from the auto makers.
Read More on : Volkswagen Vento
Was this article helpful ?
0 out of 0 found this helpful