Volkswagen Vento 2015-2019
Change car
Rs.8.64 - 14.34 Lakh*
This car model has expired
Key Specs of Volkswagen Vento 2015-2019
| | |
| --- | --- |
| Mileage (upto) | 22.27 kmpl |
| Engine (upto) | 1598 cc |
| BHP | 108.6 |
| Transmission | Manual/Automatic |
| Boot Space | 494-liters |
| Airbags | yes |
Explore Price of Vento 2015-2019 Alternatives

Volkswagen Vento 2015-2019 price list (Variants)
Vento 2015-2019 1.6 Trendline1598 cc, Manual, Petrol, 16.09 kmplEXPIRED1 Month waiting
Rs.8.64 Lakh*
 
Cup Edition Comfortline1598 cc, Manual, Petrol, 16.09 kmplEXPIRED1 Month waiting
Rs.9.24 Lakh*
 
Vento 2015-2019 1.5 TDI Trendline1498 cc, Manual, Diesel, 22.27 kmplEXPIRED1 Month waiting
Rs.9.46 Lakh*
 
Vento 2015-2019 1.6 Comfortline1598 cc, Manual, Petrol, 16.09 kmplEXPIRED1 Month waiting
Rs.9.62 Lakh*
 
Vento 2015-2019 1.5 TDI Comfortline1498 cc, Manual, Diesel, 22.27 kmplEXPIRED1 Month waiting
Rs.10.00 Lakh*
 
Vento 2015-2019 1.6 Highline1598 cc, Manual, Petrol, 16.09 kmplEXPIRED1 Month waiting
Rs.10.00 Lakh*
 
Vento 2015-2019 1.2 TSI Comfortline AT1197 cc, Automatic, Petrol, 18.19 kmplEXPIRED
Rs.10.38 Lakh*
 
Vento 2015-2019 Celeste 1.6 Highline1598 cc, Manual, Petrol, 16.09 kmplEXPIRED
Rs.10.55 Lakh*
 
1.6 Highline Plus 16 Alloy1598 cc, Manual, Petrol, 16.09 kmplEXPIRED
Rs.10.95 Lakh*
 
Vento 2015-2019 Sport 1.6 TSI MT1598 cc, Manual, Petrol, 16.09 kmplEXPIRED
Rs.11.13 Lakh*
 
Vento 2015-2019 1.6 Highline Plus1598 cc, Manual, Petrol, 16.09 kmplEXPIRED
Rs.11.39 Lakh*
 
Vento 2015-2019 1.6 MPI ALL STAR1598 cc, Manual, Petrol, 16.09 kmplEXPIRED
Rs.11.39 Lakh*
 
Vento 2015-2019 1.5 TDI Comfortline AT1498 cc, Automatic, Diesel, 21.5 kmplEXPIRED
Rs.11.67 Lakh*
 
Celeste 1.2 TSI Highline AT1197 cc, Automatic, Petrol, 18.19 kmplEXPIRED
Rs.11.75 Lakh*
 
Celeste 1.5 TDI Highline1498 cc, Manual, Diesel, 20.64 kmplEXPIRED
Rs.11.83 Lakh*
 
Vento 2015-2019 1.2 TSI Highline AT1197 cc, Automatic, Petrol, 18.19 kmplEXPIRED1 Month waiting
Rs.11.86 Lakh*
 
Vento 2015-2019 1.5 TDI Highline1498 cc, Manual, Diesel, 22.27 kmplEXPIRED1 Month waiting
Rs.11.98 Lakh*
 
1.2 Highline Plus AT 16 Alloy1197 cc, Automatic, Petrol, 18.19 kmplEXPIRED
Rs.12.40 Lakh*
 
1.5 TDI Highline Plus 16 Alloy1498 cc, Manual, Diesel, 20.64 kmplEXPIRED
Rs.12.53 Lakh*
 
Vento 2015-2019 Sport 1.5 TDI MT1498 cc, Manual, Diesel, 20.64 kmplEXPIRED
Rs.12.62 Lakh*
 
Vento 2015-2019 1.5 TDI Highline Plus1498 cc, Manual, Diesel, 20.64 kmplEXPIRED
Rs.12.81 Lakh*
 
Vento 2015-2019 Sport 1.2 TSI AT1197 cc, Automatic, Petrol, 18.19 kmplEXPIRED1 Month waiting
Rs.12.87 Lakh*
 
1.2 TSI Highline Plus AT1197 cc, Automatic, Petrol, 18.19 kmplEXPIRED1 Month waiting
Rs.12.99 Lakh*
 
Vento 2015-2019 Sport 1.5 TDI AT1498 cc, Automatic, Diesel, 21.5 kmplEXPIRED
Rs.13.00 Lakh*
 
Celeste 1.5 TDI Highline AT1498 cc, Automatic, Diesel, 21.5 kmplEXPIRED
Rs.13.10 Lakh*
 
Vento 2015-2019 1.5 TDI Highline AT1498 cc, Automatic, Diesel, 22.15 kmplEXPIRED1 Month waiting
Rs.13.24 Lakh*
 
1.5 Highline Plus AT 16 Alloy1498 cc, Automatic, Diesel, 21.5 kmplEXPIRED
Rs.13.78 Lakh*
 
1.5 TDI Highline Plus AT1498 cc, Automatic, Diesel, 22.15 kmplEXPIRED1 Month waiting
Rs.14.34 Lakh*
 
View All Variants
Volkswagen Vento 2015-2019 Review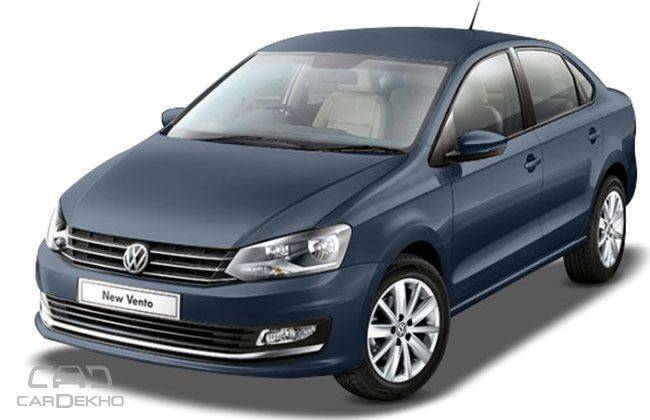 Just ahead of the 2016 Auto Expo, Volkswagen India has launched the updated version of its popular sedan, Vento. With a mild facelift, the company has introduced it at a starting price of Rs. 7.85 lakh (ex-showroom Delhi). Besides being available across all Volkswagen dealerships in the country, it will also be showcased at the upcoming Auto Expo. In this latest version, a few interesting attributes are added to make the machine more user friendly to the occupants. Let's go into the details and find out what it has to offer!
Exterior
Vento has always been a smart sedan, which owns a design that is both elegant and stylish. The 2016 version does not receive any changes to its outsides. However, it carries some attractive elements that make it a head turner on roads.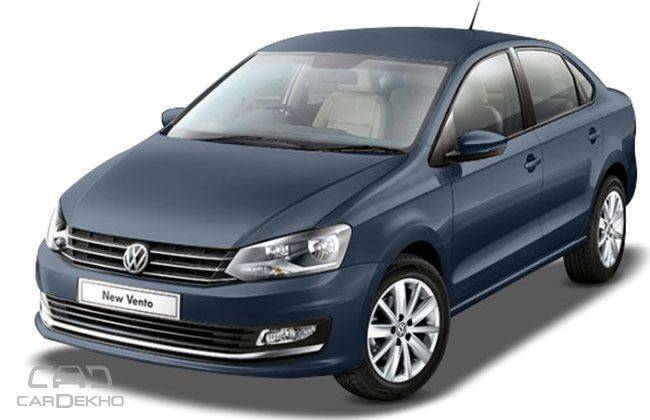 In terms of dimensions, its rival Maruti Ciaz is 100mm longer and 31mm wider than Volkswagen Vento. As for the height, all its competitors are ahead of Vento. Even the ground clearance and wheelbase measurements are less than all other models.
On the front, the first thing to catch your attention is definitely the wide radiator grille featuring three horizontally positioned slats. What highlights it further is the attractive logo, which sits exactly at the center of the grille. The neat chrome finishing to thin slats as well as insignia makes it look more striking.

The black finished halogen headlamps on either side of the grille is another element thats worth mentioning. Being large in size, its headlight cluster fits well with the design of its grille. In the mid and top spec trims, dual beam headlamps are also on the offer.

Made of a heat insulating glass, its windscreen now gets rain sensing wipers thus, making the view more clear ahead. Talking about the bonnet, it slopes downward, while the minimal creases which gives it an appealing look.

Nothing much to describe in its side profile except for the 15-inch Zirkonia alloy wheels that come adorned with high performance tubeless tyres of size 185/60 R145. Tubeless tyres of same size are used for the Comfortline grade as well. While the rest of the lineup gets robust steel rims, which are sized 14 inches in the Trendline trims. These radial tubeless tyres bear the size 175/70 R14.

Well designed outside rear view mirrors are also on the list, which gets neat body color. Side turn indicators are given as standard in all the variants.
This sedan does look plain and lacks some style in its rear end however, a few aspects make it somewhat interesting to look at.
The taillight cluster is quite bright and comes integrated with 3D effect lamps along with turn indicators.

The bumper in its rear end is neatly carved, while the boot lid is embossed with company's insignia and gives a good impression to the on-lookers.

Coming to its boot compartment, it measures around 494 liters, which is indeed enough for placing a number of bags. However, Honda and Maruti are comparatively better in this point as, they are offering more luggage storage space than Vento.
%exteriorComparision%
%bootComparision%
Interior
The design of its internal section is left untouched in this facelift, however, some advanced equipments can be seen inside, adding to its features list. The cabin is neat good quality plastic materials and has space for five people who can feel convenient with ample head, leg as well as shoulder room.

Inside the car, you can actually see the excellent work of the company's designers who have combined the dual tone colour scheme and chrome elements to give it an elegant look. Especially, if you take a look at the dashboard, it looks so well designed and even the equipments are properly positioned thus, making it more convenient for the driver to control different functions with much ease.

A stylish centre console sits at the centre of the dashboard carrying aspects like the climatronic automatic air conditioning unit with rectangular shaped air vents, which are placed just above the music system. Dust, pollen filter and rear AC vent is also available.

Undoubtedly, one of the important updates it has received is the dynamic infotainment display. This advanced unit is offered with a touchscreen display and also includes radio, navigation system and a few other functions. Meanwhile, the mirror link connectivity is definitely an add-on that lets you connect your phone to the car and access different functions effortlessly.

A power assisted steering column is on offer with tilt and telescopic adjustment functions that aid the driver in adjusting its position accordingly. Exactly behind it is a stylish instrument cluster that also holds a tachometer, tripmeter, as well as speedometer.

Safety
Safety elements are up to the mark in this upgraded Vento. In the entry level models, you will find aspects like dual front airbags, three point seat belts that are height adjustable at front, and electronic engine immobilizer with floating code. The rear parking sensors does the job of alerting the driver about any obstacle through audible signals, while the front and rear adjustable head restraints offers support and protection to your neck. Whereas the mid and top spec variants additionally gets hill hold control, and power windows with pinch guard function on all doors. Besides these, the advanced attributes like anti lock braking system as well as electronic stabilization program takes the security standards to next level.
%safetyComparision%
Performance
Diesel
The diesel versions have a 1.5-litre turbocharged oil burner that is based on a DOHC valve configuration. This engine makes a peak power of 103.5bhp besides yielding torque of 250Nm. Here, the added benefit is the availability of both 5-speed manual and 7-speed DSG automatic transmission gear box options. Also, it gives a good mileage of about 20.64 Kmpl in the manual trims, while this figure is even better in the AT variants where the fuel economy comes to 21.5 Kmpl approximately.
%performanceComparision-Diesel%
Petrol
The naturally aspirated 1.6-litre petrol engine is one among the two options offered in this model. It produces 103.5bhp and 153Nm torque besides returning a mileage of around 16.09 Kmpl. This one comes with a 5-speed manual transmission gear box. Also on the offer is the 1.2-litre petrol mill, which also generates the same power but delivers torque of 175Nm between 1500 to 4100rpm. This mill is mated with a 7-speed DSG automatic transmission gear box that drives power to its front wheels.
%performanceComparision-Petrol%
Ride and Handling
As for the braking, a robust set of ventilated disc brakes are fitted to its front wheels and the rear ones get sturdy drum brakes. Anti lock braking mechanism is also offered that not only boosts this mechanism but also prevents the vehicle from skidding. Meanwhile, the McPherson strut on front axle and semi-independent trailing arm on the rear one makes your journey in this sedan quite comfortable. This suspension system ensures the ride is smooth no matter how the road conditions are. On the other hand, with a speed sensing electronic power steering column, you can easily take turns besides having good control at both low and high speeds.
Variants
Its base level Trendline trim does have an array of features, which are quite good for the price range it carries. Key elements like a multi function display, driver seat with adjustment facility and sporty flat-bottom steering wheel are present in this model.
In case of Comfortline variant, you will get to see a few more additional aspects like cruise control, remote central locking, and 15-inch steel rims.
The advanced and newly added features are present in the top end Highline trim, which comes with Mirror link connectivity, auto dimming inside rear view mirror, and has steering mounted audio controls as well.
Verdict
We at CarDekho, would opine that it is quite disappointing that this facelifted Volkswagen Vento lacks updates to its exteriors, interiors and technical details as well. There is no doubt that with new offerings and improvements, this automaker is continuously putting efforts to raise the standards in the market.
But just adding a few new attributes may not impress many buyers keeping in view, the upcoming Auto Expo and considering the new aspects with which all other manufacturers are coming with. However, if the price and performance parameters are prioritized, it may still remain a preferred choice of a certain section of customers. %
Pros & Cons of Volkswagen Vento 2015-2019
CarDekho Experts:
If the price and performance parameters are prioritized, it may still remain a preferred choice of a certain section of customers.
Things We Like
Dynamic touch screen infotainment system. This covers up for the entertainment factor, which was lacking in its previous version.
7-speed DSG transmission. Its dual clutch mechanism allows an automatic gear shift without interrupting the power flow.
Performance oriented engines. All its three motors give out a decent fuel economy while delivering good power output.
Things We Don't Like
Ground clearance. Quite low makes it look uncomfortable when it comes to huge bumps.
The base and mid range variants are missing out the new additions, which might not be well-received by the buyers.
No cosmetic updates. The new version with an old external design is a bit disappointing.
Stand Out Features
Mirror link connectivity enables connecting your Smartphone to the car and perform several functions with ease.

 Infotainment system with a touch screen display that optimizes the driving comfort.
Specification of Volkswagen Vento 2015-2019
| | |
| --- | --- |
| ARAI Mileage | 16.09 kmpl |
| Fuel Type | Petrol |
| Engine Displacement (cc) | 1598 |
| No. of cylinder | 4 |
| Max Power (bhp@rpm) | 103.2bhp@5250rpm |
| Max Torque (nm@rpm) | 153Nm@3800rpm |
| Seating Capacity | 5 |
| TransmissionType | Manual |
| Boot Space (Litres) | 494 |
| Fuel Tank Capacity | 55.0 |
| Body Type | Sedan |
| Ground Clearance Unladen | 163mm |
Volkswagen Vento 2015-2019 User Reviews
All (379)
Looks (60)
Comfort (66)
Mileage (54)
Engine (49)
Interior (32)
Space (16)
Price (21)
More ...
LATEST
HELPFUL
VERIFIED
CRITICAL
I am using Volkswagen Vento TDI for the last 6 years and I am super happy with my choice of buying the car, wonderful experience so far. The car has great interior a...Read More

Powerful petrol engine. The safest car I have ever seen in this segment. In love with this car, just a small issue is costly spares that's it. Else I love this car.

Volkswagen Vento has elegance and style personified by German engineers, for superior built quality and safety with unique headlights in its own class.

The car really looks nice and it is very stable on highway driving and comes with good features also the safety features are great. I love driving this car&nbsp...Read More

View All Vento 2015-2019 Reviews
Volkswagen Vento 2015-2019 Latest Update
Latest Update: Volkswagen has launched the facelifted Vento with an introductory starting price of Rs 8.76 lakh (ex-showroom, Delhi). Read the details here.
Volkswagen Vento Variants & Prices: Volkswagen offers the Vento in four variants: Trendline, Comfortline, Highline and Highline Plus, priced from Rs 8.63 lakh to 14.32 lakh (ex-showroom pan-India). Volkswagen also offers the Vento Connect Edition in India, which is priced at Rs 12.34 lakh (ex-showroom pan-India). It is available with a diesel engine only.
Volkswagen Vento Engine: Mechanically, the Volkswagen Vento is available with three engine options: a 105PS 1.2L TSI petrol, a 105PS 1.6L MPI petrol and a 110PS 1.5L TDI diesel. While the 1.2L TSI and the 1.6L MPI engines come mated to a 7-speed DSG gearbox and a 5-speed manual gearbox respectively, the 1.5L TDI is available with both the transmission options. The Volkswagen Vento is among the most powerful cars in its segment.
The 1.2L TSI returns a claimed fuel economy of 18.19kmpl, while the 1.6L MPI manages 16.09kmpl. The 1.5L diesel engine is the most frugal of the three as its fuel economy figures stand at 22.27kmpl and 22.15kmpl with the 7-speed DSG and the 5-speed manual transmission respectively.
Volkswagen Vento Features: Featurewise, the Vento is equipped with all the features you'd expect to see in a C-segment sedan. It gets full LED headlamps with DRLs, rain-sensing wipers, cruise control, automatic climate control, touchscreen infotainment with Apple CarPlay and Android Auto, and rear parking camera with sensors, among others.
For safety, the Vento comes with dual front airbags and ABS as standard across the range. Additionally, it also gets electronic stability programme and hill hold control; however, they are exclusive to the DSG-equipped variants.
Volkswagen Rivals:The Vento competes with likes of the Hyundai Verna, Honda City, Maruti Suzuki Ciaz, Skoda Rapid and the upcoming Toyota Yaris.
Read More

Volkswagen Vento 2015-2019 Images


Volkswagen Vento 2015-2019 News
Volkswagen Vento 2015-2019 Road Test

Are you Confused?
Ask anything & get answer in 48 hours
*Ex-showroom price in New Delhi
×
We need your city to customize your experience