Maruti Grand Vitara Strong-hybrid Fuel Efficiency - Claimed Vs Real
Modified On Sep 26, 2022 01:46 PM By Tarun for Maruti Grand Vitara
Let's see if the Grand Vitara strong-hybrid can match its market-leading fuel efficiency claim of nearly 28kmpl in the real world
Update (26/09/2022): Maruti has launched the 2022 Grand Vitara, which is its first strong-hybrid offering, priced from Rs 10.45 lakh (ex-showroom pan-India).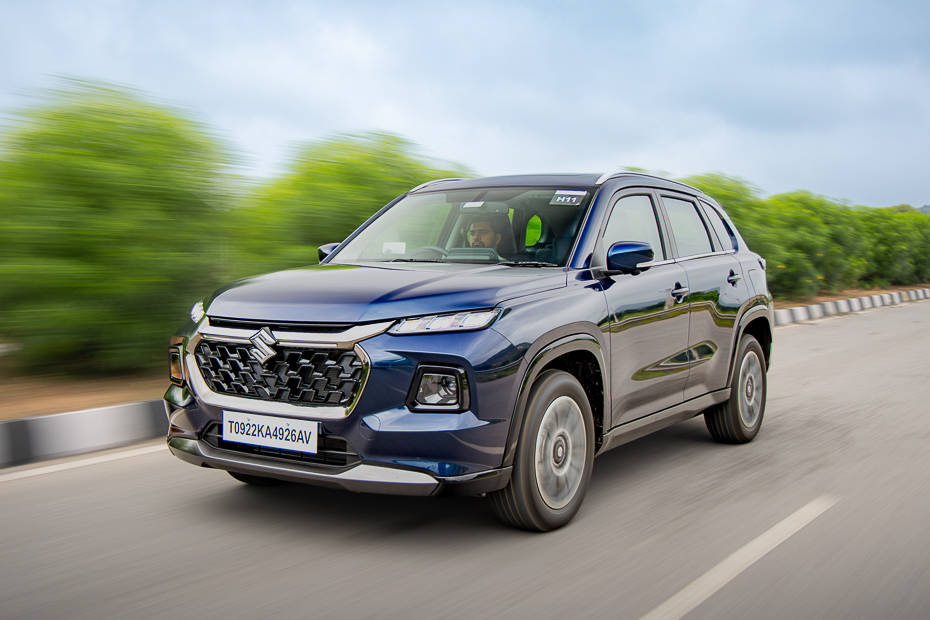 Maruti Grand Vitara is the country's latest strong-hybrid car, with prices to be announced on September 26. The SUV gets two hybrid petrol engines on option with a segment-exclusive, all-wheel drivetrain for the mild-hybrid MT variant.
The Grand Vitara claims to deliver a fuel efficiency of 27.97kmpl. So, let's see how frugal the SUV is in real-world driving conditions:
| | |
| --- | --- |
| Specifications | Strong Hybrid |
| Power | 116PS (combined) |
| Torque | 122Nm |
| Gearbox | e-CVT (single speed transmission) |
| Claimed fuel efficiency | 27.97kmpl |
| Tested fuel efficiency (City) | 25.45kmpl |
| Tested Fuel Efficiency (Highway) | 21.97kmpl |

The difference between the city and highway fuel efficiency is around 4kmpl, which is significant. Since it's a hybrid, the lower RPM driving in the city is aided by the electric motor, and thus the fuel economy is close to the claimed figure. As the car starts reaching higher speeds, the petrol engine does the majority of the work, which starts dropping the fuel efficiency.
Also Read: Honda City Hybrid Fuel Efficiency: Claimed vs Real
| | | | |
| --- | --- | --- | --- |
| Mileage | City:Highway (50:50) | City:Highway (25:75) | City:Highway (75:25) |
| Strong-hybrid | 23.58kmpl | 22.75kmpl | 24.5kmpl |

In case of equal city and highway driving conditions, the Grand Vitara strong hybrid can achieve 23.5kmpl. With the majority of driving on the highway, fuel efficiency drops by around 1 kmpl and vice-a-versa for the majority distance covered in city traffic. The differences here are negligible, and in any case, the SUV will be able to deliver around 23kmpl on a consistent basis. With a fuel tank capacity of 45 litres, you should get over 1000 kilometres worth of range in any of these driving conditions.
Also Read: Maruti Grand Vitara Expected Prices: Will It Be The Most Affordable AWD SUV In India?
Do note that these figures may vary depending on the road, driving style, climate conditions, and the car's condition. If you own a Maruti Grand Vitara, drop your findings in the comment section below–we would love to hear from you.
Was this article helpful ?
4 out of 4 found this helpful