Jaguar Land Rover cars to detect and share pothole data
Published On Jun 12, 2015 02:29 PM By Abhijeet
1981 Views

Write a comment
Under an innovative 'Pothole Alert' research by Jaguar Land Rover, a Range Rover Evoque research car can actually detect and analyse the severity of potholes and broken manhole covers and then adjust the suspension in milliseconds. This greatly enhances the safety quotient on this research car thus providing critical learning to Jaguar Land Rover engineers. Another aspect of this research is the sharing of data to other cars on the road via cloud. This warns other road users about dangerous and risky potholes or broken/open manhole covers allowing them to slow down and avoid danger.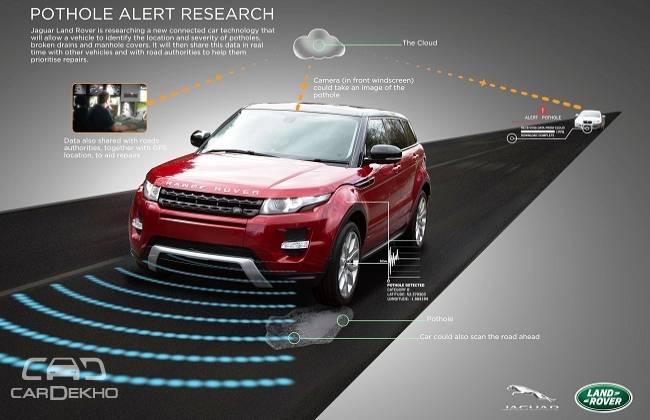 The highlight is MagneRide which is a high-performance, semi-active suspension control system. This sophisticated system responds to road and driving conditions based on input from sensors that monitor body and wheel motion, in real time. A special damping fluid containing magnetic particles helps the system respond as quickly as possible. When these particles are subjected to a magnetic field, the viscosity of the damper fluid is either increased or decreased, making the suspension stiffer or softer as per the requirement.
Dr Mike Bell, Global Connected Car Director, Jaguar Land Rover, said, "Our MagneRide equipped Range Rover Evoque and Discovery Sport vehicles feature sophisticated sensors that allow the vehicle to profile the road surface under the wheels and identify potholes, raised manholes and broken drain covers. While this gives our customers a more comfortable ride, we think there is a huge opportunity to turn the information from these vehicle sensors into 'big data' and share it for the benefit of other road users. This could help prevent billions of pounds of vehicle damage and make road repairs more effective."
New Car Insurance - Save Upto 75%* - Simple. Instant. Hassle Free - (InsuranceDekho.com)
Sell Car - Free Home Inspection @ CarDekho Gaadi Store
Was this article helpful ?
0 out of 0 found this helpful