Aston Martin reveals Rehberger Vantage GTE art car
Published On Jun 08, 2015 05:13 PM By Abhijeet for Aston Martin Vantage 2011-2019
Aston Martin Racing has unwrapped its 24 Hours of Le Mans art car. The Vantage GTE has been designed by artist Tobias Rehberger in the Gulf #97 glory. The race car has been designed to exude an illusion of motion even while it is at a standstill. The artist Rehberger is known for his abstract art and optical effects that distort eye perception. The company invited the man to design the Vantage GTE as unique as never attempted before, and he has done a brilliant job at it as you can see. The Gulf Vantage GTE's lines and colours are as beautiful as a seamless painting.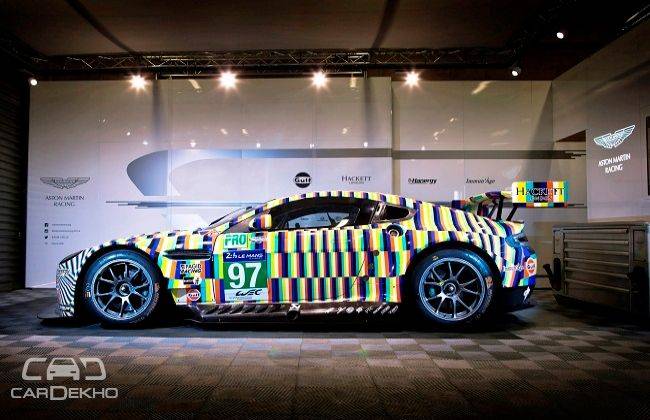 The German artist stated at the unveiling, "My design for the Aston Martin art car is rooted in my interest in distorted perception and related phenomena like auto moving patterns, optical effects, camouflage and visual confusion, which I have addressed in many works before. In this case, the design is based on a geometric optical effect pattern. Comparable to a fast object, a steady fixation on a point of the pattern is impossible." The artwork was commissioned by the owner of car #97 who has long-admired the work of Rehberger and was interested to see how he could manipulate the appearance of the race car that is based on Aston Martin's Vantage road car.
The art car reveal will be followed by #97 Vantage GTE racing in this weekend's 24 Hours of Le Mans. Darren Turner, Driver of the car, says, "Personally, I think art cars are fantastic," commented Turner. "This design really pushes the boundaries of what's been done before and challenges how we can use patterns and colours in racecar liveries – I love it!"
Read More on : Aston Martin Vantage price
Was this article helpful ?
0 out of 0 found this helpful