Aston Martin Confirms 600bhp Vantage GT3 for the Geneva Motor Show (Video inside)
Published On Jan 08, 2015 12:41 PM By Firdaus for Aston Martin Vantage 2011-2019
Aston Martin has confirmed that it will showcase its most aggressive car so far at the Geneva Motor show in March 2015. The car - Vantage GT 3 is Aston Martin's attempt to blur the lines between its track and road going cars. It gets an aggressive and deeper front bumper to boost downforce and a huge rear wing to keep things tied down at the back. The rear wing is inspired by Aston's successful V12 Vantage GT3 racing car. To keep the V12 engine cool a bonnet scoop is also placed on the hood. The Vantage GT 3 sports a wider track along with wider arches to accommodate the wider set of wheels.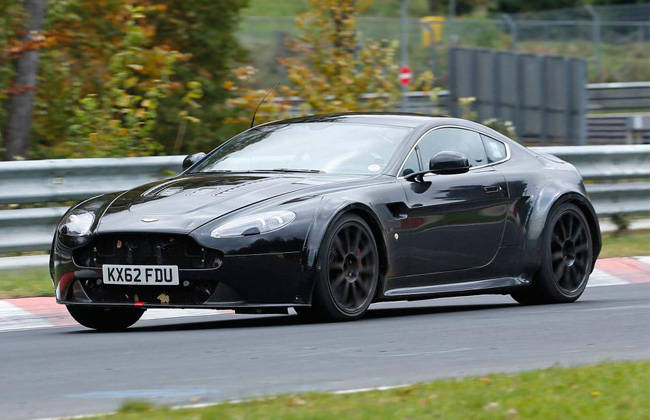 Aston Martin has not revealed any mechanical specs for the car yet, but they're determined to narrow the gap between racing cars and road going cars so there is a possibility that the car will come with semi-slicks and carbon- ceramic brakes for optimum track performance as well. Aston will be using the engine from the V12 Vantage S, but may boost its power output. The current six litre V12 engine produces 564 bhp and it can be assumed that Aston may tune it to deliver around a whooping 600bhp. It may also come with an automated- manual sportshift box allowing quicker gear shifts with a 0-100kmph time of 3.5 seconds.
To make it faster Aston may shave 100 kgs off the kerb weight; use a combination of aluminium and carbon fibre bodywork, strip out the interiors, and maybe use bucket seats with a four point harness to keep the driver and passengers strapped in place. A faster, more precise steering wheel, loud exhaust and multi-tone paint scheme may give it that racing flavor.
The Vantage will be nearing its nine year production cycle and Aston may produce just a few hundred units, so if this beauty attracts you, you better be sure to lay your hands on it soon.
Aston Martin may introduce the DB9 replacement in 2016 which will be based on an all-new platform. This will be followed by the new Vantage, which takes it styling inspiration from the DB10 concept. The latter will be the first car to use a Mercedes-Benz 4.0 litre twin-turbo V8 engine and will star in the all new James Bond film – Spectre.
Source: Autoexpress.co.uk
Read More on : Aston Martin Vantage expert review
Was this article helpful ?
0 out of 0 found this helpful