Aston Martin Brings DB11 and DB10 Concept to Bangkok Motor Show
Modified On Oct 05, 2018 01:10 PM By Sumit for Aston Martin DB11 2016-2020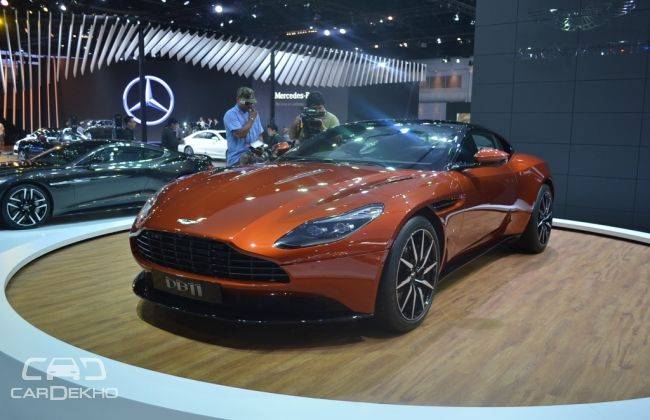 It is well known that carmakers all over the globe bring concept cars to various auto shows to display their state-of-the-art technology. Now, Aston Martin has taken this competition to a whole new level by bringing the DB11 and the DB10 Concept at the ongoing motor show in Bangkok.
The DB11

The DB11 is based on an all-new platform which makes extensive use of aluminium to reduce weight. This, combined with the aerodynamically superior design of the car, makes the DB11 ready to take any speed challenge. The large grille at the front and the swept-back headlamps complement the length of the car (check out our Image Gallery!). The rear windscreen smoothly merges with the tailgate of the car, giving it an elite look. The circular exhausts at both ends of the rear bumper look really cool.

The beast runs on a 5.2-litre, V12 twin turbo engine, churning out a maximum power of 600bhp with 700Nm torque. It can attain a speed of 100 kmph from a standstill in a mere 3.9 seconds, and the top speed of the car has been limited to 322 kmph. The car is on sale and deliveries are expected to start by the end of 2016. It has been previously unveiled at the Geneva Motor Show 2016.
The DB10 Concept

Aston Martin has completed 52 years of partnership with the James Bond movie franchise and there is no other way to celebrate this relationship better. The automaker has brought the DB10 concept – of which only ten pieces have been made – to the auto show in Bangkok. Even out of these ten, eight were used in the movie Spectre and the remaining two are for display. Though the car has the same underpinnings as the V8 Vantage, the design is inspired by the original Bond car – the DB5. Since its launch, the DB series has been associated with James Bond, which is why the DB10 has been named in the DB series as well. With great looks to support the cutting-edge technology used in making the car, we can only hope that the British carmaker will bring it to the production line.
Was this article helpful ?
0 out of 0 found this helpful