All New BMW 7-Series: Key Features
Modified On Feb 16, 2016 12:07 PM By Nabeel for BMW 7 Series 2015-2019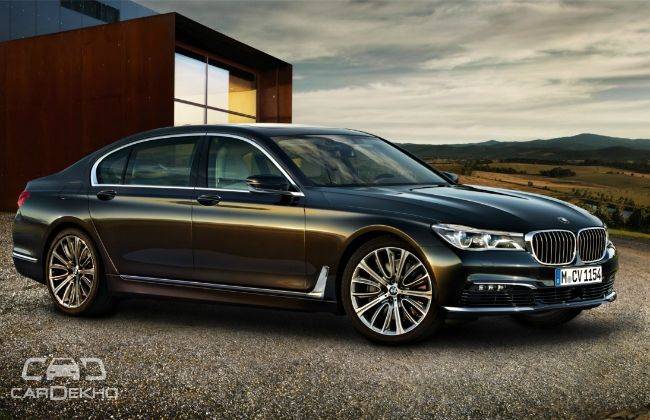 The all new BMW 7-Series is one of the most advanced cars in its class. It has some of the most interesting features which one could, till now, only imagine being in a car. This car pushes the boundaries of features which are present in an automobile. So, here is a small summary of the car, as full highlights might take days to cover!

The all new BMW 7-Series was launched at the 2016 Indian Expo at a price of Rs. 1.1 Crore (ex-showroom Delhi). This car is locally produced at BMW's plant in Chennai. It is available with both, diesel and petrol engine options and in 2 design schemes - M Sport and Design Pure Excellence. The M Sport has sporty styling and interiors while Design Pure Excellence is stylish and has elegant contours with luxurious features. BMW 730Ld Design Pure Excellence is available at a basic price tag of Rs. 1.11 Crore and 730Ld M Sport is retailed at a base price of Rs. 1.19 Crore, both prices ex-showroom Delhi. Let's have a closer look at some of the key features of the car.
ENGINE

The all-new BMW 7 Series is available in two diesel variants. The petrol and diesel engines belong to BMW Efficient-Dynamics family and feature the BMW TwinPower Turbo Technology. The three-litre six-cylinder diesel engine of the BMW 730Ld produces an output of 261bhp and a maximum torque of 620Nm at 2,000 to 2,500rpm. This engine accelerates the car from 0 to 100kmph in just 6.2 seconds to a top speed of 250kmph. In the BMW 750Li, the 4.4 litre eight-cylinder petrol engine produces an output of 443bhp and a maximum torque of 650Nm at 1,800 to 4,500rpm. This variant accelerates from 0 to 100kmph in just 4.7 seconds to a top speed of 250kmph.
EXTERIORS

Color Options
BMW 7 Series is available in Alpine White non-metallic paintwork and in Mineral White, Glacier Silver, Magellan Grey and Black Sapphire metallic paint schemes. The metallic paintworks for Design Pure Excellence range include Cashmere Silver, Arctic Grey Brilliant Effect, Sophisto Grey, Black, Imperial Blue and Jatoba. The metallic paintworks for the M Sport range include Singapore Grey and Black Carbon. The BMW 7 Series Individual is also available in Almandine Brown metallic paintwork.
Lights

The BMW Laserlight with blue design feature illuminates the road in laser high beam mode for up to 600 metres. Adaptive Headlights cast beam in the direction of curve of the road and ensure better visibility during night drives.
Ride
The car has a 2-Axle Air Suspension which automatically adjusts the height of the car regardless of the load being carried. In addition, it can slightly raise or lower the vehicle height (within a range of 30mm) according to road conditions. Dynamic Damper Control stabilizes irregularities of the surface. The optional, Executive Drive Pro chassis control system reduces body roll in bends and on bumpy surfaces. Also, the Driving Experience Control switch lets the driver choose between different driving modes - Comfort, Comfort+, Sport, Sport+, Eco Pro and Adaptive.
INTERIORS

Upholstery
The BMW 7 Series has an extensive range of upholstery combinations in Nappa leather which include: Black with Black, Dark Coffee with Canberra, Black with Ivory White, Black with Canberra, Dark Coffee with Ivory White, Ivory White with Ivory White, Black with Mocha, Black with Cognac and Black with Zagora Beige. BMW 7 Series Individual can also be ordered in Black with Tartufo combination. The range of upholstery combinations in Dakota leather include: Black with Black, Dark Coffee with Canberra, Black with Ivory White, Black with Canberra, Dark Coffee with Ivory White, Ivory White with Ivory White, Black with Mocha and Black with Cognac.
Gesture Control

The car recognizes six pre-defined hand movements for control of a number of functions. This includes volume control, accepting or rejecting phone calls, acknowledging check control messages, closing an information window, changing the camera angle etc. There is also the option of pairing a specific gesture with an individual choice of function.
Remote Control Parking and Display Key
With the BMW Remote Control Parking(to be introduced later in 2016) and Display Key with touchscreen, driver can park his BMW 7 Series into a parking space without being inside the car. Besides other information, the smart key also displays service reminders, cabin temperature, mileage range and fuel level.
BMW Touch Command System
BMW Touch Command offers an integrated control option for entertainment and comfort functions for the rear seats. The 7" tablet with touch function, which is integrated into the centre armrest and connected to the vehicle systems, can also be used outside the vehicle.
Wireless Charging and Sky Lounge
Wireless Charging for mobile phones is incorporated for the first time in a car. This smartphone holder is integrated into the centre console which allows inductive wireless charging. The Panorama Glass Roof, christened as Sky Lounge produces, as BMW puts it, "an extraordinary effect that guarantees a relaxed and harmonious interior atmosphere". More than 15,000 light elements generate six different light patterns for your different moods.
Cockpit & Ergonomics

The cockpit is angled towards the driver to put all controls within reach. The Vitality Package has eight massage functions for a relaxed ride in long journeys. Ambient Lighting with six dimmable designs and Ambient Air Package with an option of eight custom-made fragrances takes the in-car experience to a whole new level.
Safety
The car has optional BMW Head-up Display which is 70% larger than before. It displays driver assistance functions like navigation information. The car also comes with optional BMW Night Vision (including pedestrian and animal recognition) which relays a real-time image to the Control Display highlighting the object and warning the driver in advance. The all-new BMW 7 Series also has BMW iDrive with BMW Navigation Professional (with touchscreen), Park Distance Control and Rearview Camera with Surround View system that provides a 360-degree view. It is the first car in this segment to offer a radar-based Driver Assistance Plus which has Steering and Lane Control Assistant, Lane Keeping Assistant with Active Side Collision, Active Cruise Control with Stop & Go function, Rear Collision Prevention and Front Cross-Traffic Warning. The system operates on all roads and at speeds of up to 210 km/hr.
Also Read: BMW M760Li xDrive, 7-Series with an M Twist
Read More on : 7 Series
Was this article helpful ?
0 out of 0 found this helpful