Striking Mahindra Bolero Modifications in India
Modified On Jan 05, 2016 07:30 PM By Manish for Mahindra Bolero 2011-2019
11066 Views

Write a comment
The general populous of our country is partial to the large segment cars. So, it comes as no surprise that Mahindra Bolero has gone on to become India's No.1 sports utility vehicle. The car won the hearts of people across the nation with its basic platform. Bolero is a car that has been responsible for various innovations over the years and with its high ground clearance, it makes driving on rural roads, a breeze and is well-suited to Indian road conditions. The car has always been proud of its macho styling and mechanical dependability but as it turns out some people just want that extra bit of flair. So, we have compiled a list of the most striking Boleros in the country. Let's check them out.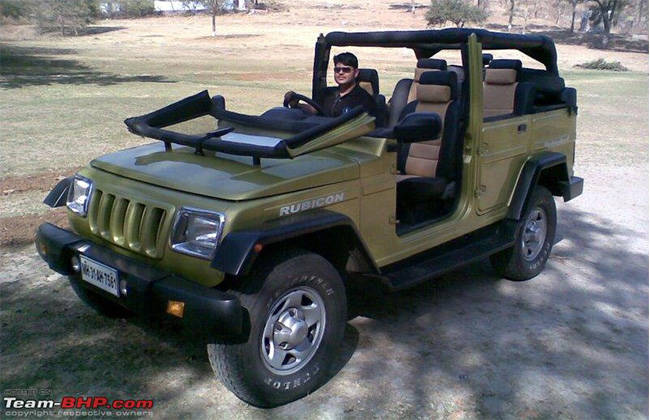 The first modification on our list finds its foundations in the genesis of Bolero. Regardless of how this MUV is showcased by the automaker, Bolero after all is a jeep and that is why, this particular mod has made its way on our list. This team-bhp user has converted his Bolero into an open-top, Rubicon-inspired offroader-esque utility vehicle. We would love to see the car with off-roading tyres wrapped around contrasting black alloy wheels, which will go well with the foldable windscreen.

In terms with Mahindra's traditional approach to its vehicles, the company also took a shot at modifying its no. 1 sports utility vehicle and this time for the Indian army, no less. The car did manage to fail in making its way to the production line, but helped its clients by bestowing them with aspiration for their personal modification projects. The modifications are more than skin deep, this car is not just based on a Bolero but features a resized (shorter) wheelbase, which we feel might help in improving its power-to-weight ratio, making it an apt choice for the defense forces, as a work horse.

This particular modification was a courtesy of Mahindra Customization. The car does looks like a civilian and relatively cooler version of the aforementioned Mahindra Striker. The car has been shortened in comparison to the standard car and now features a loading bay. The all black color scheme gives the car a rather menacing look, which makes it seem like an Indian version of Marty McFly's black Toyota pick-up truck from 'Back to the Future' movie franchise.

Try and picture what the cross between South African armored vehicle, Marauder and America's discontinued pride and joy, Hummer would look like if it was built by Mahindra and Mahindra. Don't fret if you are having trouble imagining the same because we have dug up this little offering to help you out.

Bolero is known and revered for its macho appeal and so it's not shocking that there are some Bolero enthusiasts out there who want to enhance and capitalize on that appeal. Here is one such example, where the modification has been done keeping the rugged Hummer H2 design as the foundation for the inspiration. The car has been converted into a pick-up by carrying out a roof chop. The choice of matte black grille over the H2-inspired chrome one, is also a very tasteful design decision and gives the car a very stealthy, urban-combat vehicle look.

Saving the best for last, here is yet another tasteful modification job done by a team-bhp user. The car has been modified or for that matter replicated to look like a Mercedes G-wagon and to obsessive-compulsive attention to detail. Be it the hood-mounted turn indicators, front-fender vents or the AMG lookalike alloy wheels, the attention to detail on this particular mod job is mind blowing. To make you understand how religiously the car has been built to the design inspiration, we would like to draw your attention to the rain cutters, which have been designed to seem reminiscent of the real Mercedes-Benz AMG G63 G-wagon.
Was this article helpful ?
0 out of 0 found this helpful