Mahindra Bolero 2011-2019
Change car
Rs.4.94 - 9.42 Lakh*
This car model has expired
Key Specs of Mahindra Bolero 2011-2019
| | |
| --- | --- |
| Engine | 1493 cc - 2523 cc |
| BHP | 62.0 - 70.0 Bhp |
| Transmission | Manual |
| Drive Type | 2WD / 4WD / FWD / RWD |
| Mileage | 13.6 - 16.5 kmpl |
| Fuel | Diesel |
Explore Price of Bolero 2011-2019 Alternatives

Mahindra Bolero 2011-2019 price list (Variants)
Bolero 2011-2019 DI 4WD BSIII2523 cc, Manual, Diesel, 13.6 kmplEXPIRED
Rs.4.94 Lakh*
 
Bolero 2011-2019 DI BSII2523 cc, Manual, Diesel, 13.6 kmplEXPIRED
Rs.5.27 Lakh*
 
Bolero 2011-2019 Camper2523 cc, Manual, Diesel, 14.0 kmplEXPIRED
Rs.5.43 Lakh*
 
Bolero 2011-2019 Camper DX2523 cc, Manual, Diesel, 14.0 kmplEXPIRED
Rs.5.43 Lakh*
 
Bolero 2011-2019 LX BSIV2523 cc, Manual, Diesel, 14.0 kmplEXPIRED
Rs.5.43 Lakh*
 
Bolero 2011-2019 Plus - Non-AC BSII2523 cc, Manual, Diesel, 13.6 kmplEXPIRED
Rs.5.51 Lakh*
 
Bolero 2011-2019 Plus-AC Plus PS BSIII2523 cc, Manual, Diesel, 13.6 kmplEXPIRED
Rs.5.76 Lakh*
 
Bolero 2011-2019 DI BSIII2523 cc, Manual, Diesel, 13.6 kmplEXPIRED
Rs.5.99 Lakh*
 
Bolero 2011-2019 mHAWK D70 SLE1493 cc, Manual, Diesel, 16.5 kmplEXPIRED
Rs.6.59 Lakh*
 
DI NON AC BS III White2523 cc, Manual, Diesel, 15.96 kmplEXPIRED
Rs.6.60 Lakh*
 
DI NON AC BS III SILVER2523 cc, Manual, Diesel, 15.96 kmplEXPIRED
Rs.6.83 Lakh*
 
Bolero 2011-2019 SLX 4WD2523 cc, Manual, Diesel, 13.6 kmplEXPIRED
Rs.6.95 Lakh*
 
Bolero 2011-2019 Plus - AC BSII2523 cc, Manual, Diesel, 13.6 kmplEXPIRED
Rs.6.98 Lakh*
 
Bolero 2011-2019 XL 10 STR2523 cc, Manual, Diesel, 15.96 kmplEXPIRED
Rs.7.01 Lakh*
 
Bolero 2011-2019 XL 7 STR2523 cc, Manual, Diesel, 15.96 kmplEXPIRED
Rs.7.01 Lakh*
 
Bolero 2011-2019 XL 9 STR2523 cc, Manual, Diesel, 15.96 kmplEXPIRED
Rs.7.01 Lakh*
 
Bolero 2011-2019 LX NON AC BS32523 cc, Manual, Diesel, 15.96 kmplEXPIRED
Rs.7.07 Lakh*
 
Bolero 2011-2019 Plus - Non-AC BSIII2523 cc, Manual, Diesel, 15.96 kmplEXPIRED
Rs.7.10 Lakh*
 
Bolero 2011-2019 mHAWK D70 LX1493 cc, Manual, Diesel, 16.5 kmplEXPIRED
Rs.7.10 Lakh*
 
Bolero 2011-2019 mHAWK D70 SLX1493 cc, Manual, Diesel, 16.5 kmplEXPIRED
Rs.7.10 Lakh*
 
Bolero 2011-2019 DI - AC BS III2523 cc, Manual, Diesel, 15.96 kmplEXPIRED
Rs.7.11 Lakh*
 
Plus - Non-AC BSIII PS2523 cc, Manual, Diesel, 15.96 kmplEXPIRED
Rs.7.26 Lakh*
 
Bolero 2011-2019 DI 4WD NON AC2523 cc, Manual, Diesel, 13.6 kmplEXPIRED
Rs.7.44 Lakh*
 
Bolero 2011-2019 Plus - AC BSIII2523 cc, Manual, Diesel, 15.96 kmplEXPIRED
Rs.7.50 Lakh*
 
Bolero 2011-2019 mHAWK D70 ZLX1493 cc, Manual, Diesel, 16.5 kmplEXPIRED
Rs.7.50 Lakh*
 
Bolero 2011-2019 LX 4WD NON AC BS32523 cc, Manual, Diesel, 15.96 kmplEXPIRED
Rs.7.53 Lakh*
 
Bolero 2011-2019 SLE BSIII2523 cc, Manual, Diesel, 15.96 kmplEXPIRED
Rs.7.60 Lakh*
 
Bolero 2011-2019 Plus AC BSIII PS2523 cc, Manual, Diesel, 15.96 kmplEXPIRED
Rs.7.66 Lakh*
 
Bolero 2011-2019 EX NON AC2523 cc, Manual, Diesel, 15.96 kmplEXPIRED
Rs.7.74 Lakh*
 
Bolero 2011-2019 LX NON AC2523 cc, Manual, Diesel, 15.96 kmplEXPIRED
Rs.8.08 Lakh*
 
Bolero 2011-2019 SLX 2WD BSIII2523 cc, Manual, Diesel, 15.96 kmplEXPIRED
Rs.8.14 Lakh*
 
Bolero 2011-2019 EX AC2523 cc, Manual, Diesel, 15.96 kmplEXPIRED
Rs.8.16 Lakh*
 
Bolero 2011-2019 Plus Non AC2523 cc, Manual, Diesel, 15.96 kmplEXPIRED
Rs.8.19 Lakh*
 
Bolero 2011-2019 Plus Non AC BSIV PS2523 cc, Manual, Diesel, 15.96 kmplEXPIRED
Rs.8.35 Lakh*
 
Bolero 2011-2019 ZLX BSIII2523 cc, Manual, Diesel, 15.96 kmplEXPIRED
Rs.8.39 Lakh*
 
Bolero 2011-2019 Plus AC2523 cc, Manual, Diesel, 15.96 kmplEXPIRED
Rs.8.59 Lakh*
 
Bolero 2011-2019 SLE2523 cc, Manual, Diesel, 15.96 kmplEXPIRED
Rs.8.61 Lakh*
 
Bolero 2011-2019 Special Edition2523 cc, Manual, Diesel, 15.96 kmplEXPIRED
Rs.8.62 Lakh*
 
Bolero 2011-2019 LX 4WD NON AC BSIV2523 cc, Manual, Diesel, 15.96 kmplEXPIRED
Rs.8.73 Lakh*
 
Bolero 2011-2019 Plus AC BSIV PS2523 cc, Manual, Diesel, 15.96 kmplEXPIRED
Rs.8.76 Lakh*
 
Bolero 2011-2019 SLX2523 cc, Manual, Diesel, 15.96 kmplEXPIRED
Rs.9.17 Lakh*
 
Bolero 2011-2019 ZLX2523 cc, Manual, Diesel, 15.96 kmplEXPIRED
Rs.9.42 Lakh*
 
View All Variants
Mahindra Bolero 2011-2019 Review
Mahindra has been the undisputed leader in SUV space for years now. A large share of this credit goes to its best selling machine, the Bolero. Having topped the charts for nine years on the trot, Mahindra has sold close to a million units of the SUV till date. To keep it in tune with the times (and benefit from a break in taxes) Mahindra recently added the sub 4-metre version of the Bolero, dubbed the Power+ to the variant list. Let's take a closer look at the Bolero and find out why it has been the cash-cow for Mahindra.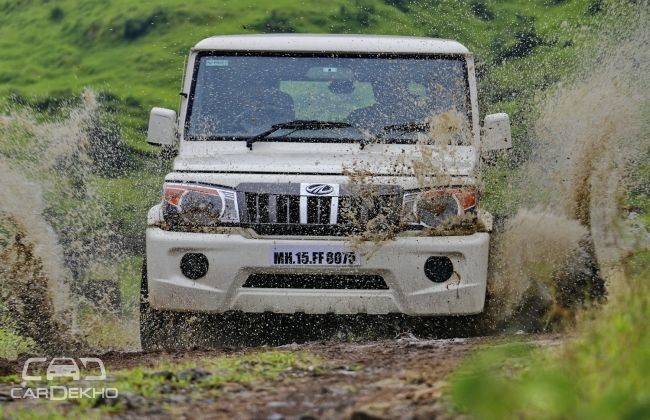 Verdict
The Bolero has always been a no-frills 'fill-it, shut-it, forget-it' SUV. It continues to score on that front even seventeen years since it was first introduced. If you are eyeing the Bolero, we'd recommend the Power+ because it isn't just cheaper, but is also refined and more efficient compared to the CRDe-powered version.
Yes, it does have a bit of ergonomic issues and isn't as well-specced with features as one would expect at the price point - but it does offer peace of mind in terms of longevity.
Pros & Cons of Mahindra Bolero 2011-2019
CarDekho Experts:
The Bolero has always been a no-frills 'fill-it, shut-it, forget-it' SUV.
Performance46

Comfort & Convenience53

Safety & Security30

Mileage48
Things We Like
Ample space for first and second row occupants.
Chiller air-conditioning cools the big cabin down in no time
Light steering takes the sting out of manoeuvring inside the city / parking.
New 1.5-litre engine is refined, powerful and efficient.
Things We Don't Like
Build quality inside out could have been a lot better. Reeks of cost-cutting.
Misses out on basic features such as height-adjust for the seat and tilt adjust for the steering.
No four-wheel drive variant on offer.
Lack of safety features such as airbags, anti-lock brakes is a big miss!
Stand Out Features
Kenwood music player with Bluetooth and USB compatibility offered in the top-spec version

Micro-hybrid system helps save fuel by automatically switching the engine off while idling
Specification of Mahindra Bolero 2011-2019
| | |
| --- | --- |
| ARAI Mileage | 13.6 kmpl |
| City Mileage | 9.4 kmpl |
| Fuel Type | Diesel |
| Engine Displacement (cc) | 2523 |
| No. of cylinder | 4 |
| Max Power (bhp@rpm) | 63bhp@3200rpm |
| Max Torque (nm@rpm) | 180Nm@1440-1500rpm |
| Seating Capacity | 8 |
| TransmissionType | Manual |
| Fuel Tank Capacity | 60.0 |
| Body Type | SUV |
| Ground Clearance Unladen | 183mm |
Mahindra Bolero 2011-2019 User Reviews
All (117)
Looks (36)
Comfort (41)
Mileage (31)
Engine (31)
Interior (17)
Space (15)
Price (18)
More ...
LATEST
HELPFUL
VERIFIED
CRITICAL
I have Mahindra Bolero and It has been good family off-road vehicle for me, also helping me in a support role for agricultural ops, crossing 3-4 feet deep water...Read More

Mahindra Bolero has a well-built quality and stronger than all other cars in the segment. It has excellent engine performance. Off-roading is also nice. Even though ...Read More

It is an awesome car, tough body and rough use at any weather condition. I feel powerful when I drive bolero from Mahindra.

In 2014 when I bought Mahindra Bolero. I felt very happy, that I have brought a very sporty car, but now I am feeling very uncomfortable and now I want to sell ...Read More

The fuel efficiency is as good as any other vehicle in the SUV/MUV bracket. Moreover, this vehicle is shorter in length and thinner in width than almost all other competi...Read More

View All Bolero 2011-2019 Reviews
Mahindra Bolero 2011-2019 Latest Update
Latest Update: The Bolero has been discontinued and is only available in the Power+ variants, details here.
Bolero Engine: The Bolero came with a 2.5-litre diesel engine that churns out 63PS of max power and 195Nm of peak torque. This unit had a claimed mileage of 15.96kmpl.
Features: It got a driver information system, digital instrument cluster, music system (CD MP3), air conditioning, power steering and more.
Safety: The Bolero's lack of safety equipment was likely one of the primary reasons for why it was discontinued. However, the Power+ version has been fitted with ABS, driver side airbag, rear parking sensors as standard.
Read More
Must read articles before buying Mahindra Bolero 2011-2019
Mahindra Bolero 2011-2019 Mileage
The claimed ARAI mileage: Mahindra Bolero 2011-2019 Diesel is 16.5 kmpl.
| Fuel Type | Transmission | ARAI Mileage |
| --- | --- | --- |
| Diesel | Manual | 16.5 kmpl |
Mahindra Bolero 2011-2019 News
Mahindra Bolero 2011-2019 Road Test

Are you Confused?
Ask anything & get answer in 48 hours
Write your Comment on Mahindra Bolero 2011-2019
1 comment
1
O
om jagtap
May 12, 2020 10:17:17 PM
Petrol engine
Read More...
Reply
Write a Reply
*Ex-showroom price in New Delhi
×
We need your city to customize your experience