Key Specs of Mahindra Bolero 2011-2019
| | |
| --- | --- |
| Mileage (upto) | 16.5 kmpl |
| Engine (upto) | 2523 cc |
| BHP | 70.0 |
| Transmission | Manual |
| Boot Space | 690-litres |
Second Hand Mahindra Bolero 2011-2019 Cars in New Delhi
Explore Price of Bolero 2011-2019 Alternatives

Ex-showroom price in New Delhi
DI 4WD BSIII2523 cc, Manual, Diesel, 13.6 kmplEXPIRED
Rs.4.94 Lakh*
 
DI NON AC BS III White2523 cc, Manual, Diesel, 15.96 kmplEXPIRED
Rs.6.60 Lakh*
 
EX NON AC2523 cc, Manual, Diesel, 15.96 kmplEXPIRED
Rs.7.73 Lakh*
 
mHAWK D70 LX1493 cc, Manual, Diesel, 16.5 kmplEXPIRED
Rs.7.10 Lakh*
 
DI BSII2523 cc, Manual, Diesel, 13.6 kmplEXPIRED
Rs.5.27 Lakh*
 
DI NON AC BS III SILVER2523 cc, Manual, Diesel, 15.96 kmplEXPIRED
Rs.6.82 Lakh*
 
LX NON AC2523 cc, Manual, Diesel, 15.96 kmplEXPIRED
Rs.8.07 Lakh*
 
mHAWK D70 SLE1493 cc, Manual, Diesel, 16.5 kmplEXPIRED
Rs.6.59 Lakh*
 
Camper2523 cc, Manual, Diesel, 14.0 kmplEXPIRED
Rs.5.43 Lakh*
 
Camper DX2523 cc, Manual, Diesel, 14.0 kmplEXPIRED
Rs.5.43 Lakh*
 
EX AC2523 cc, Manual, Diesel, 15.96 kmplEXPIRED
Rs.8.15 Lakh*
 
LX BSIV2523 cc, Manual, Diesel, 14.0 kmplEXPIRED
Rs.5.43 Lakh*
 
Plus - Non-AC BSIII2523 cc, Manual, Diesel, 15.96 kmplEXPIRED
Rs.7.09 Lakh*
 
Plus Non AC2523 cc, Manual, Diesel, 15.96 kmplEXPIRED
Rs.8.19 Lakh*
 
DI - AC BS III2523 cc, Manual, Diesel, 15.96 kmplEXPIRED
Rs.7.11 Lakh*
 
Plus Non AC BSIV PS2523 cc, Manual, Diesel, 15.96 kmplEXPIRED
Rs.8.35 Lakh*
 
LX NON AC BS32523 cc, Manual, Diesel, 15.96 kmplEXPIRED
Rs.7.07 Lakh*
 
Plus - Non-AC BSII2523 cc, Manual, Diesel, 13.6 kmplEXPIRED
Rs.5.50 Lakh*
 
Plus AC2523 cc, Manual, Diesel, 15.96 kmplEXPIRED
Rs.8.59 Lakh*
 
Plus - Non-AC BSIII PS2523 cc, Manual, Diesel, 15.96 kmplEXPIRED
Rs.7.25 Lakh*
 
Plus-AC Plus PS BSIII2523 cc, Manual, Diesel, 13.6 kmplEXPIRED
Rs.5.75 Lakh*
 
SLE2523 cc, Manual, Diesel, 15.96 kmplEXPIRED
Rs.8.60 Lakh*
 
mHAWK D70 SLX1493 cc, Manual, Diesel, 16.5 kmplEXPIRED
Rs.7.10 Lakh*
 
DI BSIII2523 cc, Manual, Diesel, 13.6 kmplEXPIRED
Rs.5.99 Lakh*
 
LX 4WD NON AC BSIV2523 cc, Manual, Diesel, 15.96 kmplEXPIRED
Rs.8.72 Lakh*
 
Plus AC BSIV PS2523 cc, Manual, Diesel, 15.96 kmplEXPIRED
Rs.8.75 Lakh*
 
SLX2523 cc, Manual, Diesel, 15.96 kmplEXPIRED
Rs.9.17 Lakh*
 
mHAWK D70 ZLX1493 cc, Manual, Diesel, 16.5 kmplEXPIRED
Rs.7.50 Lakh*
 
Plus - AC BSIII2523 cc, Manual, Diesel, 15.96 kmplEXPIRED
Rs.7.49 Lakh*
 
ZLX2523 cc, Manual, Diesel, 15.96 kmplEXPIRED
Rs.9.42 Lakh*
 
LX 4WD NON AC BS32523 cc, Manual, Diesel, 15.96 kmplEXPIRED
Rs.7.53 Lakh*
 
Plus AC BSIII PS2523 cc, Manual, Diesel, 15.96 kmplEXPIRED
Rs.7.66 Lakh*
 
SLE BSIII2523 cc, Manual, Diesel, 15.96 kmplEXPIRED
Rs.7.60 Lakh*
 
Special Edition2523 cc, Manual, Diesel, 15.96 kmplEXPIRED
Rs.8.61 Lakh*
 
DI 4WD NON AC2523 cc, Manual, Diesel, 13.6 kmplEXPIRED
Rs.7.43 Lakh*
 
SLX 2WD BSIII2523 cc, Manual, Diesel, 15.96 kmplEXPIRED
Rs.8.14 Lakh*
 
SLX 4WD2523 cc, Manual, Diesel, 13.6 kmplEXPIRED
Rs.6.95 Lakh*
 
Plus - AC BSII2523 cc, Manual, Diesel, 13.6 kmplEXPIRED
Rs.6.97 Lakh*
 
ZLX BSIII2523 cc, Manual, Diesel, 15.96 kmplEXPIRED
Rs.8.38 Lakh*
 
XL 10 STR2523 cc, Manual, Diesel, 15.96 kmplEXPIRED
Rs.7.01 Lakh*
 
XL 7 STR2523 cc, Manual, Diesel, 15.96 kmplEXPIRED
Rs.7.01 Lakh*
 
XL 9 STR2523 cc, Manual, Diesel, 15.96 kmplEXPIRED
Rs.7.01 Lakh*
 
View All Variants
Mahindra Bolero 2011-2019 Review
Mahindra has been the undisputed leader in SUV space for years now. A large share of this credit goes to its best selling machine, the Bolero. Having topped the charts for nine years on the trot, Mahindra has sold close to a million units of the SUV till date. To keep it in tune with the times (and benefit from a break in taxes) Mahindra recently added the sub 4-metre version of the Bolero, dubbed the Power+ to the variant list. Let's take a closer look at the Bolero and find out why it has been the cash-cow for Mahindra.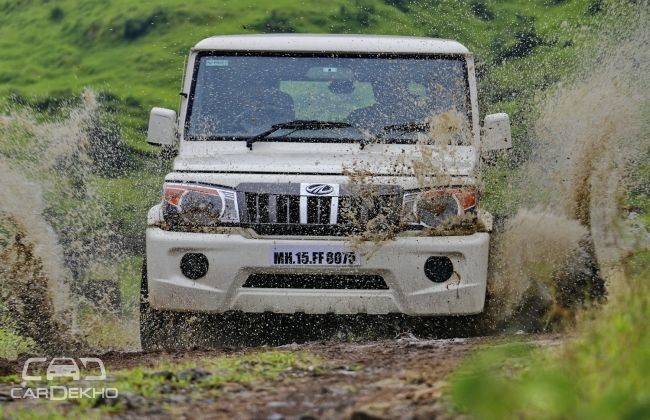 Verdict
The Bolero has always been a no-frills 'fill-it, shut-it, forget-it' SUV. It continues to score on that front even seventeen years since it was first introduced. If you are eyeing the Bolero, we'd recommend the Power+ because it isn't just cheaper, but is also refined and more efficient compared to the CRDe-powered version.
Yes, it does have a bit of ergonomic issues and isn't as well-specced with features as one would expect at the price point - but it does offer peace of mind in terms of longevity.
Pros & Cons of Mahindra Bolero 2011-2019

CarDekho Experts:
The Bolero has always been a no-frills 'fill-it, shut-it, forget-it' SUV.
Performance46

Comfort & Convenience53

Safety & Security30

Mileage48
Things We Like
Ample space for first and second row occupants.
Chiller air-conditioning cools the big cabin down in no time
Light steering takes the sting out of manoeuvring inside the city / parking.
New 1.5-litre engine is refined, powerful and efficient.
Things We Don't Like
Build quality inside out could have been a lot better. Reeks of cost-cutting.
Misses out on basic features such as height-adjust for the seat and tilt adjust for the steering.
No four-wheel drive variant on offer.
Lack of safety features such as airbags, anti-lock brakes is a big miss!
Stand Out Features
Kenwood music player with Bluetooth and USB compatibility offered in the top-spec version

Micro-hybrid system helps save fuel by automatically switching the engine off while idling
Mahindra Bolero 2011-2019 User Reviews
All (230)
Looks (36)
Comfort (41)
Mileage (31)
Engine (31)
Interior (17)
Space (15)
Price (18)
More ...
LATEST
HELPFUL
VERIFIED
CRITICAL
The fuel efficiency is as good as any other vehicle in the SUV/MUV bracket. Moreover, this vehicle is shorter in length and thinner in width than almost all other competi...Read More

I am having the Mahindra bolero since from 2012. The car is very good at offroading. But the interior can be more luxurious, the third-row seating can be in bench seats t...Read More

Mahindra Bolero has a well-built quality and stronger than all other cars in the segment. It has excellent engine performance. Off-roading is also nice. Even though ...Read More

Very good pickup, very good mileage, low maintenance, very good safety, body quality, and very strong Bolero. It fits for all types of roads.

For off-road, this car is the best. The AC is not good. It comes with 8 seating capacity but it provides space more than that.

View All Bolero 2011-2019 Reviews
Bolero 2011-2019 Latest Update
Latest Update: The Bolero has been discontinued and is only available in the Power+ variants, details here.
Bolero Engine: The Bolero came with a 2.5-litre diesel engine that churns out 63PS of max power and 195Nm of peak torque. This unit had a claimed mileage of 15.96kmpl.
Features: It got a driver information system, digital instrument cluster, music system (CD MP3), air conditioning, power steering and more.
Safety: The Bolero's lack of safety equipment was likely one of the primary reasons for why it was discontinued. However, the Power+ version has been fitted with ABS, driver side airbag, rear parking sensors as standard.
Read More



Mahindra Bolero 2011-2019 News
Mahindra Bolero 2011-2019 Road Test

Are you Confused?
Ask anything & get answer in 48 hours
Write your Comment on Mahindra Bolero 2011-2019
1 comment
1
O
om jagtap
May 12, 2020 10:17:17 PM
Petrol engine
Read More...
Reply
Write a Reply