5 Things That Could Improve The Safari Storme's Sales
Published On Dec 19, 2016 01:09 PM By Tushar for Tata Safari Storme
We take a brief look at what could improve the Tata Safari Storme's fortunes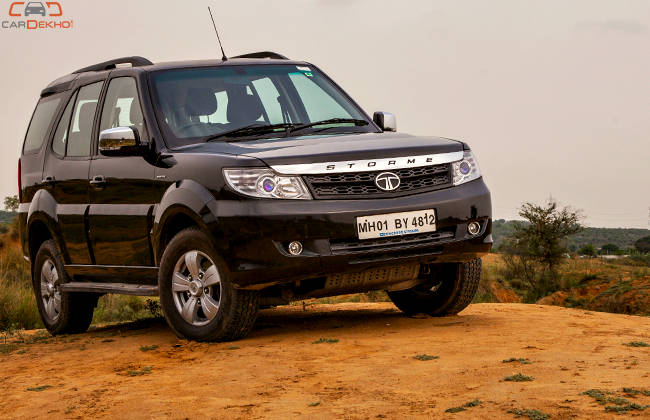 The Tata Safari is nothing short of a legend in India. From its launch back in 1997, the Safari nameplate has achieved quite the cult following. However, a look at the sales charts reveals a not-so-great picture. While arch rival, the Mahindra Scorpio, records average sales of around 4,000 units a month, Tata moves around 600 units of the Safari+Storme duo in the same time.
Here's a look at a few updates/changes that could help this SUV find a few more takers:
Varicor400 As Standard

Tata introduced the Safari Storme in the 400Nm state of tune last year. With the uprated output, the SUV got some great bragging rights, but Tata has limited this option to the range-topping VX grade which has been priced at around Rs 14 lakh. Tata needs to avoid confusing buyers with too many variations, drop the 150PS/320Nm option and offer the 2.2-litre diesel engine in the 156PS/400Nm tune as standard across the board.
4x4 On Lower Variants

The Safari Storme gets a limited-slip differential and a proper 4x4 system with a low-range transfer case, which make it a capable off-roader. However, the option is yet again limited to only the top-end variant. So if you want a Safari Storme with 4x4, you have to pay Rs 15.36 lakh and nothing less.
On the other hand, you can get the Scorpio with 4x4 on the S4 variant for Rs 11.19 lakh, which is a good deal if all you want is a people carrier with adequate off-road ability. Additionally, you can have the Scorpio 4x4 with an automatic transmission for around Rs 12,000 more than the Safari Storme VX 4x4 MT, which also indicates the need for a pricing rethink by Tata.
Infotainment System

Yes, this is an SUV for the purists and, while old-school does have its own appeal, buyers do want some new-age tech as well. For a 15 lakh rupee SUV, the Safari Storme's 2DIN entertainment system is too basic. Tata should equip it with a touchscreen infotainment system and modern amenities like navigation and a reversing camera.
New Instrument Cluster
Like the entertainment system, the instrument cluster seems rather low-rent for an SUV at this price. While the analogue dials are fine, Tata needs to offer a detailed multi-information display (MID) with readouts for the average efficiency, distance-to-empty, etc. Even the more affordable Tata Zest has a more informative instrument cluster.
Cosmetic Tweaks

While we have no complaints about the Safari Storme's design, it is starting to show its age. A different set of wheels could really enhance the SUVs appeal, and Tata could also offer more customization options, including dual-tone colours or even equip daytime-running LEDs as standard, rather than an optional extra.
Agree/disagree with the points above? Share your thoughts with us through the comments section!
Was this article helpful ?
0 out of 0 found this helpful