Tata Safari Evolution
Modified On Aug 26, 2015 04:25 PM By Konark for Tata Safari Storme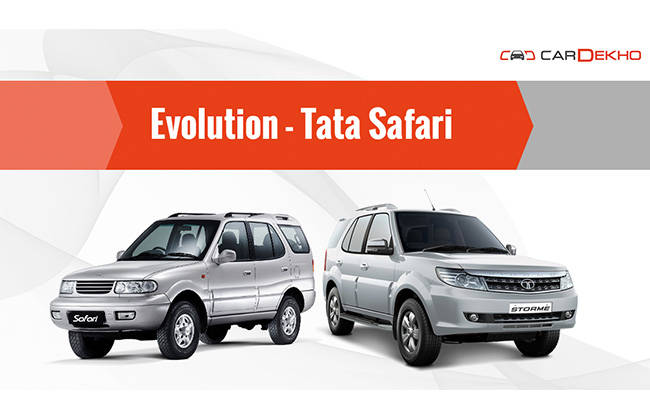 Tata Safari has been present in our country's car scenario from the past 17 years which is surely a long time to survive in our competitive market. It was our country's first homemade all-wheel drive SUV. It was launched in 1998 with a Turbo Diesel motor which was mated to a five-speed manual gearbox, with a 4X4 choice.
The SUV has been a hit amongst loyalists and can be termed as a 'True SUV'. It has single handedly redefined the concept of 'off-roading' and as Tata puts it "Conquering terrains is what it was made for"


Safari has seen some very unique features as well. In 2003 it got a Limited Edition variant which featured a Sony PlayStation 2, a 10 CD and VCD changer, two front headrest-integrated LCD monitors, a refrigerator-cum-warmer and a reverse guiding system which allows a 130 degree unobstructed view through a camera located on the rear bumper.
Safari has also been a favorite amongst many politicians and is till date used as an escort vehicle in our Prime minister's and President's convoy. So lets take a look in to the history of Tata Safari.

Here's an infographic showing the SUV's evolution chronologically over the years!

GENERATION 1 (1998-2005)
The Safari was our first premium 4X4 SUV when it was launched in 1998. It featured a 2 Litre diesel engine but the main USP of Safari was the space it offered on the inside with decent off-roading capability and a bold masculine stance. To keep up on the performance front as well, Tata introduced a 2.1 litre petrol motor in 2003 which churned out 135 bhp. Other changes also included addition of fuel-pump and updated electricals.
GENERATION 2 (2005-2007)
The car got major updates 2005 along with a new heart- a 3.0 litre DiCOR diesel engine. DiCOR stands for "Direct Injection Common Rail motor" and the motor was taken from the Tata 407, a truck made by Tata Motors. This engine produced 116 PS of power and was mated to 5-speed manual transmission. The car was also revamped cosmetically. New front-grille, clearer headlamps and upgraded interiors are some of the changes it saw.
GENERATION 3 (2007-2012)
A 2.2 litre DiCOR engine was added in the safari in 2007. This engine produced 138 hp of power and made the car quite peppy. It had some improved interiors with two-tone upholstery and leather seats. This engine made the Safari Euro-4 complaint and the top end variant got safety features like Dual airbags and ABS with EBD. Rear AC vents, reversing camera, DVD player with LCD screens in the front seats headrests and dimming lights too were also available as an option.
GENERATION 4 STORME (2012)
The Storme was launched in 2012 based on the X2 platform. The power delivery became a lot linear and the X2 as a platform is lighter than the previous generation making it a lot lighter as well. The car was overhauled on each front including the tweaked 2.2 litre engine which carried a VARiCOR badging replacing the DiCOR.
In 2015 the storme got a update which featured a new honeycombed grille extending to the air dams, and looks heavily inspired by Tata's own Land Rover marque. The 2.2-liter VTT VARiCOR got a 10 PS power bump and now generates class leading 150 PS of max power at 4000 rpm while torque remains same at 320 Nm extracting at 1700-2700 rpm. The engine is mated to a five-speed manual transmission and is available in 2WD and 4WD options.
Here's an expert review of the 2015 Update of the Safari Storme



Was this article helpful ?
1 out of 1 found this helpful