Tesla Model 3 Gets 2.76 Lakh Bookings in Three Days
Modified On Apr 06, 2016 01:05 PM By Bala Subramaniam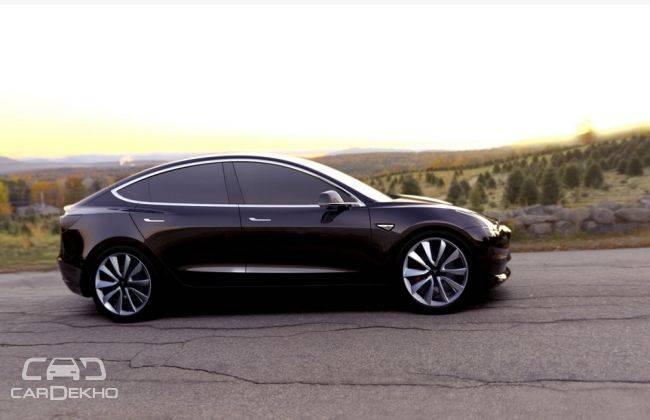 The Tesla Model 3 was unveiled last week and we expected the car to get a 'more than luke-warm' response. But to get over 276,000 bookings within three days of being unveiled was unexpected. With a USD 1000 booking fee, Tesla has made over 2.7 billion USD in bookings alone, and the car is still over a year away from its launch. If we factor in an average price of USD 42,000 (selling price with average option mix), Tesla has made over $11.5 billion in just 3 days. The Model 3 has been priced from $35,000 (around Rs.23 lakhs), becoming the cheapest Tesla model you can buy. Yes, the car will also be the first Tesla that you can buy in India, although details about the supercharger network and the incentives that the government will offer are still unclear.

So, is all the hype surrounding the car justified? It might just be, because the Model 3 is a cheaper alternative to the Tesla Model S that doesn't compromise on the company's trademark quality and provides a fast electric car. The Model 3 can seat 5 people, sprint from 0 to 100 km/h in under 6 seconds, and has an amazing range of 345 kms in a single charge. What's not to like, then? And there will be faster and better range versions too.
Tesla has already ignited the passion for electric cars with the Model S and Model X, but with the Model 3, the company has made it more affordable to own one. Tesla is also hoping to secure 5-star ratings across all categories of safety and of crash tests. With the Model 3, Tesla has got the attention of the whole world. All it has to do now is deliver on the promise. Can it cope with the demand? We hope it does.
Also read: Tesla Unveils the Model 3
New Car Insurance - Save Upto 75%* - Simple. Instant. Hassle Free - (InsuranceDekho.com)
Sell Car - Free Home Inspection @ CarDekho Gaadi Store
Was this article helpful ?
0 out of 0 found this helpful