Tata Nexon EV Vs MG ZS EV - Real World Range And Efficiency Compared
Modified On Oct 21, 2022 04:58 PM By Tarun for Tata Nexon EV Prime
Let's see how close the Nexon EV comes to the ZS EV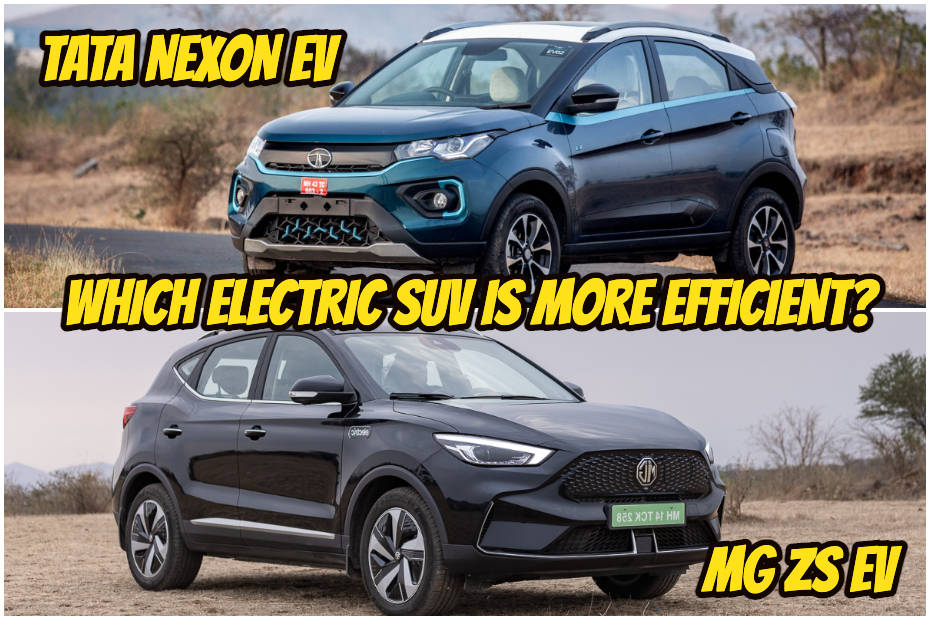 Tata Nexon EV and MG ZS EV are currently among best-selling electric cars on sale in India. While the Nexon EV Prime tops out at Rs 17.50 lakh, the ZS EV is priced from Rs 22.58 lakh to Rs 26.50 lakh. They are differently sized and the price gap between the duo is huge. But mainly, they are popular among electric car buyers in India today.
So, let's see their real world range and how their figures compare. But first, a peek at their specifications.
| | | |
| --- | --- | --- |
| Specifications | Nexon EV Prime | ZS EV |
| Battery | 30.2kWh | 50.3kWh |
| Electric Motor Power | 129PS | 176PS |
| Torque | 245Nm | 280Nm |
| Claimed Range | 312km | 461km |
| City Efficiency | 9.35km/kWh | 7.58km/kWh |
| Highway efficiency | 7km/kWh | 6.12km/kWh |
The ZS EV's battery and electric motor are more powerful than the Nexon EV Prime. EVs require light throttle inputs in the city traffic, since all of the torque is accessible rightaway. So, electric cars are most efficient when driven properly in the city. Even here, both EVs are more efficient in the city, while on the highway, the Nexon's figures drop by almost 2.5km/kWh, but in the case of the ZS EV, it's around 1km/kWh.
The Nexon is also available with a bigger 40.5kWh battery pack, which offers a range of up to 437 kilometres. The Nexon EV Max's test figures aren't out yet, but once they are, we'll surely compare it with the ZS EV. Stay tuned.
Also Read: Mahindra XUV400 EV vs Rivals: Range And Other Figures Compared

| | | | |
| --- | --- | --- | --- |
| Mileage | City:Highway (50:50) | City:Highway (25:75) | City:Highway (75:25) |
| Nexon EV Prime | 8.06km/kWh | 7.47km/kWh | 8.63km/kWh |
| Real World Driving Range (Based on test) | 243 kms | 225 kms | 260 kms |
| ZS EV | 6.77km/kWh | 6.43km/kWh | 7.15km/kWh |
| Real World Driving Range (Based on test) | 340 kms | 323 kms | 359 kms |
With equally mixed driving conditions (50 percent each in the city and on the highway), the Nexon EV should deliver a range of around 240km. In the case of major city usage, the range should increase up to 260km, but can decrease to 225km with more highway drives. On an average, you can expect a range of 250km with the Nexon EV Prime.

As for the MG ZS EV, you can expect an average driving range of around 350km. With equal city and highway driving, the range should be around 340km, which improves to up to 360km if the EV is driven more in the city than on open roads. Both of them also get multiple-level regenerative braking, which further aids in increasing the range by a small margin.
Also Read: Tata Tiago EV vs Tiago CNG: Which One Is More Economical For Daily Usage?
Takeaways
Overall, in the case of both EVs, the approximate difference in range is 100km. Both their fully loaded variants carry a gap of almost Rs 9 lakh. For that premium, you're getting a bigger, more premium and powerful EV which might just give you 100km of extra range.
In the local scenario, with the Nexon EV you can do Mumbai to Pune and halfway back before the battery runs out. With the ZS EV, you can actually do Mumbai to Pune and back without having to stop for charging.

Do note that these figures may vary depending on the road, driving style, climate conditions, and the car's condition. If you own a Tata Nexon EV or an MG ZS EV, drop your findings in the comment section below, for we love to hear from you.
Read More on : Nexon EV Prime Automatic
Was this article helpful ?
0 out of 0 found this helpful