Nov 2017 Sales Comparison - City vs Ciaz vs Verna vs Vento vs Rapid
Published On Dec 11, 2017 08:17 AM By CarDekho
With the introduction of sub-4m SUVs in recent years, sedan sales have seen a drop
In recent times, sedans have faced a tough competition from the newly found compact SUV segment. Priced at par with these sedans, the sub-four meter SUVs have successfully managed to capture people's hearts. All this happened because not only do these compact SUVs offer that tough road presence like a fully grown SUV but are also light on the pocket. Without further delay, let's find which of these sedans have stood their ground against these baby SUVs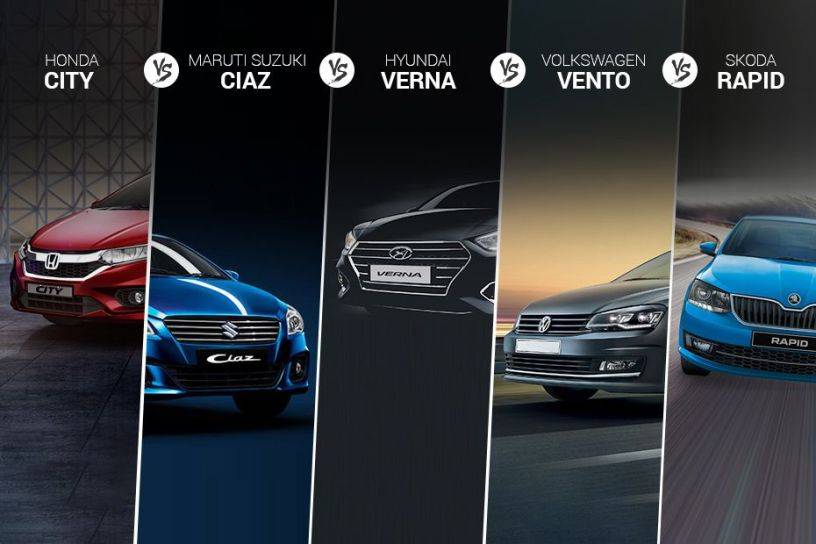 October 2017 vs November 2017
| | | | | | |
| --- | --- | --- | --- | --- | --- |
| | Honda City | Maruti Suzuki CIaz | Hyundai Verna | Volkswagen Vento | Skoda Rapid |
| October 2017 | 4,366 units | 4,107 units | 4,701 units | 411 units | 1,086 units |
| November 2017 | 3,315 units | 4,009 units | 3,751 units | 460 units | 874 units |
| Difference | -1,051 units | -98 units | -950 units | +49 units | -212 units |
From the table, we can see sales of sedans have declined in the month of November when compared to sales in the month of October. October being a festive month, enjoyed good sales as people prefer buying new cars during the festive season. Where the City, Ciaz and the Verna compete quite closely with monthly sales of about 3-4,000 units, cars like the Rapid and the Vento are at the bottom of the table with a sale of only thousand units per month. As expected, Maruti Suzuki remains the most consistent seller of the lot with a drop of just 2 per cent, while the Honda City becomes the biggest loser with a drop of about 24 per cent. The Verna and the Rapid, on the other hand, have seen a drop of about 20 per cent. The Vento has gone against the pack and has registered a growth of 12 per cent, however, it still remains the lowest selling car of the five.
November 2016 vs November 2017
| | | | | | |
| --- | --- | --- | --- | --- | --- |
| | Honda City | Maruti Suzuki CIaz | Hyundai Verna | Volkswagen Vento | Skoda Rapid |
| November 2016 | 2,658 units | 5,443 units | 931 units | 632 units | 682 units |
| November 2017 | 3,315 units | 4,009 units | 3,751 units | 460 units | 874 units |
| Difference | +657 units | -1,434 units | +2820 units | -172 units | +192 units |
Now, comparing sales from the previous year, tables have turned. The Verna has come out to be the top gainer as it saw a growth of about 303 per cent. In August this year, Hyundai launched the new Verna. With the new launch, Hyundai was able to gain back its lost ground and came out among the best sellers in the segment. Honda also launched an updated version of the City this year and managed to register a growth of 25 per cent. On the other hand, Ciaz being the most consistent in the last comparison has turned out to be the biggest loser of all with a decline of about 26 per cent. The primary reason behind this drop might be the implementation of GST. Under GST, as the Government hiked taxes on hybrid vehicles, the Ciaz, being a mild hybrid, was also affected as its prices went up by Rs 1 lakh. Skoda Rapid and Volkswagen Vento remain to fill the bottom two spots in this comparison.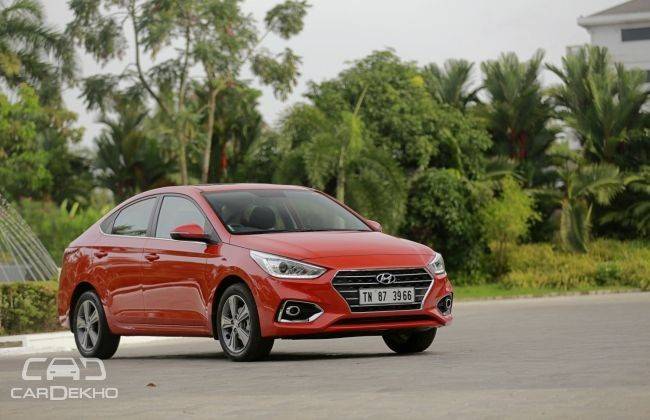 Check out: Hyundai Verna: First Drive Review
Read More on : Ciaz diesel
New Car Insurance - Save Upto 75%* - Simple. Instant. Hassle Free - (InsuranceDekho.com)
Sell Car - Free Home Inspection @ CarDekho Gaadi Store
Was this article helpful ?
0 out of 0 found this helpful