New Hyundai i20 vs Tata Altroz Diesel: Real-world Performance Comparison
Published On Nov 23, 2020 08:00 AM By Rohit for Hyundai i20
With things tilted in the new i20's favour on paper, does its advantage translate in the real-world as well?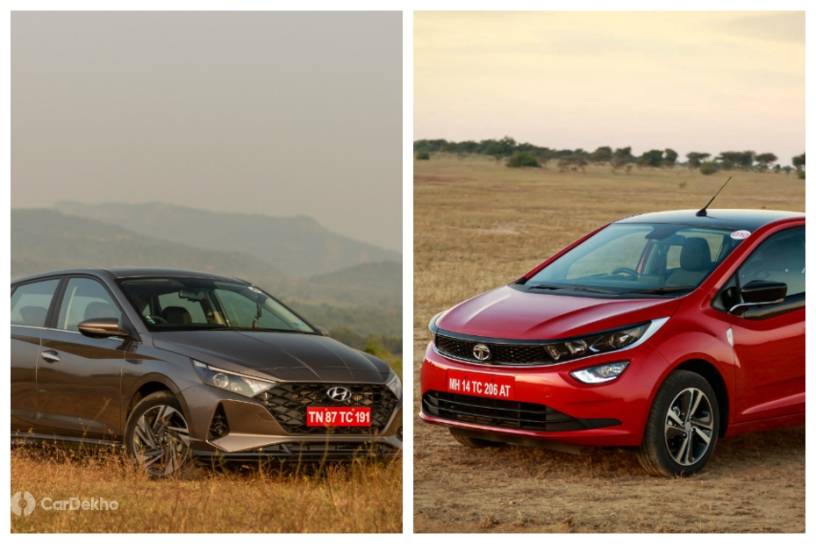 Hyundai launched the third-gen i20 in November 2020 with a choice of three engine options. It is the only premium hatchback beside the Tata Altroz to be offered with a diesel engine. Both the new i20 and the Altroz are offered with a 1.5-litre diesel engine that develops 100PS/240Nm and 90PS/200Nm respectively. We've tested both these hatchbacks and recorded their performance to find out how they compare in real world conditions:
| | | |
| --- | --- | --- |
| | New Hyundai i20 | Tata Altroz |
| Engine | 1.5-litre | 1.5-litre |
| Power | 100PS | 90PS |
| Torque | 240Nm | 200Nm |
| Transmission | 6-speed MT | 5-speed MT |

While both the hatchbacks have diesel engines of the same capacity, it's the new i20 that produces more power and torque. Both models are offered only with a manual gearbox but the i20 has an edge as Hyundai has equipped it with a 6-speed manual transmission option as opposed to the 5-speed MT unit seen on the Altroz. So, does the i20 have an advantage in the real-world too?
Related: 2020 Hyundai i20 vs Tata Altroz: Which Premium Hatchback To Buy?
Performance Comparison
Acceleration and Roll-on Tests:
| | | | |
| --- | --- | --- | --- |
| | 0-100kmph | 30-80kmph (3rd gear) | 40-100kmph (4th gear) |
| Hyundai i20 | 10.76s | 7.81s | 14.07s |
| Tata Altroz | 12.90s | 8.54s | 14.53s |

The new i20 with its more powerful and torquier engine is the quicker of the two, completing the 0-100kmph sprint in under 11 seconds. When in-gear acceleration is considered, the i20 once again comes out on the top, albeit by small margins. It bettered the Altroz by 0.73s and 0.46s in the acceleration tests for 30-80kmph in 3rd gear and 40-100kmph in 4th gear respectively.
Braking Test:
| | | |
| --- | --- | --- |
| | 100-0kmph | 80-0kmph |
| Hyundai i20 | 39.52m | 24.31m |
| Tata Altroz | 43.21m | 27.83m |
When coming to a stop from 100kmph, the Hyundai i20 stops almost 4 metres before the Tata Altroz. Even in the 80-0kmph braking test, it is the new i20 that takes the lead, stopping 3.5 metres earlier than the Altroz.
Verdict

Although the Tata Altroz diesel is a good premium hatchback,Hyundai's i20 has an upper hand when it comes to engine output, acceleration and braking tests. However, it is also the pricier model of the two as its top-spec variant commands a premium of Rs 1.80 lakh over the corresponding variant of the Tata Altroz. Hyundai has priced the new i20 between Rs 6.79 lakh and Rs 11.32 lakh while the Tata Altroz retails form Rs 5.44 lakh to Rs 8.95 lakh (ex-showroom Delhi). What are your thoughts about these performance figures? Do let us know in the comments below.
Read More on : i20 on road price
Was this article helpful ?
6 out of 6 found this helpful