Meet The 2020 Tesla Roadster: 0-96kmph In 1.9s, +400kmph, 1000km range!
Published On Nov 17, 2017 08:19 PM By Raunak
Tesla claims it to be the fastest accelerating vehicle on the planet till date and mind you that these specs are just of the base Roadster model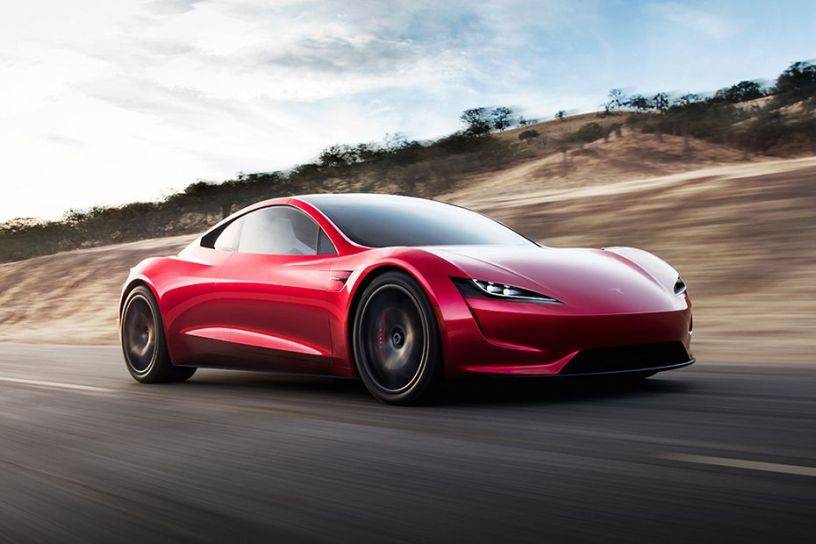 Tesla surprised everyone at the unveil of its first ever all-electric truck, the Tesla Semi, by also revealing the second-generation of the car that started its electric car revolution, the Tesla Roadster. As Elon Musk, the CEO of Tesla, signed off the Semi's presentation, the Roadster popped out from the trailer of the truck itself.
Tesla's cars, of course, EVs, are known to have a long range, are fast accelerating and tech-laden. And the Tesla Roadster is no different. Till now, its flagships sedan, the Model S, was the quickest accelerating production car in the world with its Ludicrous mode. However, today, Musk said that 'there's only one thing beyond Ludicrous and it is plaid'. And the new Roadster totally lives up to that. It hits naught to 60mph (96kmph) in merely 1.9 seconds, and becomes the only production car in the world to break the 2 seconds barrier!

This insane acceleration figure is courtesy of the mind-numbing 10,000Nm of max torque that the Roadster gets at its wheels! The Tesla Roadster sports an all-wheel-drive setup with three motors. Moreover, it can go upto 620 miles (around 1000km) on a single charge, thanks to a 200kWh battery pack (double, compared to that of the Model S). Musk highlighted that the 1000km range is achievable at highway speeds, which is restricted to 85mph (nearly 136kmph) in the US. Again, it becomes the only production EV to break the 1000km-range barrier on a single charge. Below are the specs for the prototype.

Vitals (base pre-production Tesla Roadster)
Acceleration 0-60mph (0-96kmph): 1.9 seconds
Acceleration 0-100mph (0-160kmph): 4.2 seconds
Top Speed: Over 250mph (+400kmph)
Seating: 4-seater

In terms of styling, Tesla has come a long way from the first Roadster, that borrowed its body from the Lotus Elise. The second-gen model looks meaner, but there's also a charm to it like every other new-age Tesla offerings, including the India-bound Model 3.

Pictured: First-gen Tesla Roadster
While the second-gen Tesla Roadster will go into production in 2020, it is already up for grabs. Pay 50,000 USD (roughly Rs 32 lakh) to get into the waiting list of the Roadster, which is priced at 200,000 USD (roughly Rs 1.3 Crore) for the base model. You can also pay 250,000 USD (roughly Rs 1.6 crore) upfront for the Founder Series variant, which is limited to 1,000 units.
Elon Musk said, "The point of doing this (the Roadster) is to give a hardcore smackdown to gasoline cars."

New Car Insurance - Save Upto 75%* - Simple. Instant. Hassle Free - (InsuranceDekho.com)
Sell Car - Free Home Inspection @ CarDekho Gaadi Store