Jaguar XE SV Project 8 Revealed
Modified On Jun 29, 2017 01:46 PM By Rachit Shad for Jaguar XE 2016-2019
Limited to just 300 units, it is the most powerful road-legal Jaguar ever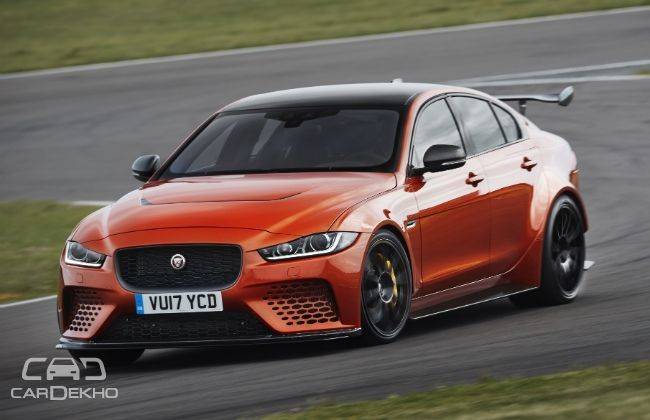 Just when you think that you finally get a grasp on how the automotive industry has been getting greener and less exciting with the times, cars like this Jaguar shakes just about every such belief to its core. Meet the Jaguar XE SV Project 8. If you think that name's a mouthful and a half, wait for its highlights to blow your mind away.

How about this for a start - this version of the XE is the most powerful and the fastest accelerating road-legal car that Jaguar has ever built. It's even faster than the XJ220 supercar that they built between 1992 and 1994. How has the British carmaker managed this feat? Well, Jaguar knocked on the doors of its in-house tuning division - Special Vehicle Operations (SVO) - and gave it the 5.0-litre supercharged V8 engine from a Range Rover SV Autobiography Dynamic.
Fun Fact: SVO is to Jaguar Land Rover (JLR) like AMG is to Mercedes-Benz and Polestar is to Volvo Cars. The same performance-gurus created the epic Jaguar F-Type Project 7 from 2014. SVO also makes the Range Rover Sport SVR, which is on sale in India.

SVO upped the power figures from 543PS/680Nm to a well rounded 600PS/700Nm. To harness all the oomph effectively, there is an all-wheel-drive system which is mated to an 8-speed Quickshift transmission with paddle shifters. The result is an astonishing 0-100kmph time of just 3.3 seconds, which is 0.3 seconds faster than the legendary XJ220, and a top speed of 322kmph. In simple words, it has the capacity to put several sports cars to shame. A few examples would include the 718 siblings from Porsche's stable, GT models from Mercedes-AMG and the Bentley Continental GT.

The car also features Jaguar's new carbon ceramic braking system. The British carmaker says that it will also come with F1-style silicon nitride ceramic wheel bearings, which is an industry-first for a road-legal car.
Now to some bad news. Just 300 units will ever be made and that too with left-hand-drive only. It is safe to say that most of us won't even see one of these on the move. Jaguar even says that the XE SV Project 8 can be considered as an appreciating asset. So expect the lucky few owners to keep them locked up in their garage or maybe even inside a hermetically-sealed glass container!

Jaguar confirmed that once the XE SV Project 8 makes its world debut on June 30, which is tomorrow, at the Goodwood Festival of Speed in England, it will be available to order worldwide in four-seat configuration. The two-seat Track Pack version of the XE SV that ditches the rear seat and gets you two proper Sabelt racing bucket seats in the front can be ordered if you reside outside North America and Canada. What's more, the Project 8 will be the first car that will be completely hand-assembled by SVO at its new Technical Centre in Warwickshire, UK.
Read More on : Jaguar XE AMT
Was this article helpful ?
0 out of 0 found this helpful