India-Bound Tesla Model 3 Will Be Equipped With Full Self-Driving Hardware
Published On Oct 20, 2016 03:47 PM By Raunak
In the wake of all the recent crashes involving Tesla vehicles, Elon Musk (CEO Tesla) wants to reassure the world that henceforth, all Tesla vehicles will be equipped with full self-driving hardware and complete autonomy which will enable 'a Tesla to be substantially safer than a human driver'. The all-electric automaker recently stated the same on its official blog.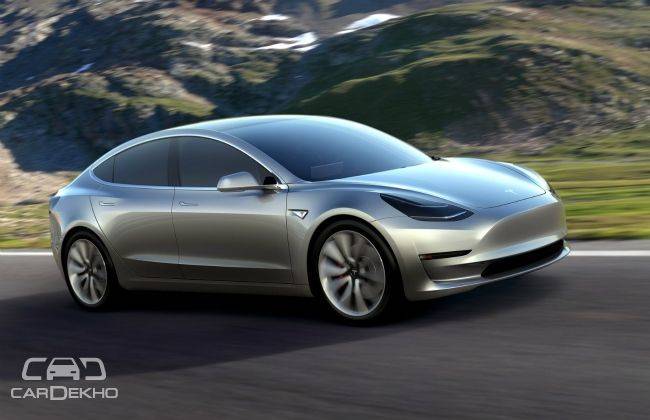 Why is it important to us? Because the India-bound Tesla Model 3 is also one of the cars, which will be equipped with full-autonomy tech. Tesla's present line-up – the Model S and the Model X – are already fitted with the same and are on sale in the US and other countries. It is obvious that even the future models, such as Tesla's first-ever compact SUV and pickup, will come with the same tech.

What's the new hardware on offer?
Tesla has highlighted that newer vehicles will come with a total of eight surround cameras, which will provide a complete 360-degree visibility around the car with up to 250 metres of range. Complementing the cameras, there will be twelve updated ultrasonic sensors, which will help the vehicle to detect both hard and soft objects. Also on the feature list is an enhanced, forward-facing radar, which is capable of seeing through heavy rain, fog, dust and even the car ahead. Tesla has also added a new onboard computer that possesses nearly forty times more computing power than the previous-generation model.

The automaker said that a lot of present features, along with 'entirely' new ones will not be available on current Teslas – the Model S and the Model X – with the updated hardware, as of now. But like before, the owners will soon get over-the-air updates after Tesla calibrates the system using data from millions of miles of real-world driving.
The Model 3's – for which Tesla has perhaps received infinite pre-orders – production and US deliveries will start in 2017. Its Indian introduction is likely to happen in 2018, while Tesla has been accepting pre-orders for the sedan from the country ever since its debut earlier in April.
Check out how Elon Musk has outlined Tesla's future in his master plan two here: Elon Musk Outlines Tesla's Future In Master Plan 2
New Car Insurance - Save Upto 75%* - Simple. Instant. Hassle Free - (InsuranceDekho.com)
Sell Car - Free Home Inspection @ CarDekho Gaadi Store