Honda City Completes 20 Years On Indian Soil
Published On Dec 22, 2017 04:26 PM By Dhruv.A for Honda City
Here's a quick walkthrough of the 20-year journey that the Honda City has undertaken in India.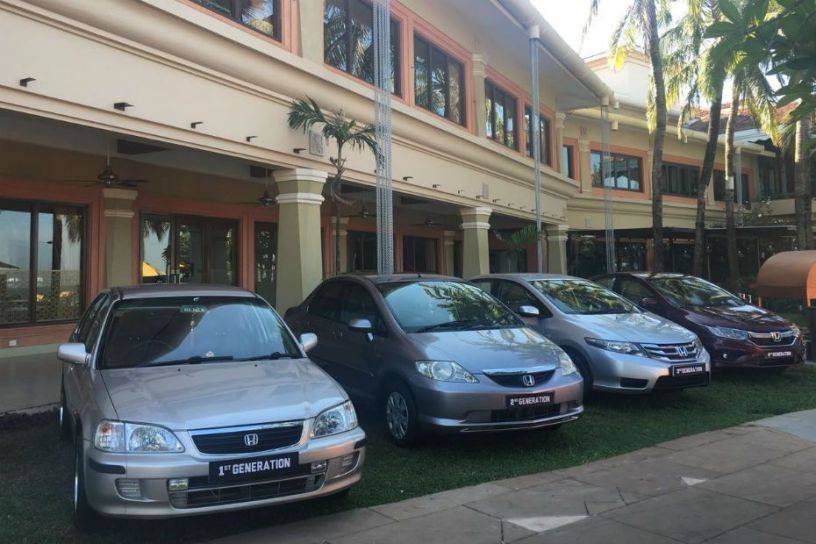 The Honda City has been in the Indian car market for 20 long years and it still continues to hold its own despite the entrance of newer competitors. In fact, the Indian market accounts for 25 per cent of the total sales that are globally generated by the Honda City. The City recently completed 7 lakh cumulative sales in India, which speaks scores about the popularity it holds among Indian consumers. So, here's a quick walkthrough that traces the changes that the Honda City has had over all these years.
Honda City 1st Generation: A Cult
Now, to refresh your memory, the Honda City has witnessed four generation changes and was available only in petrol guise for the first three that were introduced in India. The first generation was the original low-slung sedan which lacked several basic features in its time but had brilliant driving dynamics. It had two petrol engine options which included the 1.3L (90PS) and 1.5L (100PS) D-Series engines, while the famed VTEC(106PS) which the purists swear by was only introduced in the year 2000 to replace the other 1.5L. Honda sold 59, 378 units of this generation of the City from 1998 to 2003.
Honda City 2nd Generation: Dolphin Design
The second generation which was launched in the year 2003 was powered by a 1.5-litre i-DSI (78PS) instead of the VTEC and got a CVT transmission as an option, a first for any Indian car. Banking on the laurels and admiration that the City was bringing for Honda, the brand brought in a loaded ZX variant in the year 2005 and re-introduced the 1.5-litre VTEC (100PS) as an option, but it's the original VTEC that still has the heart of enthusiasts. That is because Honda changed the dynamics of this engine for fuel efficiency, bringing down the performance figures significantly. The design of this second gen model has been collectively called the 'Dolphin,' with its front nose sharing an uncanny resemblance to the aquatic mammal. Honda sold 1,77,742 models in its five years of production.

Honda City 3rd Generation: Sleek Looker
The third gen City was a much sleeker version that dropped the i-DSI version from the portfolio, with the VTEC carried over and moniker changed to i-VTEC. The power figures from the 4-cylinder 1.5-litre unit was significantly increased to 116 PS in the year 2008. The third generation had a very Japanese arrowhead design upfront and sleek-looking rear which resembled a BMW 3 Series. In terms of sales, this model was left reeling due to lack of a diesel option and sold just 1,92,939 units despite the segment growing by leaps and bounds in those days. Related: Nov 2017 Sales Comparison - City vs Ciaz vs Verna vs Vento vs Rapid

Honda City 4th Generation: Dual Choices
The fourth generation which received a facelift early this year was launched in 2014. For the first time in the 16 years of the City, it had a diesel engine option - a 1.5-litre, 4-cylinder i-DTEC, and as Honda says, this one is the best selling generation because of the two derivatives available as options. The latest generation has a much wider appeal and healthy dose of style, especially after the facelift it received earlier this year. That is probably the reason Honda has sold 2,76, 095 units and counting till November 2017. Honda City Variants Explained In Video
While the Honda City is the one model that helped established the Japanese manufacturer in India, it is going to launch six new cars in the next three years, hoping to bring in some more models which could prove to be blockbusters. Honda Buyers Guide: Honda Announces Price Hike Of 1-2 Per Cent From Next Year
Read More on : City diesel
Petrol17.4 kmpl
Diesel25.6 kmpl
TransmissionManual/Automatic
*Ex-showroom Price in New Delhi