Audi A7 piloted driving concept drives from Silicon Valley to Las Vegas
Published On Jan 05, 2015 12:12 PM By Bala Subramaniam for Audi A7 2011-2015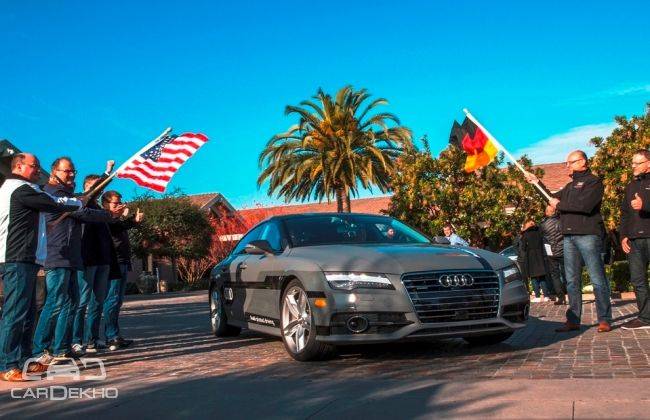 To demonstrate its automated driving technology, Audi has arranged a long distance test drive with its A7 piloted driving concept car. The drive will have journalists behind the wheel of the Audi A7, driving from Silicon Valley, California to Las Vegas, Nevada to attend the International CES 2015. The piloted driving will cover a total of 900 kilometers and shows that unprecedented performance can be achieved with series production technology.
"The test drive from the west coast of California to Las Vegas demonstrates our leadership role in piloted driving ", said Prof. Dr. Ulrich Hackenberg, Audi Board Member and Head of Technical Development. The test drive in real world traffic and road conditions represents a joint effort by the Volkswagen Electronics Research Laboratory (ERL) und Volkswagen Group Research and Development, begins today in Stanford, CA.
A couple of months ago, Audi has demonstrated a RS7 Piloted Driving Concept car at a race track, where the driverless car achieved a top speed of 225 km/h.
"The top performance by the Audi RS 7 today substantiates the skills of our development team with regard to piloted driving at Audi," said Prof. Dr. Ulrich Hackenberg, Board Member for Technical Development at AUDI AG. "The derivations from series production, particularly in terms of precision and performance, are of great value for our further development steps."
Read More on : more on Audi A7
Was this article helpful ?
0 out of 0 found this helpful