The Great Mahindra Off-Road Challenge
Published On Dec 06, 2014 04:05 PM By Rajpal for Mahindra Thar 2015-2019
In India SUVs are more like people's carrier or a rigid looking car, and owners do not often use these mighty cars for making their way out of rough terrain. However, the ace off-road manufacture Mahindra is working towards making off-roading popular in India. For this, the manufacturer launched Mahindra Adventure in 2011 and established first of its kind off-road training academy in Igatpuri near Nasik. At the off-road academy, one can learn the basics of the off-roading in a one or two day learning program and further polish his/her skills. The academy also hosts Great Offroad Challenge every year, where some of the most skilled off-roaders can compete with each other for the trophy.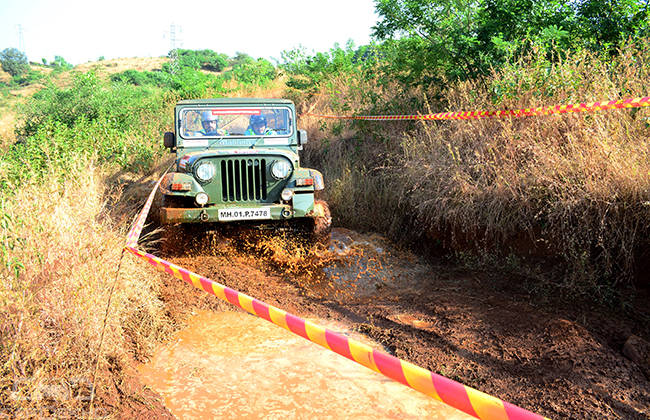 Situated about two hours from Mumbai is a 28-acre facility that belongs to Mahindra Adventure's – Mahindra Off-Road Training Academy. Amidst the table land of Igatpuri is a natural playground for die hard "off-roading" and "mudding" fans. Mahindra haven't changed the landscape much and there have been minor alterations here and there to transform it in an offroad track. Coming back to the trophy, the participants were judged based on five designed obstacles created to test the capabilities of both driver and navigator. There was one obstacle course and rest of the four events had specific time limits to increase competition among participants. To judge us, an expert panel including Manish Sarser, Head of the offroad academy, Vinod Nookala, Product Manager Mahindra Thar and Naresh Bhosle, a veteran offroader was present to evaluate participants based on the technicalities of driving like approach technique, drive through technique, use of external help and vehicle preservation.

The vehicles provided by the Mahindra Off-Road Training Academy are mechanically identical Thar CRDe variants with a selectable 4X4 high and low ratio transfer case. Accessorized with winches, jacks and Maxxis BigHorn tires these Thars look ominous, ready to get the job done.
A total 10 teams were participating and these teams were divided in two groups, A and B. Groups were made so that both groups can attempt different obstacles simultaneously. We were in group A and our first obstacle was 'Ball in mouth Part II', where we had to drive on a steep incline full of mud and water. On the top of the incline, there was an old tree, where the driver needed to take a sharp U-turn and take the vehicle down again. The incline was not that easy as it had uneven terrain and water and mud were making it slippery. Therefore, it was quite important to take the right line to approach the obstacle and then keeping up the momentum. The time limit for the obstacle was 4 minutes.

Tip: For any steep incline, it is quite important to build and keep the momentum. But at the same time, you have to make sure that you are approaching it in a straight line, because by attempting it from a corner, you can topple the vehicle. Also, if the incline is quite steep, start in first gear, get the momentum and then shift to the second. Be nice on throttle as extra torque can make you lose the grip on slippery surfaces.
The second obstacle was 'Pond Rush'. In this, we had to drive down in a pond and take a very narrow bay to get to another pond. After crossing the pond, you had to take a U-turn en-route both the ponds again from a different path and end where we started. But the ponds were full of slush and we need to get through from a narrow channel. Again, one needs to take the correct line and keep the momentum to get through this.

Tip: Whenever, you are driving on a slope downwards, be in the first or second gear and use engine braking, and do not apply clutch as it can make you lose control. Do not approach ground at speed as it can hit the car badly. While driving through mud, always keep momentum and if you get stuck, don't try hard as it will just dig you inside more and more.
The third challenge was the 'Balance Bridge', where you need to get uphill from a narrow path where the co-driver needs to drive it in reverse on a balance bridge. It is like a big seesaw, and it was quite hard to balance on it, however we couldn't try this obstacle as one of the participants crashed.

The fourth obstacle was 'Rock Crawl', as name suggests the participants need to crawl through big rocks and need to collect strategically placed flags. In this particular task, the role of spotter was quite crucial as each tyre of the Thar has to be at right rock or you could end up hitting the vehicle quite badly.
Tip: In this particular task, you need to put the SUV through the right path. You can't rev it hard and need to put each tyre on right rocks.
The last challenge was the DI special, where we got the Thar with famous Mahindra DI engine. The specialty of DI is that it has better throttle response, gears were even smaller and articulations were quite different from the CRDe. The task was to go through a long stretch with a lot of ups and downs with big pot holes with water and then to make a swift turn and climb a steep incline.

Tip: You need to rev the vehicle before reaching the obstacle as if you accelerate it while passing it, you will lose the traction.
By participating in this media challenge, we found that the academy is giving people an experience of their lifetime. Also, at the same time, train them in the skill of using an Indian made SUV in its ideal territory. It was good to get an opportunity to learn how to manoeuvre, rescue and navigate through areas where nature is in its purest raw form.

And for us, it was a memorable experience to compete with our fellow journalists and get our skills evaluated from judges like Manish, Vinod and Bhosle. After all how many times do you get an opportunity to really revel in the freedom of the Mahindra Thar?
Was this article helpful ?
0 out of 0 found this helpful